Wartime Rape Can Be Stopped, Clinton Tells Sexual Assault Conference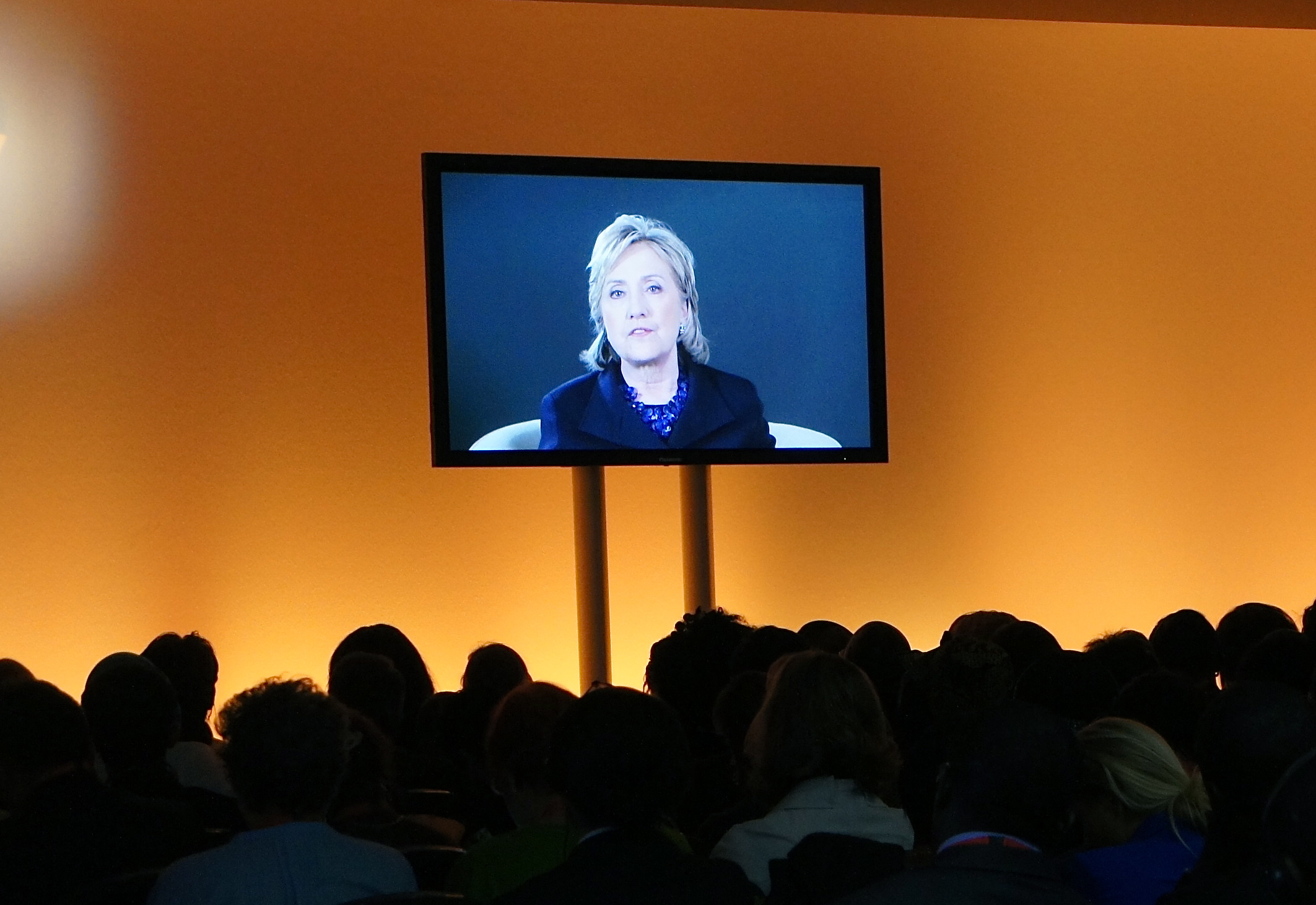 Former U.S. Secretary of State and likely 2016 presidential contender Hillary Clinton brought a message of hope to global summit on sexual violence in conflict held in London on Wednesday by way of a recorded video message broadcast to a room of hundreds of foreign ministers, human rights professionals, and United Nations staff.
"Rape and other forms of sexual violence are not inevitable in war, and we can end this scourge. When women's bodies become battlefields, when children are mutilated and sold into sexual slavery, when men are dehumanized, we can not and must not sit idly by," Clinton said. "Instead, we must act and we must unite to have the most affect of our actions, to be resolute in preventing the crimes associated with sexual violence in conflict, and addressing the needs of victims who demand justice and deserve support, not stigma."
Clinton repeatedly commended her "friend and colleague" the British Foreign Secretary William Hague for co-hosting the summit with actress Angelina Jolie.
"William Hague has demonstrated unwavering leadership on this issue. He understands that it is ultimately about protecting individuals and promoting international security," Clinton said.
The three-day event, which includes expert panels and discussions with delegates from 115 countries, comes after a two year-long collaboration between Hague and Jolie. Their efforts produced a declaration, now signed by about 150 countries, that pledged to end impunity for wartime rape. But critics worry that for all the discussion and pledge-signing, little concrete change has surfaced, even in countries that have signed the declaration.
Nigeria, for example, signed on to the campaign. But Sanam Naraghi, a gender and security expert and U.N. advisor, questions the worth of that signature in light of the government's slow response to the recent Boko Haram kidnapping. "While the girls remain missing, media reports are linking some members of the Nigerian military to Boko Haram," Naraghi writes.
"The engagement of certain countries with bad track records on addressing violence against women puts the very credibility of this campaign at risk."
Clinton, in her video message, acknowledged that the worth of this week's meetings depends upon whether or not international stamina on the subject continues.
"I know this will require persistence, determination, cooperation, innovation, and commitment. But I am confident that by working together as government leaders, civil society activists, humanitarian professionals, scholars, students, business owners, men and women young and old alike, we can and we will make a difference," she said. "Do not lose heart. This is an historic opportunity and you are the people to help us seize it."