Wartski Antiques Shop: A Fabergé Labor of Love in London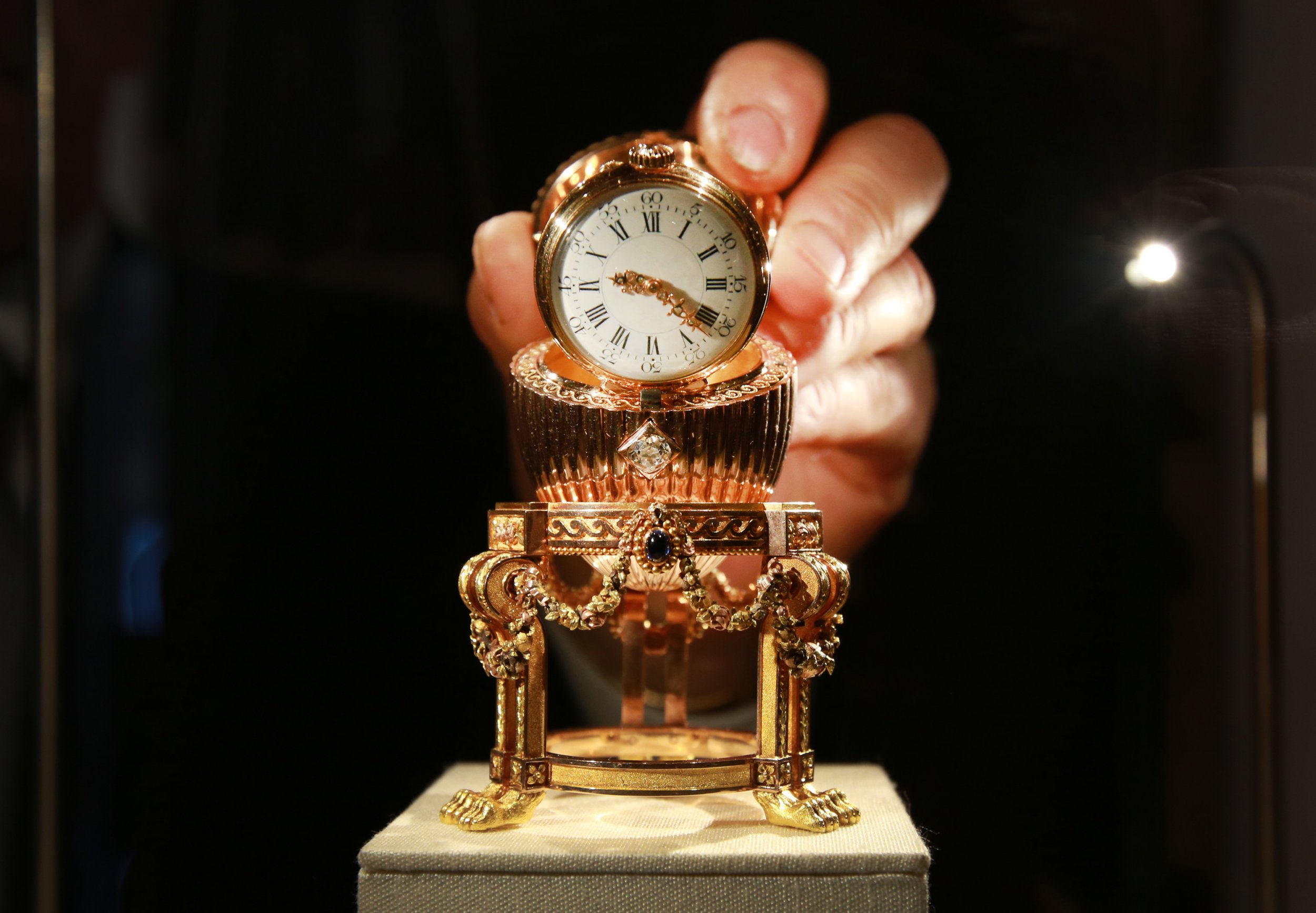 London's Grafton Street does not end where, on first glance, it appears to; instead it doglegs to the right for two short blocks. And there, on the second of the two blocks and just a few yards away from the luxury retail world of New and Old Bond streets, is a remarkable little shop entirely unlike the nearby flagship stores of big international brands that vie to outdo one another in splendor and size. Wartski of Llandudno, an art and antiques dealer, is not so much a shop as a place of aesthetic enrichment.
"The thing about some of these objects is that they're like one's friends," says Geoffrey Munn, managing director of Wartski, who can be disarmingly candid about the objects arranged in the vitrines around him. "They're completely charming and sometimes utterly useless."
Conversations at Wartski are not about whether the latest handbag is in stock, but more about how Dürer, da Vinci and Holbein trained as goldsmiths or how the Tudor miniature painter Nicholas Hilliard had his own hallmark. Rather than requesting a preview of the pre-fall collection, a Wartski customer is more likely to ask to see the work of a jeweler who went out of business generations ago—perhaps the Parisian Paul Robin, whose classically inspired jewelry was le dernier cri in 19th-century Paris, or Carlo Giuliano, whose neo-Renaissance jewelry shop on Piccadilly enjoyed success during the time of the Pre-Raphaelites. The most modern thing you are likely to find in Wartski is a splendid 1940s brooch from Cartier or a ring by that master of American deco, Paul Flato.
Yet for all its refusal to bend with the winds of fashion, Wartski is known the world over, not least as the place that made Kate Middleton's ring when she married Prince William in 2011. The antiques dealer has been popular among British royalty for more than 100 years. In the 1890s, Morris Wartski was a traveling peddler of trinkets who hawked his merchandise around north Wales. One day, a carriage-owner offered him a lift. Wartski so impressed him with his knowledge of the Old Testament that on parting, the young man handed Wartski his card, with instructions to call on his land agent and open shops; the first was in Bangor and the second in Llandudno, a fashionable seaside resort. His benefactor—the gentleman with the carriage—was the fifth Marquess of Anglesey, also known as the Dancing Marquess, a man who makes 21st-century standards of bling seem almost puritanical. Even his sportswear was extraordinary—his "Ping-Pong" shirt was embroidered with emeralds. The marquess ran through a vast fortune and died aged just 29 in 1905, leaving debts to Wartski for jewelry that almost bankrupted the firm.
Had it not been for an opportunity that Wartski's son-in-law, Emanuel Snowman, identified in Russia, the business might well have gone the way of many of the long-departed jewelers whose work it now sells. In the 1920s, Snowman, then Wartski's owner, traveled to the newly established Soviet Union with a bag full of hard cash and returned with his luggage stuffed full of Fabergé knickknacks. Wartski's quickly became the go-to destination for Fabergé, and today the shop usually has around 150 Fabergé pieces in stock. These small objects in the showcases—including a rock crystal and gold box in the shape of a shell, and hardstone hand coolers carved to resemble animals with precious stones for eyes—often seem to be priced in inverse proportion to their size. Price tags of 500,000 pounds are not uncommon.
One of Wartski's regulars was James Bond author Ian Fleming, who more or less set his story "Property of a Lady," a tale of espionage and Fabergé eggs, at Wartski's. "The window," wrote Fleming, "with a restrained show of modern and antique jewelry, gave no hint that these were the greatest Fabergé-dealers in the world." Fleming described the "modest, ultra-modern frontage" of the old premises on Regent Street, and while the location today is different, the feel is the same.
During the 1950s and 1960s, the Hollywood elite flocked to Wartski to buy a piece of Fabergé; customers included Merle Oberon, Yul Brynner, Bing Crosby and Frank Sinatra. Margot Fonteyn and John F. Kennedy also shopped there. Today, Munn is a celebrity himself; he is a much loved expert on the BBC's Antiques Roadshow. One of the pleasures of coming to Wartski is to have Munn decode an object.
When I visited the shop recently, he spoke to me at length about a tiny pink enamel Fabergé photo frame, decorated with little gold garlands of flowers. "You might give such a frame to your girlfriend," Munn says. "There are roses for Venus, and pearls for Venus too because they're born of the shell, and then diamonds forever."
A 19th-century silver teapot in the shape of a pumpkin inspires sentimentality of a different kind. This unlikely token of affection was given by Queen Victoria to her personal servant John Brown as a Christmas present in 1876. Without such provenance, it would just be another piece of Victorian silver, but Munn knows the story behind it. "Interestingly, it was already about six or seven years old when she gave it. I think what probably happened was that she panicked in Balmoral, had nothing for him, so she simply sent down to her treasury to rip up a teapot that she already owned and have it engraved."
Wartski also has rather more racy items for sale. Roy Strong, former director of London's Victoria and Albert Museum, told Munn that you need one of three ingredients to ensure the success of an exhibition: death, sex or jewelry. All three are amply represented at Wartski's. A René Lalique pendant with a baroque pearl the size of a large quail's egg, for instance, features entangled naked bodies cast in gold. "These souls are scrabbling over each other so as not to fall into the sulfurous pits," Munn says with obvious relish.
It may not be the most obvious subject for a piece of jewelry, but it certainly bears out one of Munn's statements. "In order to get into Wartski," he says, "things have to be little works of art in their own right."