'Warzone' Chipotle Tournament Finals: Start Time, Standings and How to Watch
Warzone is being featured as part of the Chipotle Challenger series for the second time, and that means the world's most popular players, streamers and celebrities are about to collide for their share of a $50,000 prize. Want to know what time the event starts, who's playing and where you can watch the event? Check out the full details below.
When does the Chipotle Challenger Series Finals start?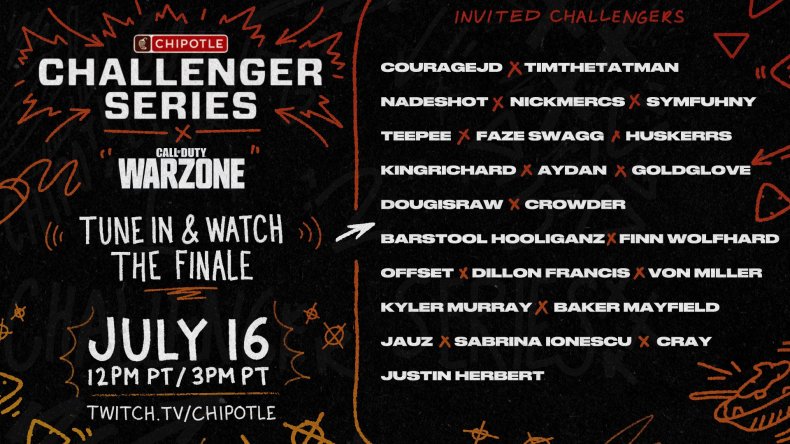 The finals are set to run on Thursday, July 16, from 3 p.m. EDT through 6 p.m. EDT. Following four grueling weeks of online qualifiers for public participants, the stage is set for a major faceoff.
How to watch the Chipotle Warzone tournament
The primary place to watch the Chipotle Warzone tournament is the official Chipotle Twitch channel. This stream will feature shoutcasters and a broad overview of the event as it unfolds. Individual streamers may also be hosting their own matches as well. You'll find links to those streams in the participant list below.
Chipotle Challenger Series Participants
The second Chipotle Challenger series is comprised of 40 Duos. Twenty of those Duos are casual players that placed well during their respective qualifiers, while the other half of the roster is made up of popular streamers, celebrities and athletes. Here are some of the well-known faces you can expect to see making their way through Verdansk later today.
Warzone Chipotle Tournament Standings, Rules & Prizing
During the second Chipotle Challenger Series tournament, the 40 participating Duos will play as many matches as possible during the three-hour time period. Points will be scored for Eliminations and placement with the highest four matches contributing to your total. Generally speaking, though, you'll mostly see teams trying to build up kill counts instead of playing it safe.
Eliminations: One Point each
Wins: Five Points each
For prizing, it looks like the full $50,000 prize pool will be awarded to the winning Duo. Half of that pool amount will be offered to the National Urban League, while the other half is given to players. It's also worth noting that the victorious Duo will be able to score one free burrito per week for an entire year. When all is said and done, this tournament amounts to a pretty basic pub stomp worth a solid chunk of change.
Here are the final standings.
Top 30: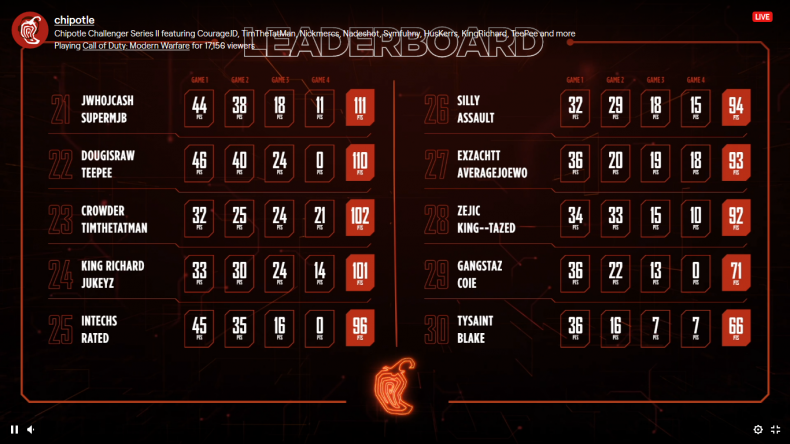 Top 20: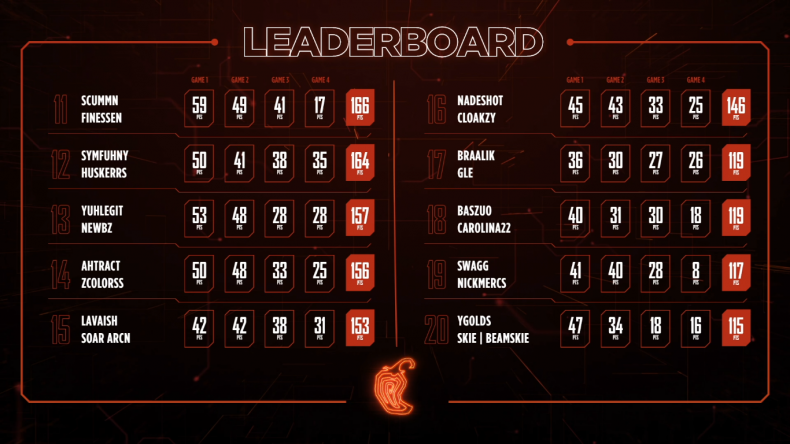 Top 10: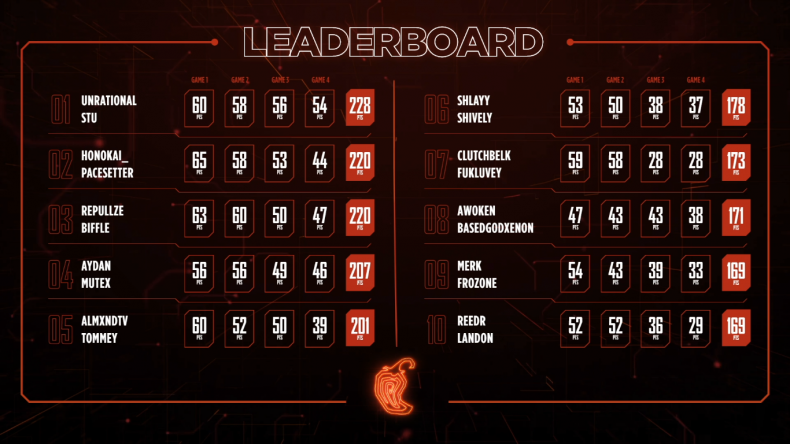 Call of Duty: Warzone is available now on PS4, Xbox One and PC.
Who will take the top prize in the latest Chipotle Challenger series? Will one of the known streamers reign supreme? Tell us your thoughts in the comments section!