'Warzone' Toronto Ultra Tournament - Start Time, Standings & How to Watch
Warzone fans across the globe tuned in to the Toronto Ultra Warzone Tournament Wednesday afternoon, and now the final day of action is about to begin. Below, we recap all you need to know including the event's start time, latest leaderboard and more. Get all the details straight from the source, so you can find out who will take home their share of the $100,000 prize pool.
When does the Toronto Ultra Warzone Tournament finals start?
The last day of action is set to begin at 3 p.m. EDT August 6. It's expected that the event will last anywhere from three to four hours.
How to watch the Toronto Ultra Warzone Tournament
The Toronto Ultra Warzone Tournament is streaming live via the Call of Duty Twitch channel. Here you can watch highlights of the action as narrated by shoutcasters like Maven and Puckett. If you want an overall view of the matches as they happen, this is the best place to be. It's also assumed streamers will be hosting their own matches on their Twitch channels too.
Toronto Ultra Warzone Tournament teams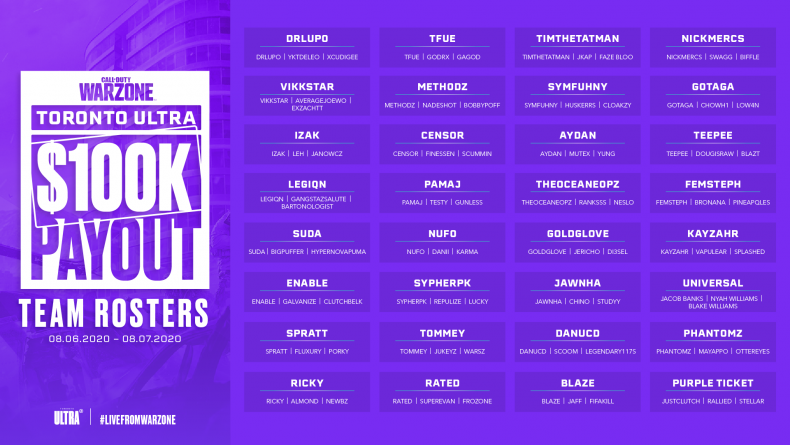 Here's the full list of participating teams as listed in the image below.
DrLupo, YKTDeleo, xcudigee
Tfue, GodRx, theGaGOD
TimtheTatman, JKap, FaZe Bloo
NICKMERCS, Swagg, Biffle
Vikkstar123, JoeWo, exzachtt
Methodz, Nadeshot, BobbyPoff
Symfuhny, HusKerrs, Cloakzy
Gotaga, ChowH1, Low4n
Izak, LEH, Janowicz
Censor, Finessen, SummN
Aydan, MuTeX, Yung
Teepee, DougisRaw, Blazt
LEGIQN, Gangtazsalute, Bartonologist
Pamaj, Testy, Gunless
TheOceaneOpz, Ranksss, Neslo
FemSteph, Bronana, Pineapqles
Suda, BigPuffer, HyperNovaPuma
NuFo, Danii, Karma
GoldGlove, JERICHO, Die3sel
Kayzahr, Vapulear, Splashed
Enable, Galvanize, ClutchBelk
SypherPK, Repulize, Lucky,
JawnHa, Chino, StuDyy,
Jacob Banks, Nyah Williams, Blake Williams
Spratt, Fluxury, Porky
Tommey, Jukeyz, WarsZ
DanucD, Scoom, Legendary117S
Phantomz, Mayappo, Ottereyes
Ricky, Almond, Newbz
Rated, SuperEvan, Frozone
Blaze, Jaff, Fifakill
JustClutch, Rallied, Stellar
Toronto Ultra Warzone Tournament Leaderboard, Rules & Prizing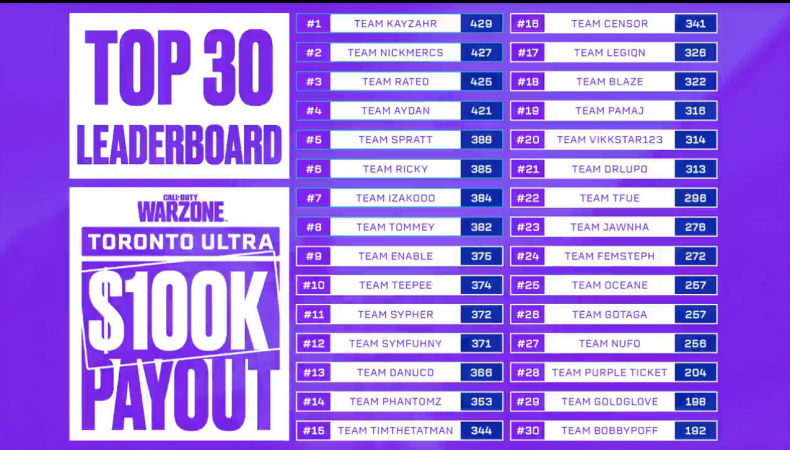 For Day 2 of tournament action, teams will play as many games as possible within a two-hour timespan, with the top three scores counting toward a cumulative total. Points will be scored based on placement and Eliminations. Following the two-hour pub stomp, the top eight combined scores from Day 1 and Day 2 will compete in a single-elimination bracket to determine the winner of the final prize.
The prizing is doled out as follows:
$50,000
$30,000
$10,000
$10,000
$3,000
$3,000
As far as the leaderboard is concerned, the standings from Day 1 are listed above. As Day 2 scoring evolves, the results will be posted on a live standings YouTube video that will be shared by the Toronto Ultra Twitter account once the results start to be tallied. The final Day 2 bracket can be seen below.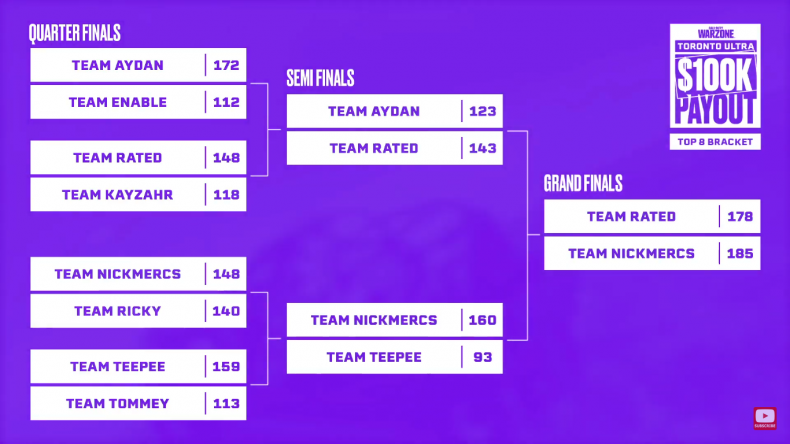 The Toronto Ultra Warzone tournament begins August 6 at 3 p.m. EDT.
Who do you want to see take home the top prize in the Toronto Ultra Warzone Tournament? Who will emerge victorious at the top of the standings? Tell us in the comments section!