Was the 2018 World Cup the Best Ever? Five Iconic Moments from the Tournament
The World Cup final is almost upon us. After 24 days of competition, 63 games and over 160 goals a new world champion is set to be crowned in Moscow, before soccer's biggest competition packs up for another four years.
Welcomed by a mixture of suspicion and trepidation for political matters than events on the pitch, the 2018 World Cup has proved to be as riveting a tournament as we could have hoped for.
It might have lacked an outstanding side capable of setting a new standard like Spain did in 2010, and it might have lost Portugal's Cristiano Ronaldo and Argentine star Lionel Messi earlier than anticipated, but the 2018 World Cup delivered entertainment in spades.
Newsweek has picked five iconic moments from the last four weeks.
VAR makes its debut
France's opening game of the tournament against Australia on June 16 had been a rather mundane affair for 58 minutes, until Antoine Griezmann went down in the box following a challenge from Joshua Risdon.
Uruguayan referee Andres Cunha immediately waved away the French striker's protests and play went on until VAR announced its arrival on soccer's biggest stage. Cunha sprinted off the pitch to review footage of the incident for just over 30 seconds, before awarding Les Bleus a penalty.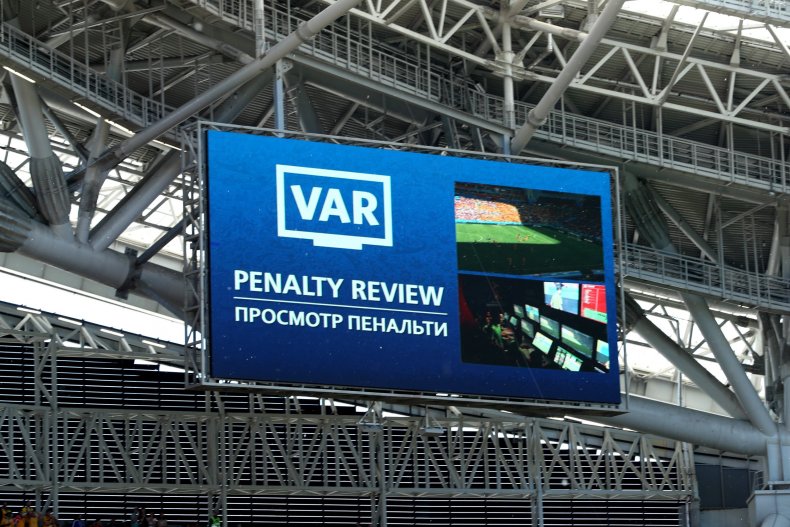 The first VAR decision in World Cup history left Australians incensed, while Griezmann
converted the penalty. The Socceroos then equalized through a penalty of their own, before France scored a late winner, which was only allowed to stand after the intervention of goal- line technology. One of the major talking points ahead of the tournament, VAR became a regular feature throughout the competition without causing the chaos many had expected.
Mbappe's stellar appearance
When France and Argentina met in the Round of 16, they produced one of the greatest game in World Cup history, never mind the tournament. That the performance of a single player could overshadow the seven-goal classic speaks volume for how supremely talented he is.
Gliding past opponents, making the impossible look routine, Kylian Mbappe announced on the biggest stage of all with an ease that belied his age. The 19-year- old scored twice, won the penalty for France's first goal and repeatedly tore through Argentina's defense at will.
That he did so against a largely subdued Lionel Messi carried a symbolism that was not lost on those watching. Despite a disappointing World Cup, the Barcelona maestro remains close to his peak, but it won't be long before the baton is passed into Mbappe's hands.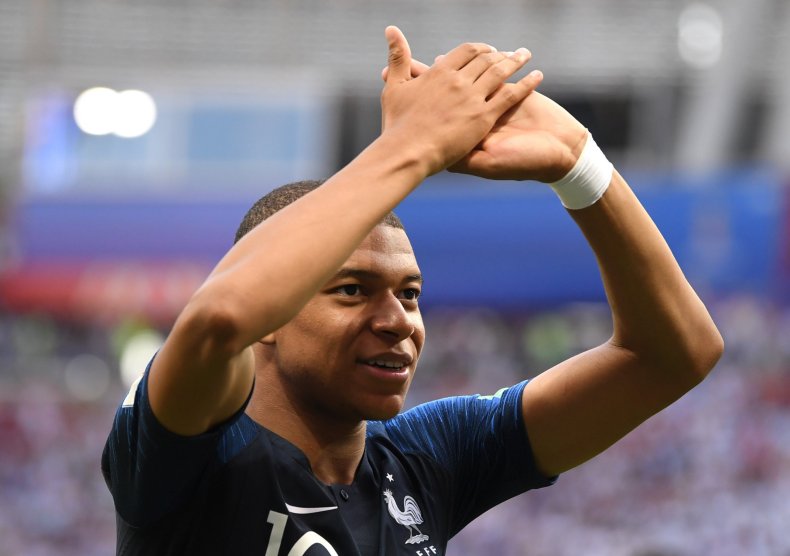 Messi and Ronaldo's last dance?
The two greatest players of their generation arrived in Russia knowing this could well prove to be their last chance to leave their mark at the World Cup. Cristiano Ronaldo wasted no time in doing so, scoring a hat-trick—which included a dramatic late equalizer—against Spain in Portugal's opening game, before scoring the winner against Morocco.
Lionel Messi and Argentina, meanwhile, struggled on and off the pitch. The Barcelona star missed a penalty as the Albiceleste drew with Iceland, before suffering a 3-0 drubbing at the hands of Croatia.
Ronaldo also fluffed his lines from the spot in Portugal's final game of the group, while Messi netted one of the goals of the tournament as Argentina secured a last-gasp win against Nigeria to reach the knockout stage.
Ultimately, both would come up short in the Round of 16, unable to score against Uruguay and France respectively, as their teams crashed out of the tournament. However, they offered a timely reminder of what soccer fans might miss in four years and, perhaps fittingly, the duo couldn't be separated even in defeat.
Germany made history for the wrong reasons
Germany arrived in Russia looking to make history, with many wondering whether
they could become the first team since Brazil in 1962 to retain the World Cup for two consecutive tournaments.
And why not? The defending champions had not lost a competitive game since they
were knocked out by France in the quarterfinals of Euro 2016, boasted incredible
talents and were second-favorite to lift the World Cup for the fifth time.
Die Mannschaft did make history but, unfortunately for Joachim Low, they did so for
all the wrong reasons as they became the first German team in history to be knocked
out in the group stages.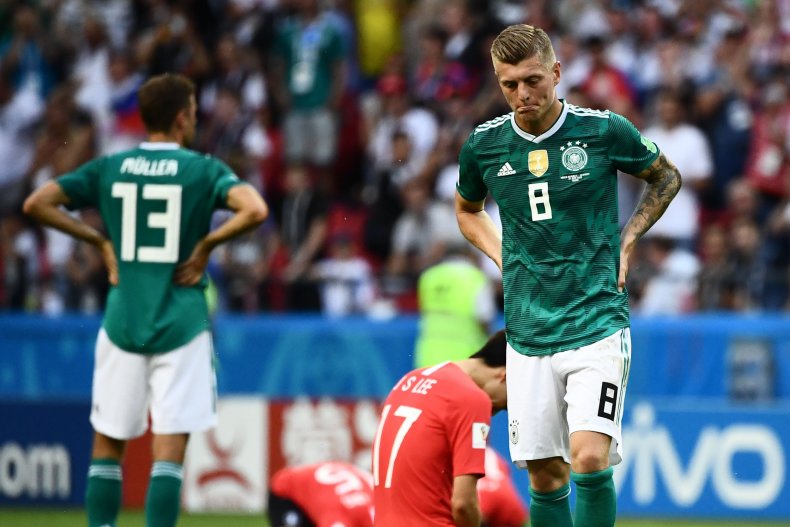 Defeat against Mexico in the opening game was followed by an unconvincing, last-
gasp win against Sweden before a dismal 2-0 loss against already-eliminated South
Korea condemned them to an early exit. It was only the first time since 1930 neither Germany nor Brazil made it to the semifinal.
Neymar rolls with it
With the exception of Ronaldo and Messi, few players attracted as much attention as Neymar in the lead-up to the World Cup. Having had his tournament cut short by a serious injury four years ago, the Paris Saint-Germain forward was expected to leave his mark on world soccer, with Brazil pinning hopes of a first World Cup triumph since 2002 on his shoulders.
As it turned out, the 26-year-old made the headlines for all the wrong reasons, with his
diving antics, drawing scathing criticism from observers and pundits.
"This is a game of men that is played with intensity and not with so much clowning,"
Mexico coach Juan Carlo Osorio was quoted as saying by BBC Sport after Neymar
rolled around on the touchline when El Tri defender Miguel Layun appeared to stand
on his ankle during the Round of 16 clash.
Neymar's antics were so polarizing that a Swiss TV station calculated the Brazilian,
who scored twice in the tournament, spent a total of 14 minutes on the ground
throughout the World Cup. Sadly, it did not help Brazil, who were knocked out by Belgium in the quarterfinals.