Was Donald Trump America's First Atheist President? | Opinion
Christians worldwide are called to observe penance and develop a closer relationship with Jesus Christ during the Lenten season. Self-reflection and repentance, key pillars of Lent, are tools of atonement for past sins and are innate to the moral teachings of Christ. It's difficult to imagine a true Christian who wouldn't welcome the opportunity for forgiveness. In contrast, former President Donald Trump has repeatedly said he has never asked God for forgiveness—a foremost doctrine of Christianity—and has questioned his need to do so if no sins were committed.
This broaches the question: Was Donald Trump America's first atheist president?
Though faith is a private matter only known to the individual, our actions provide outside indicators that can be explored. Trump's formative religious exposure was as a congregant of the Marble Collegiate Church in the NoMad neighborhood of Manhattan, where he attended services with his parents. The church's head pastor, Norman Vincent Peale, a conservative icon and author of the seminal work, The Power of Positive Thinking, had a lasting effect on Trump's self-confidence. Peale is often considered to be more of a motivational speaker than an evangelist, delivering his message on radio programs, in newspapers and in a monthly publication.
As an adult, Trump rarely speaks of his religion. When pressed, he stumbles when asked about tenets of the Christian faith. This is, perhaps, because of his distaste for it. Trump biographer and author of The Big Cheat, David Cay Johnston told me, "In his book Think Big, Trump goes on for six pages denouncing Christians as 'fools,' 'idiots,' and 'schmucks.'"
During the 2016 campaign, Trump wasn't truthful about continuing to attend Marble Collegiate Church—forcing Marble to refute that assertion in a statement. Although he claims to be a devout follower of Christ, he typically declined to share a favorite verse or testament of the Bible. For instance, when trying to appease a reporter on the topic, Trump cited "an eye for an eye" as a favorite verse—retribution explicitly condemned by Jesus (Matthew 5:38-48). Moreover, his reverence for revenge is apparently so central to his modus operandi, he devoted a chapter in his book—Think Big—to the importance of retribution and the necessity to "screw them back in spades."
Trump's religious identity is often viewed as a strategic tool for political purposes. His appeal to evangelicals is enhanced by various assertions; such as the claim of collecting Bibles, maintaining that the Bible is his favorite text and his use of religious words and references to God at more than double the rate of presidents in the last century. In fact, his use of religious language spiked once he won the party's nomination and was even more prevalent in states with higher religious populations.
Recent studies have pinpointed the significance of those appeals to the evangelical audience. Many evangelical voters were receptive to those appeals, revising both personal moral beliefs and their opinions of Trump to remedy juxtapositions.
In the White House, former aides have reported that, privately, Trump spoke caustically regarding faith leaders and organizations.
During his tenure, Trump did not belong to a church. He visited a church 14 times while in office—most were widely viewed as media events rather than private acts of worship. His most notable visit was to St. John's Episcopal Church after protesters were cleared from the front of the church. Mariann Budde, Episcopal bishop, Diocese of Washington, D.C., described Trump's actions as, "antithetical to the teachings of Jesus and everything that our church stands for."
As president, Trump ridiculed assertions of faith by congressional leaders and still shows no evidence that he maintains a spiritual practice. Trump is no stranger to public profanity—including often taking the Lord's name in vain—a particularly blasphemous act for Christians. And, according to his former lawyer Michael Cohen, he has referred to Christianity as "bulls---."
In a written interview with Religion News Service in October 2020—and just before the general election—Trump asserted he had changed faiths. Trump's ostensible shift from Presbyterian to non-denominational Christianity made him the second president to switch faiths while in office, after Dwight Eisenhower in 1953. This new identity as non-denominational parallels the steady decline of churchgoers in the U.S., with current membership at its lowest recorded rate and polling displaying the growth of non-denominational Christianity and the decline of Protestantism.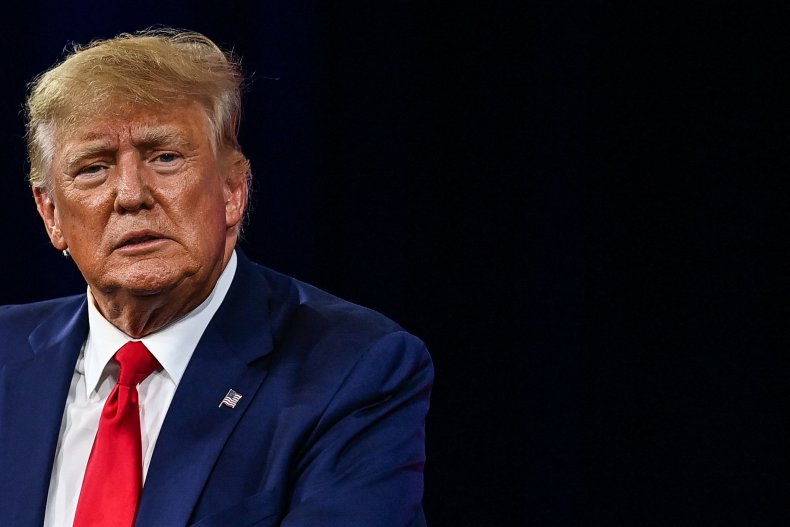 Harvard Divinity School professor Catherine A. Brekus argued Trump's religious posturing has everything to do with political expediency from Christian nationalists: "Throughout his presidency, he has had an uncanny ability to exploit the worst features of America's racist history for his own advancement, and on some level, he seems to have understood that the Bible has been used not only to defend the principles of love and redemption, but also, in the white Christian imagination, racial subordination."
Trump's religious standing is likely knotted to his personality. Psychologists have largely characterized Trump as a classic narcissist from a distance. Research finds narcissists are particularly unwilling or unable to accept the idea of a higher power. Further analysis shows individuals with high levels of narcissism are less likely to pray or participate in religious activities. Additionally, the spectrum of narcissism leads those who experience grandeur to attribute godlike qualities to themselves, with overt narcissists assigning prayer-like tendencies inward, rather than outward to God. There is simply no need for an omnipotent God for asylum for these individuals. Moreover, in moments where prayer was expected at the White House, Trump always delegated those obligations to others—most notably, former Vice President Mike Pence.
Trump's cardinal virtues appear to extend to the accumulation of wealth and fame. This is consistent with many non-religious Americans—compared to evangelicals—who tend to find meaning in their lives through finances.
Now, Trump finds himself positioned to partner with the Saudi government's new controversial golf league. Despite their systematic history of human rights violations and brutal regimes, Trump has always held their wealth in esteem. "Omnipresence is most important to where he's gotten," Trump biographer Gwenda Blair told me. "For Trump, nothing is forbidden. This is how he looks at ultimate power. His core value system? Himself."
Though other presidents' faiths have been scrutinized—including Presidents Thomas Jefferson and Abraham Lincoln—the majority of Americans don't currently consider Trump to be religious. In fact, in 2016, Pope Francis implied Trump was not a Christian. While it is impossible to examine the heart of Trump, the Bible tells us, "Out of the abundance of the heart his mouth speaks," (Luke 6:45). And for many religious scholars, Trump's speaking has told volumes.
Ben Pryor is an American politics researcher and writer.
The views expressed in this article are the writer's own.