'Was This My Fault?' Surgeon General Shares 4-Year-Old Daughter Has COVID
U.S. Surgeon General Vivek Murthy is closely monitoring his 4-year-old daughter after she tested positive for COVID-19 this weekend and while he expects she'll be fine, he shared that the diagnosis prompted him to have the same worries millions of other parents experienced.
Murthy announced his daughter tested positive on Tuesday, noting the difficulties that come with being a parent during the COVID-era. He said that it's difficult to isolate a small child from the rest of the family and that there are "few things" that are "worse than worrying about your child's health."
"Staring at my daughter's positive test, I asked myself the same questions many parents have asked: Will my child be ok? Could I have done more to protect her? Was this my fault?" Murthy posted on Twitter. "In these moments, it doesn't matter if you're a doctor or Surgeon General. We are parents first."
Murthy wrote that his daughter has a fever, sore throat and isn't her "usually bubbly self." However, she's eating, drinking and breathing "fine," indicating she may only have a mild case of the virus. While Murthy was confident that his daughter will survive COVID-19, as she's young and "otherwise healthy," he acknowledged that's not the case for every parent.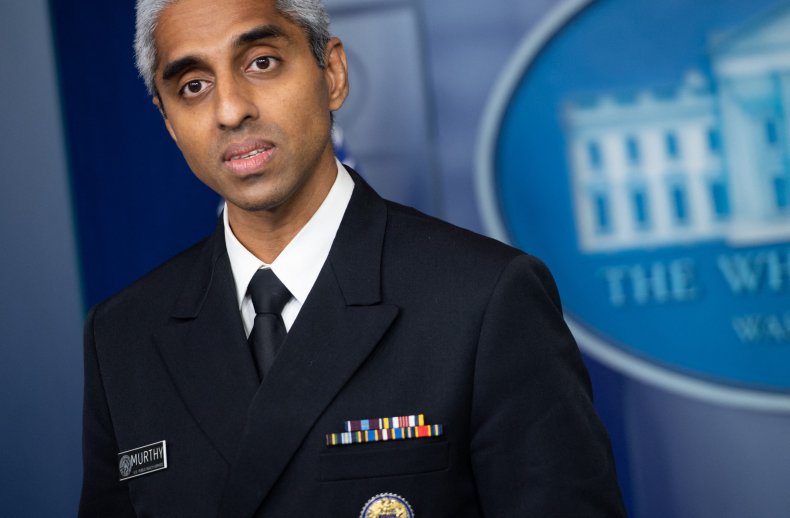 Children under the age of 18 have the lowest hospitalization rates among any age-based demographic in the United States. Similar to every other age group, though, there was an uptick in new admissions among children as the Omicron variant spread.
The likelihood of a person dying from COVID-19 increases with age and children under the age of 5 account for only 0.1 percent of America's total deaths. Some have cited the lower risk to young children in the argument to allow children to attend in-person classes and remove mask requirements. Some have also pointed to the lower risk COVID-19 tends to pose to children to oppose vaccine mandates for children.
Dr. Anthony Fauci, director of the National Institute of Allergy and Infectious Diseases (NIAID), acknowledged that children are at a lower risk of COVID-19 than older people. However, he told News Nation Now that when it's your child that's hospitalized or dying of COVID-19, it doesn't seem like an insignificant number of cases. So, he advised people to get their children vaccinated as soon as they're eligible.
"[At pediatric hospitals] you see children there who are suffering, some even dying, who need not be in that situation, if they were vaccinated, because virtually all — not 100 percent but close to that — of the children who are seriously ill in a hospital from COVID-19 are children whose parents decided they did not want to vaccinate them, and that is avoidable," Fauci told the network at the end of December.
In announcing his daughter's COVID diagnosis, Murthy expressed the wish that children under five were able to get vaccinated to help protect her. While it appeared vaccines would soon be available for younger children, Pfizer is delaying its request for approval for vaccines in children under 5 until it receives data on its three-dose series. The move means vaccines won't be available for America's youngest cohort in the coming weeks.
Murthy advocated for people to get their children vaccinated, noting in his Twitter thread that he, his wife and his 5-year-old son all got the COVID-19 vaccine. He said he was "grateful" they were all vaccinated because they're less likely to get seriously ill if they contract the virus.
In his tweets, Murthy reflected on how difficult the pandemic has been for parents.
"Parenting during the pandemic has been one of the hardest jobs I could have imagined. I have immense respect for the millions of parents who are grappling with the daily, exhausting decision-making that goes into protecting our kids' health and their education," he said. "The experience of the last few days has reminded me that despite our varied opinions about the pandemic, we all largely want the same thing: to keep ourselves and our loved ones safe. I hope to remember this the next time I encounter someone with a different point of view."