Police Say Washington Boy Who Went Viral for Being Bullied Likely Made up Story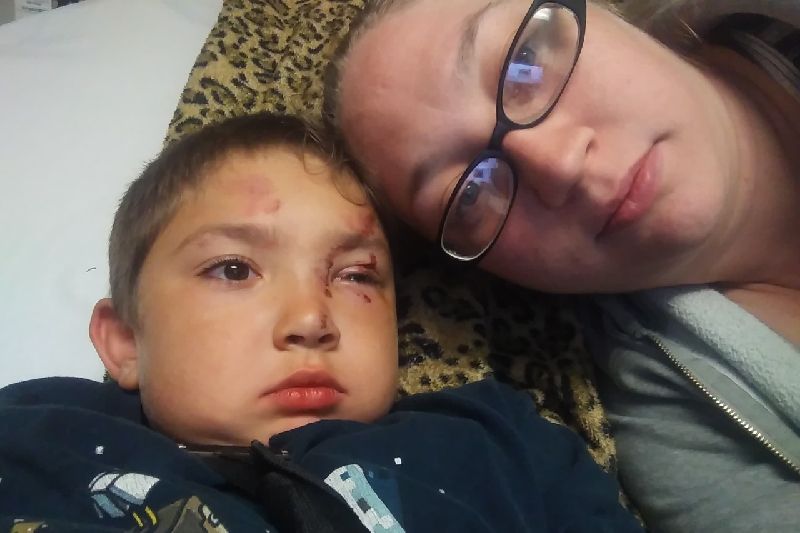 The six-year-old from Washington who claimed he was beaten by a young group of boys reportedly made the whole thing up.
News spread quickly of Carter English, who said he was bashed after standing up for a friend. He claimed the group, led by a five-year-old boy, had pelted him with rocks and sticks and also rubbed sawdust into his eyes. He was found by his mother, covered in blood and in need of medical help. He underwent treatment to repair a lacerated eye.
On Thursday, however, Olympia Police revealed that the whole story likely did not happen. "In recent days investigating detectives developed information that the injuries the child sustained might not be the result of an assault," Olympia police said. "That information was confirmed today. The injuries sustained by the child are the result of a fall, which occurred at the apartment complex on the date in question, not an assault. As a result, there are no suspects of any age."
A GoFundMe page was even set up to support Carter, but has since been removed. On Tuesday, the site had raised more than $30,000 to help with his medical bills and treatment.
His mother, Dana English, originally described the situation as "hell." "I haven't slept," she said. "I haven't eaten. I can't do anything. I can't even leave his side. I really don't know what I'm hoping for other than for people to know that this is not acceptable. Bullying is not okay. There's no reason to bully someone ever."
The organizer of the GoFundMe page, family friend Karen Christine, described Carter as a very smart boy who loves video games. "What happened to him wasn't okay and the police are not stopping until they catch the kids that did this to him," Christina said. "This GoFundMe account is to help his mom with medical bills and gas money."
Carter claimed seven boys had bashed him. At the time, police said no criminal convictions were likely because of their age.
Donators on the GoFundMe page sent well wishes along with donations. "Sweetie I'm praying for your quick recovery," one donator said. "You are my little hero. I'm sending you a great big hugs and kisses to make all your owies go away."
"Just wanted to say awesome job little man," another person wrote. "Doing the right thing hurts sometimes but don't ever let it stop you. Courage is being scared to death but doing it anyway, and man did you show it. Good luck and God bless!"
Police Say Washington Boy Who Went Viral for Being Bullied Likely Made up Story | U.S.