Washington State Militia Group Seeking Citizen Arrest of Attorney General Over Support for Gun Laws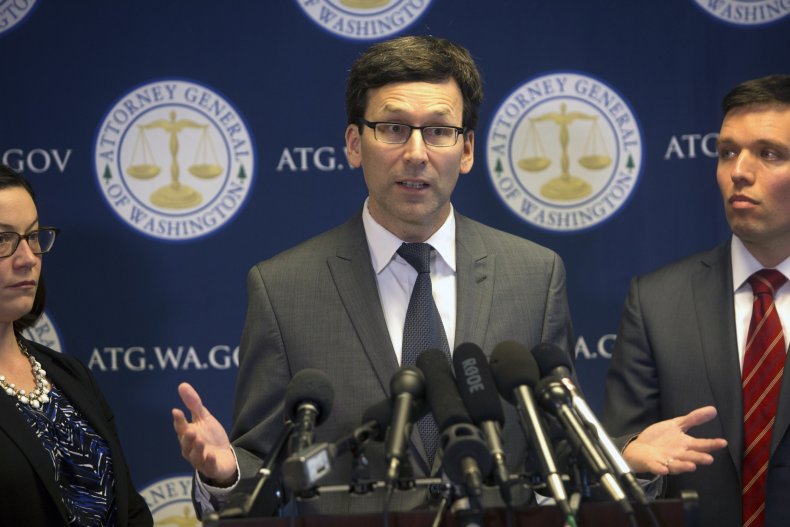 The Washington State chapter of the staunch pro-gun organization The Three Percenters is preparing to collect signatures to launch a statewide ballot initiative to overturn new gun restrictions, which the group believes is unconstitutional.
The Three Percenters—described by the Anti-Defamation League as a "wing of the militia movement" and an "anti-government extremist" group—have led a crusade in Washington against Initiative 1639, a ballot measure voters approved last year which curtailed access to semi-automatic rifles.
At a recent town hall in Thurston County, first reported by The Seattle Times, members of the group gathered to strategize about holding Attorney General Bob Ferguson accountable for the new rules, which he endorsed in an unusual move for an office with authorship power over such initiatives.
After publication, the attorney general's office contacted Newsweek to say that their "role in the initiative process is limited to writing a title and brief summary for the ballot," adding that there is a judicial remedy available for petitioners who remain unsatisfied.
Though Ferguson had said he would isolate himself from the administration of I-1639 during the election, groups like The Three Percenters charged that the attorney general ran afoul of state law in his zeal to see the measure passed.
Newsweek subscription offers >
During the campaign last year, Ferguson said he was "deeply committed" to enacting gun reform and that "if we have to go directly to the people to get these changes, then I'm behind it."
Washington State prohibits the official use of public office to campaign for ballot initiatives, though an exemption is carved out for "a statement made by an elected official... in response to a specific inquiry."
Nevertheless, The Three Percenters are moving ahead with their campaign to file citizen complaints against Ferguson with the hope of ensnaring him in civil, and potentially criminal, penalties. These complaints also involve, among others grievances, allegations that the attorney general is failing to perform the duties of his office.
The group sees the new gun law as not only unjust but contrary to the guarantees of the Second Amendment.
The Three Percenters do not view themselves as a militia organization and dispute the idea that they are anti-government. Reports do acknowledge that the group does not generally advocate for violence or engage in racist practices, a feature of many other fundamentalist militia organizations.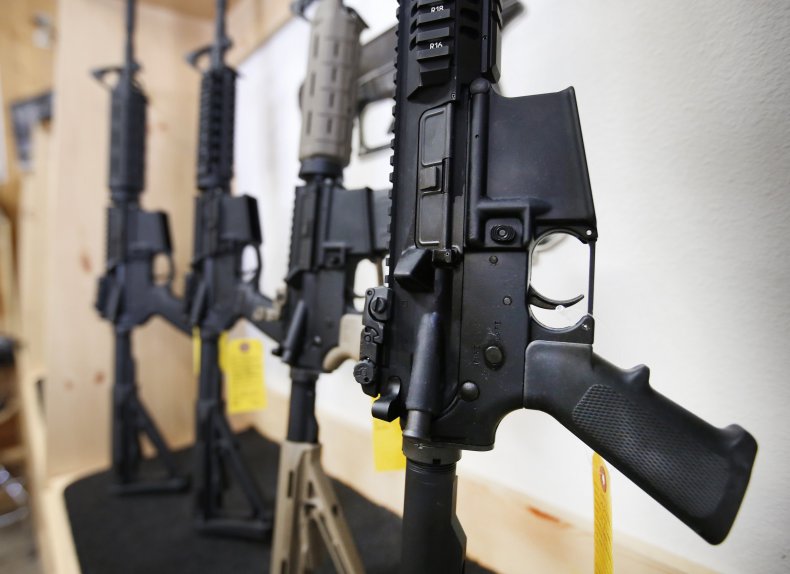 According to their bylaws, The Three Percenters embody the "last defense to protect the citizens and Constitution of the United States if there ever comes a day when our government takes up arms against 'WE the People.'"
"Right now we are going to lodge a citizen complaint," Matthew Marshall, the leader of the group's Washington chapter, told Newsweek. "The town hall was to see if we could get the support of the president of the Washington State Sheriffs' Association, John Snaza. If we're able to get a citizen complaint that is a criminal complaint and get a judge in Thurston Country to issue a warrant, would he perform the arrest of Bob Ferguson?"
According to Marshall, the answer was a resounding 'yes,' but only upon the express, lawful order of a state judge. However, the likelihood that a judge would approve the arrest of a sitting attorney general is exceedingly slim, a fact that Marshall acknowledged.
Judges in four counties have already rejected citizen complaints from gun-rights supporters, many of whom are seeking to bring about Ferguson's prosecution. One judge in Yakima County found that nothing "rises to the level of criminal charges."
"I respect Washingtonians' right to express their disagreement with a decision by nearly 60 percent of Washingtonians to adopt common-sense gun reform," Ferguson told Newsweek. "That said, their actions won't deter me from doing my job and defending the will of the people."
Notwithstanding the hurdles of the campaign for a citizen arrest, Marshall is hoping to catalyze on some of this recent antipathy to enact a ballot measure that will undo the gun restrictions. After submitting his proposal to the offices of the secretary of state and attorney general, he recently obtained his own initiative, I-1094, which will appear on the ballot in next year's general election if his group can collect 260,000 signatures by January 3.
"I fully believe that the people will support this," he said. "People don't feel like their voices are being heard. You're going to see an outpouring of conservatives who are angry at all the laws being shoved down their throats."
This article has been updated to include an additional comment from the Washington State Attorney General's office.
Washington State Militia Group Seeking Citizen Arrest of Attorney General Over Support for Gun Laws | U.S.