Washington Commanders Safety Deshazor Everett Charged in Fatal Crash
Deshazor Everett, who plays safety for the NFL's Washington Commanders, has been charged with involuntary manslaughter in connection with a fatal crash in December that killed a Las Vegas woman, the Loudoun Country Sheriff's Office said in a press release Tuesday.
The woman, identified as 29-year-old Olivia S. Peters, was a passenger in a vehicle being driven by Everett when the vehicle traveled off the road, hit several trees and rolled over. An investigation determined that Everett has been driving more than twice the 45 mph speed limit just before the crash, the release said.
The fatal crash and charges come amid the Washington Commanders' efforts to first drum up anticipation and then attention for their recent rebrand. Until last week, the team was known for more than a year as the Washington Football Team, a placeholder name adopted after the team faced pressure to leave behind its original moniker long considered to be a slur for Native Americans.
"We are aware of these charges and are continuing to monitor the situation. We will have no further comment at this time," the Commanders said in a statement.
Everett and Peters were traveling north on Gum Spring Road near Ticonderoga Road, in eastern Virginia's Loudoun County, at around 9:15 p.m. when the crash occurred. Peters was transported to StoneSprings Hospital, where she died from her injuries.
Everett was also hospitalized for serious, non-life-threatening injuries.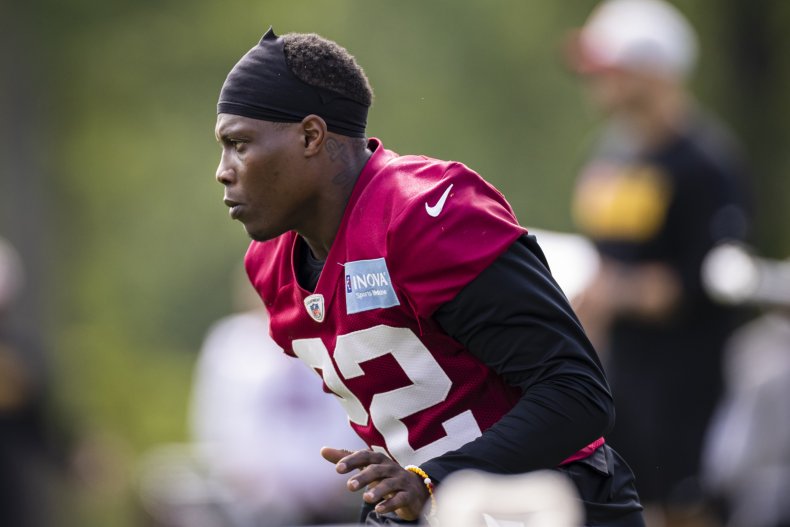 Everett, who lives in Ashburn, Virginia, turned himself in to the Loudoun County Adult Detention Center on Tuesday afternoon. He is currently being held there on a $10,000 secured bond, according to the release.
Peters' family said in a statement after her death that she had recently started occupational therapy practices in Las Vegas and Manhattan and that her "passion and sole focus in life was treating special needs and underprivileged children."
"Our family is devastated by the loss of our brilliant and beautiful daughter, Olivia Suzanne Peters," the statement read.
Everett has also commented on Peters' death. On January 6, he posted a tweet that thanked fans for their prayers and asked them to continue praying for him, Peters and her family.
He tweeted again on January 10, asking, "Why am I left to deal with the pain?"
"She always made me better; Now I'm alone," the tweet read.
Newsweek has reached out to Everett's lawyer for comment.
Update 2/8/2022 4:55 p.m.: This article was updated with additional background information on Everett and the crash.