Washington Coronavirus Deaths Jump 42 Percent in a Week As New Cases Surge
Novel coronavirus cases in Washington state have surpassed 55,800. More than 825 new infections were reported Thursday, along with 16 new deaths, the Washington Department of Health confirmed.
The state has seen at least 80 fatalities in the past. This marks an increase of over 42.8 percent from the 56 total new deaths reported a week prior.
The state's seven-day rolling average of daily new deaths also spiked by 50 percent from the figure reported a week ago, rising from eight on July 23 to 12 on July 30. Its daily death toll saw a dramatic spike on Thursday, more than quadrupling from three new deaths reported Wednesday.
The state's positivity rate was reported to be 5.7 percent on Thursday, according to the Washington Department of Health, which is above the testing rate threshold set by the World Health Organization (WHO) back in May. The criteria set by WHO advised that positivity rates in a given population should remain at five percent or lower for at least 14 days before reopening.
In Washington, the number of daily tests conducted went down this week, while the weekly average positivity rate increased by about 0.3 percent week-on-week, according to data compiled by Johns Hopkins University.
The first-ever novel coronavirus case in the U.S. was reported in Washington on January 21. The state began reopening on May 4. The seven-day rolling average of daily new cases began mostly increasing from around May 23, and rose on a sharper upward trend from around mid-June.
In late June, Washington Gov. Jay Inslee issued a statewide mask mandate and announced a pause on further reopenings in some counties. Earlier this week the move was extended, with an indefinite pause placed on the state's reopening.
Inslee announced several updated restrictions this month, including a new 10-person limit on social gatherings and a ban on live entertainment across the state, including drive-in concerts, comedy clubs and live music in restaurants.
For funerals and weddings, receptions are banned while ceremonies are limited to 20 percent occupancy or no more than 30 people (whichever is less). Attendees must be able to maintain six feet of social distance, the governor's office confirmed.
The graphic below, provided by Statista, illustrates the daily COVID-19 death toll in the U.S.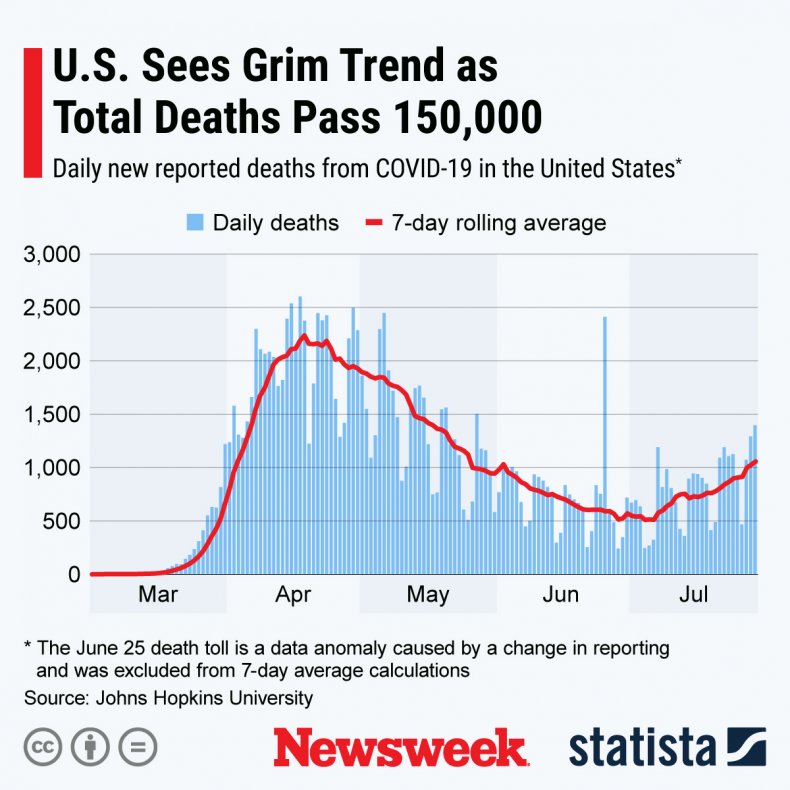 Earlier this month, the governor sent a letter to the Department of Defense requesting an extension of federal authority and funding for the Washington National Guard in support of its COVID-19 pandemic emergency response operations through December.
"As the number of positive COVID-19 cases continues to climb in our state, it is clear that help from the Washington National Guard remains essential through the end of the year," the letter said.
At a press conference earlier this month, Inslee noted: "The steps are necessary to slow down the spread of COVID-19. The unfortunate truth is that we can't let our guard down, even as we engage in more activities.
"As we inch closer to the fall, we are already on an unsustainable path in the spread of this virus. We have to change to save lives and to avoid turning the dial back further on the activities we enjoy," he added.
The state's daily cases count has been mostly declining from around July 13, while its seven-day rolling average of daily new cases have been mostly dipping from around July 19.
The total new cases reported this week rose by nearly 1.3 percent, up slightly from around 5,696 new cases reported July 17-23 to around 5,769 reported July 24-30, according to data compiled by Johns Hopkins University.
The graphic below, provided by Statista, illustrates U.S. states with more than 100 COVID-19 cases per 100,000 people in the past week.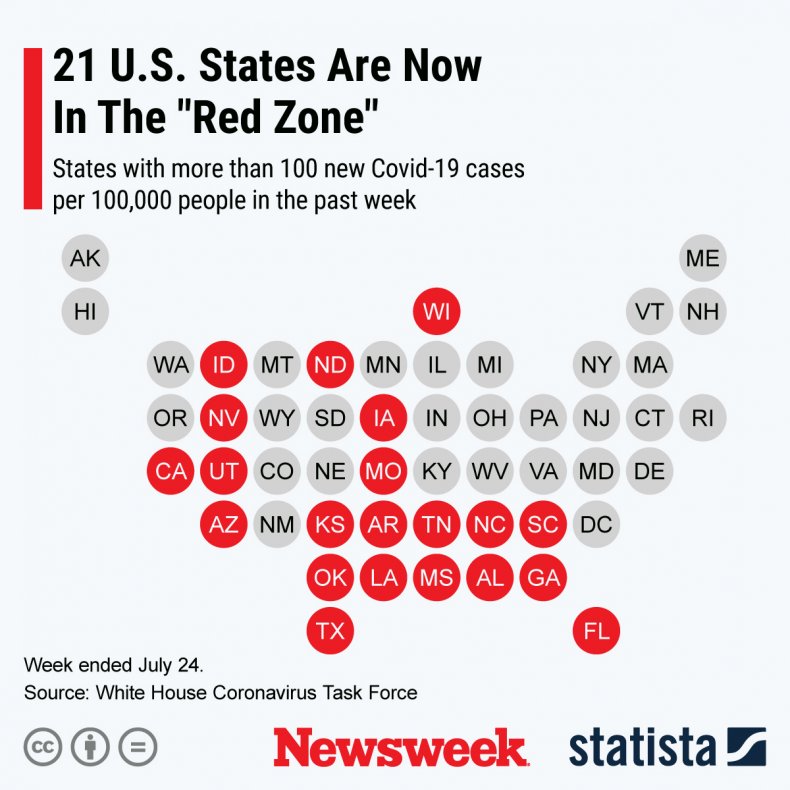 More than 17.3 million people across the globe have been infected since the virus was first reported in Wuhan, China, including over 4.4 million in the U.S. Over 10.1 million globally have reportedly recovered from infection, while over 673,400 have died, as of Friday, according to the latest figures from Johns Hopkins University.