Washington County Completely Runs Out of Hospital Beds From Coronavirus Spike
A county in Washington has run out of hospital beds following the state's surge in coronavirus cases.
"As of last night Virginia Mason Memorial had no intensive care or non-intensive care beds available. There were multiple patients waiting for hospital bed space overnight. This was after at least 17 patients had already been transferred out of the county. Several individuals are still currently waiting for available bed space," the Yakima County Health District in Washington wrote in a press release on June 19.
"Across Yakima County, there were 61 COVID-19 positive individuals hospitalized, the highest we have seen to date. Over the past week, all hospitals have reported critical staffing shortages. Many of these shortages are due to staff being out for either having COVID-19, demonstrating COVID-19 symptoms or because they are a close contact to a COVID-19 individual and are now under quarantine," the press release continues.
The press release adds that in addition to having the highest rate of coronavirus infections across the state, as of June 18, "Yakima County represented [approximately a quarter] (61 of 242) of all hospitalized COVID-19 patients in Washington State. This was more than King County, the most populous county in Washington State."
According to the Washington state Department of Health, there are currently over 6,400 confirmed cases of the new coronavirus in Yakima County as well as at least 142 deaths. The county has also reported a 26.5 percent positivity rate for coronavirus testing, the second highest across the state.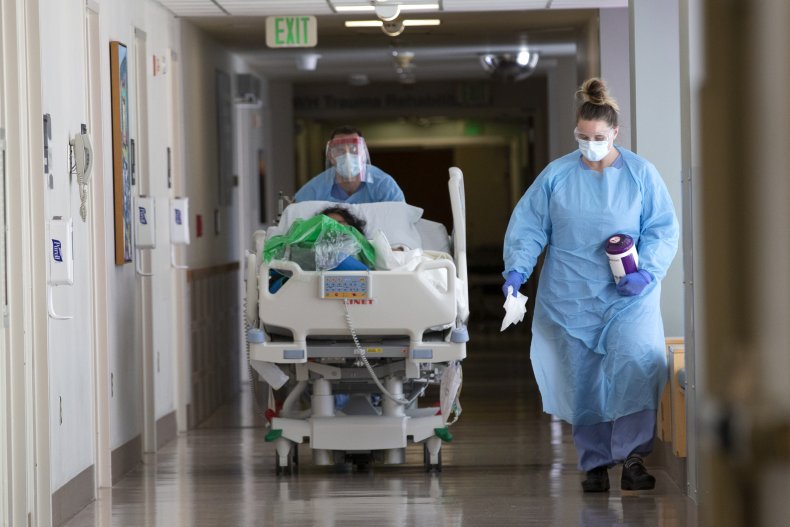 Shortly after the announcement by Yakima County, Washington Governor Jay Inslee spoke about the state experiencing an "uptick" in coronavirus cases, and how it is affecting the county.
"The number of people that one person infects is now going up," Inslee said during a press conference on Tuesday.
"The health care system, because of COVID-19 infections, is so stressed, that there is no room at the hospital in Yakima County. There are no rooms available to people for this treatment in Yakima County," the Washington governor added. "That means that patients are having to be shipped by ambulance outside of Yakima County to Seattle and other places.… We do not want to see that condition spread across the state of Washington."
During his press conference on Tuesday, Inslee also announced that residents across the state will be required to wear face masks in public, beginning on Friday.
Yakima County Health District also added that neighboring Benton and Franklin counties are also coming close to reaching capacity. "Benton and Franklin Counties are seeing a steady, rapid increase in hospitalizations due to COVID-19, with the number of patients nearly doubling the past two weeks. While hospitals are not overwhelmed yet, if the rate continues, we will exceed capacity quickly." Said Malvina Goodwin, Benton-Franklin Health District.
The new coronavirus, which causes the respiratory disease COVID-19, continues to spread across Washington, and the number of cases has increase over the past week. On June 22, the state reported 517 new cases, bringing the total number of cases to at least 29,386. There are also at least 1,284 coronavirus-related deaths in the state.
Newsweek reached out to the Yakima County Health District for further comment but did not receive a response in time for publication.