Washington D.C. Democratic Debate Livestream: How to Watch, What to Know as Joe Biden and Bernie Sanders Face Off
Despite concerns over the coronavirus outbreak, Sunday's Democratic debate will go on as scheduled.
The only candidates who qualified to appear on stage in Washington D.C. are former Vice President Joe Biden and Vermont Senator Bernie Sanders. It will be the first time that the two front runners go head-to-head in a debate.
The only other remaining candidate in the Democratic primary race is Tulsi Gabbard. The Hawaii Representative failed to qualify for the event after the Democratic National Committee announced new criteria requiring candidates to hold at least 20 percent of all awarded delegates by the time of the debate. Gabbard has only captured two delegates so far.
The debate will kick off at 8 p.m. ET and will be hosted by CNN. The moderators will be the network's Ilia Calderón, Dana Bash and Jake Tapper. Univision's Jorge Ramos was going to be a moderator but stepped down after possibly being exposed to the novel coronavirus.
The event will be broadcast exclusively on CNN, CNN en Español, CNN International, and Univision. It will also be streamed in its entirety on the network's website.
Sunday's debate was originally scheduled to be held in Arizona, a key swing state in the 2020 election. But the Democratic National Committee decided to change locations over coronavirus concerns.
"Out of an abundance of caution and in order to reduce cross-country travel, all parties have decided that the best path forward is to hold Sunday's debate at CNN's studio in Washington, D.C., with no live audience," DNC communications director Xochitl Hinojosa said in a statement.
The number of coronavirus cases in the United States has exceeded 1,200, with at least 36 deaths, according to the latest data from the Centers for Disease Control and Prevention (CDC). The outbreak was recently declared a pandemic by the World Health Organization.
Biden revealed his own plan to tackle the outbreak during a press conference on Thursday. The former vice president slammed President Donald Trump over his response and said his administration's approach to testing was a colossal failure. Biden's proposal included measures like free testing, drive-thru testing sites and emergency paid family and medical leave.
Sanders also delivered remarks on the outbreak later Thursday. The senator offered a darker response to the pandemic. He warned that the U.S. is facing an emergency comparable to that of a world war.
"The number of casualties may actually be even higher than what the armed forces experienced in World War II. In other words, we have a major, major crisis and we must act accordingly," he said in a speech from Burlington, Vermont.
Like the former vice president, Sanders also ripped the Trump administration over their handling of coronavirus. He also primarily focused on the need to help poor Americans, who he said will suffer the most from "health and economic pain" that the outbreak will bring.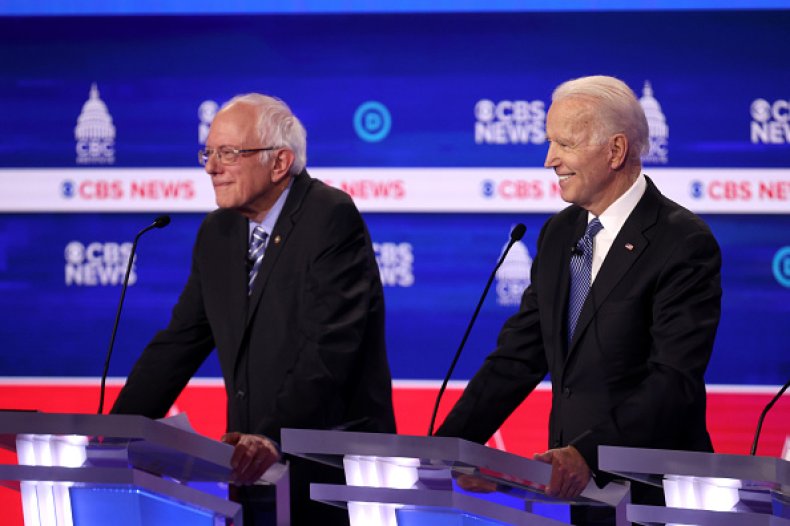 The debate will happen just days before four states head to the polls to weigh in on which candidate they want to see nominated at the Democratic National Convention this summer. Arizona, Florida, Illinois and Ohio will vote on Tuesday, March 17.
The contest could be another opportunity for Biden to expand his delegate lead. The former vice president won big on Super Tuesday and in the March 10 primaries to surpass Sanders in the delegate count. Biden's now roughly 150 delegates ahead, though both are still a long way from capturing the 1,991 needed to clinch the party's nomination.
After his poor performance on March 10, Sanders said he was very much looking forward to debating the former vice president as he rattled off a list of issues he feels Biden is not as strong on. The list included health care, climate crisis, college access, student debt, mass incarceration, childhood poverty and immigration.
It's unclear when the next Democratic debate will be held. The DNC originally planned to hold 12 debates, six in 2019 and six in 2020. The twelfth and final debate was expected to be scheduled sometime in April.