Washington, D.C., Mayor Muriel Bowser ordered a citywide curfew on Wednesday after President Donald Trump's supporters stormed the U.S. Capitol during the certification of the 2020 presidential election.
The curfew will begin at 6 p.m. on Wednesday and remains in effect until 6 a.m. Thursday.
"During the hours of the curfew, no person, other than persons designated by the mayor, shall walk, bike, run, loiter, stand or motor by car or other mode of transport upon any street, alley, park or other public place within the District," Bowser said in her order.
"The curfew imposed by the Mayor's Order shall not apply to essential workers, including working media with their outlet-issued credentials, when engaged in essential functions, including travel to and from their essential work," the mayor added.
Bowser ordered similar curfews over the summer during the widespread Black Lives Matter protests.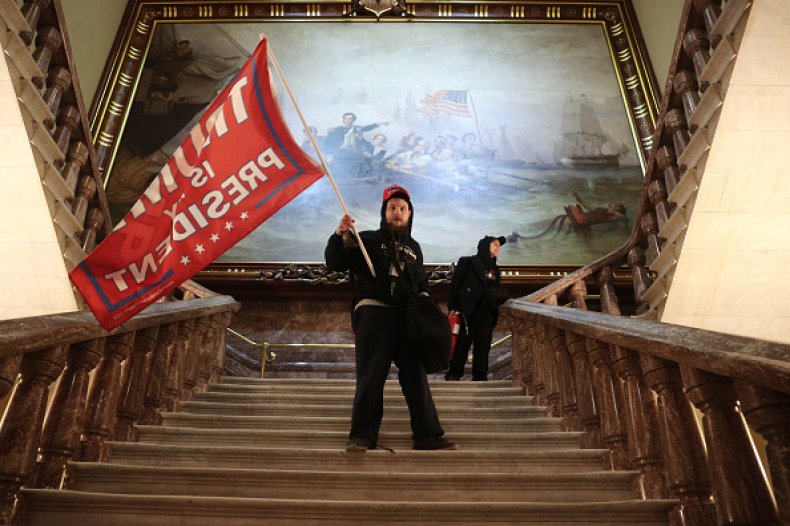 On Wednesday afternoon, hundreds of Trump supporters successfully rushed into the Capitol, where was Congress was in a joint session to certify President-elect Joe Biden's victory in the Electoral College.
The House and Senate were forced to quickly go into recess as the building was locked down and evacuations were ordered for the Library of Congress' James Madison Memorial Building and the Cannon House Office Building.
Ahead of the meeting, Bowser had called in the National Guard to help bolster the Metropolitan Police Department in anticipation of the planned protests.
On Monday, Acting Defense Secretary Christopher Miller approved Bowser's request. Some 340 National Guard members were set to be activated, according to the Associated Press, but none were seen as tensions heightened between Trump supporters and Capitol police.
White House press secretary Kayleigh McEnany tweeted on Wednesday afternoon that the National Guard was on its way "along with other federal protective services" under the direction of the president.
McEnany also retweeted Trump's tweet urging his supporters to "support our Capitol Police and Law Enforcement" and to "stay peaceful!"—despite his remarks from earlier in the day, in which he called on his supporters to "walk down Pennsylvania Avenue."
Vice President Mike Pence, who was evacuated from the Capitol, also tweeted in response to the demonstrations, writing that "those involved will be prosecuted to the fullest extent of the law."
Trump lashed out at Pence after he rejected the president's call to overturn the results of the election during Wednesday's certification by Congress of the Electoral College results.
Newsweek reached out to Bowser's office for comment but did not hear back before publication.