Washington D.C. Mayor Asks Trump to Reimburse $1.7 Million for July 4th Security Costs
The nation's capital is requesting reimbursement from the White House for $1.7 million in security funds spent in support of President Donald Trump's Fourth of July military parade as the District of Columbia faces a depletion of its security budget due, in part, to last week's event.
A newly released letter sent on Tuesday from D.C. Mayor Muriel Bowser to the White House requests that the president replenish "approximately $1.7 million" the city spent from its Emergency Planning and Security Fund (EPSF) safeguarding Trump's "July 4th holiday activities and subsequent first amendment demonstrations."
According to the letter, the fund's depletion can be attributed to declining reserves, a greater demand for security services and the $7.3 million cost associated with Trump's inauguration. Bowser writes that while her city spends $16.5 million annually on security, Congress has recently allocated around $13 million each year for these costs, which include security support for federal leaders and national events that take place within city boundaries.
Additionally, the mayor cited unplanned events such as the late President George H.W. Bush's state funeral as further straining her city's underfunded security budget.
"It is critical that the EPSF is fully reimbursed... to ensure the District can uphold proper security and support during the remainder of the fiscal year without incurring a deficit for federal activities," she wrote. "As we continue to gather estimates for the next Inauguration, we ask for your help with ensuring the residents of the District of Columbia are not asked to cover millions of dollars of federal expenses and are able to maintain our high standards of protection for federal events."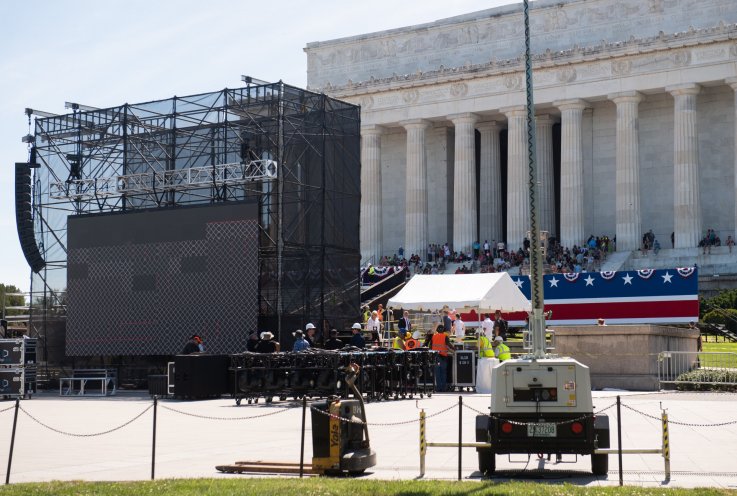 The total cost to taxpayers of the military parade is difficult to determine, as various agencies involved in its execution made use of different budgets and authorities to contribute to the event. The Washington Post determined that "the aerial review portion of President Trump's expanded July 4 event could cost more than $2 million" alone.
Trump has also come under fire after the National Park Service said it would divert $2.5 million in revenue that would have been used to support upkeep at the nation's less-profitable parks to the July 4th parade.
Phil Francis, a retired National Park Service veteran who had been with the agency for 41 years, told Newsweek at the time that the reported transfer of funds "was the wrong thing to do."
"Over half of our parks have budgets smaller than $2.5 million," Francis said ahead of the July 4th parade. "$2.5 million to a small park that has almost no discretionary money is a big deal. It's really bad. It sends the wrong message to the National Park Service staff."
Washington D.C. Mayor Asks Trump to Reimburse $1.7 Million for July 4th Security Costs | Politics