Washington, D.C., Shouldn't Get Statehood, Already Has Influence Via Yard Signs, Lawmakers Told
In an argument against granting Washington, D.C., statehood, one advocate told lawmakers that the area can affect the national debate just by displaying yard signs and bumper stickers.
The Heritage Foundation's Zack Smith told the House Oversight and Reform Committee that the framers of the U.S. Constitution didn't want one state having "undue influence over the federal government."
"There's no question that D.C. residents already impact the national debate," said Smith, a legal fellow at the conservative think tank. "For the members here today, how many of you saw a D.C. statehood yard signs or bumper stickers or banners on your way to this hearing today. I certainly did. Where else in the nation could such simple actions reach so many members of Congress?"
Smith argued that Congress did not have the power to make Washington, D.C., the nation's 51st state through "simple legislation."
Monday's hearing examined legislation titled "the Washington, D.C. Admission Act," which would make the District of Columbia the nation's 51st state. D.C. Delegate Eleanor Holmes Norton introduced the legislation this year, stating it's never been more likely for it to pass.
There has been a renewed push D.C. statehood since Democrats became the majority in Congress. The party controls the 50–50 split Senate by the slimmest of margins, with Vice President Kamala Harris being the tie breaking vote. The House passed a bill to make D.C. a state last year, but it went nowhere in the Republican-controlled Senate.
D.C. Mayor Muriel Bowser testified Monday that the "disenfranchisement of Washingtonians is one of the remaining glaring civil rights issues of our time."
Bowser added, "The simple fact is, denying American citizens a vote in the body that taxes them goes against the founding principles of this great nation."
The mayor noted that D.C. has a population of more than 700,000 residents, which is larger than the populations of Wyoming and Vermont, but its residents don't have voting members in Congress. She also highlighted that D.C. pays more in federal taxes than 22 states, but was denied $755 million in fiscal relief during the coronavirus pandemic because it's not a state.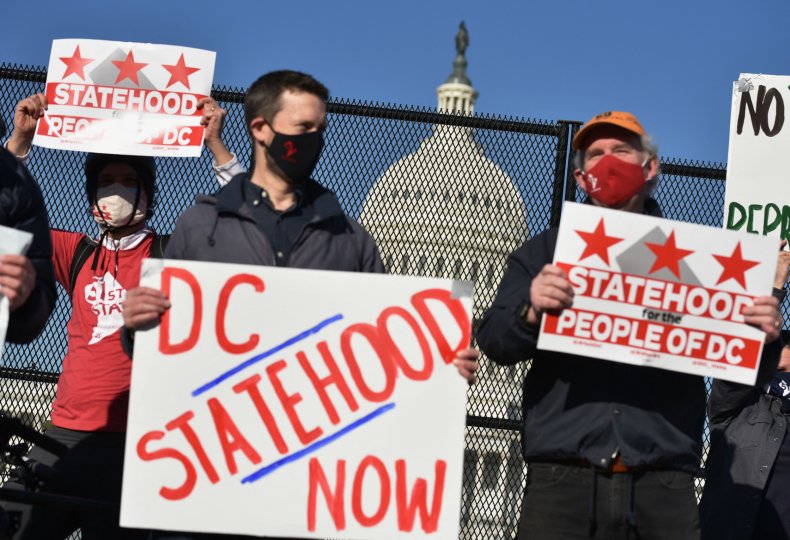 Republicans have generally been opposed to granting the D.C. statehood, arguing it would remake national politics. GOP Representative Virginia Foxx of North Carolina asked during Monday's hearing about how many Democrats live in D.C., and whether they would elect Democrats to the House and Senate if the city became a state.
Foxx said that Democrats are using D.C. as a "pawn" in their attempt "to use a razor-thin majority that it has to entrench itself in power."
As Congress considers taking up D.C. statehood, a new poll released Monday found record-high support for the proposal. The survey, conducted by Data for Progress and the progressive advocacy group Democracy for All 2021 Action, showed 54 percent of voters supported the proposal.
Support was highest among Democratic respondents, 74 percent of whom approve of statehood for D.C. The policy also garnered the support of more than one-third of Republicans polled.
Newsweek has reached out to Norton's office for a response to Smith's testimony and further comment on D.C. statehood.