D.C. Mayor Muriel Bowser unveiled the Black Lives Matter Plaza blocks from the White House on Friday.
The plaza includes a "Black Lives Matter" mural painted on the asphalt of 16th Street Northwest. A street sign reading "Black Lives Matter Plaza" was also affixed onto a lamp post in front of St. John's Episcopal Church, the same church President Donald Trump posed with a Bible for photos after crowds of protestors were dispersed with tear gas on Monday.
"We want to call attention today to making sure our nation is more fair and more just and that black lives and that black humanity matter in our nation," Bowser said on Friday.
She had not publicly announced the unveiling before the announcement was made.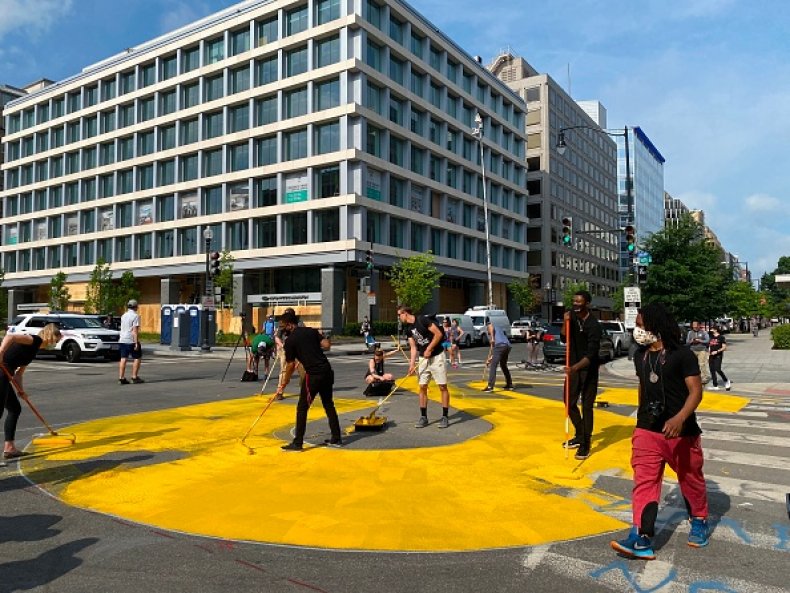 In a tweet from Bowser's chief of staff John Falcicchio, Falcicchio said the plaza is in honor of the protestors who occupied Lafayette Park peacefully in response to the death of George Floyd.
Floyd's death, which occurred in police custody, has sparked a movement of protests across the nation against racism in America and police brutality.
"There was a dispute this week about whose street this is. Mayor Bowser wanted to make it abundantly clear that this is D.C.'s street and to honor demonstrators who peacefully protesting on Monday evening," Falcicchio wrote.
The group that had gathered on Monday were forcibly removed when police used tear gas to disperse protestors so that Trump and other administration officials could walk from the White House to St. John's, a move Bowser called "shameful."
On Thursday, Bowser vowed that she would "push back" on federal authorities' power over protestors.
However, the new mural blocks from the White House has not been praised by all activists. The D.C. Chapter of the Black Lives Matter (BLM) organization called it "a performative distraction from real policy change" on Twitter.
"Bowser has consistently been on the wrong side of BLMDC history. This is to appease white liberals while ignoring our demands. Black Lives Matter means defund the police," the group wrote.
On Thursday, Bowser wrote a letter to Trump calling for the president to withdraw federal law enforcement and military presence from the city.
"The protestors have been peaceful, and last night, the Metropolitan Police Department did not make a single request," she wrote. "Our police and incident command have clear channels of communications and roles and it is important to note that these additional, unidentified units are operating outside of established chains of command. This multiplicity of forces can breed dangerous confusion, such as when helicopters are used in a war-like tactic to frighten and disperse peaceful protests."
Bowser commemorated Breonna Taylor, on what would have been Taylor's 27th birthday, in a video of the mural posted to her Twitter account. Taylor died after being shot eight times by police who had mistakenly entered her home to serve a warrant for a drug arrest.
Newsweek reached out to the Mayor's Office for comment but did not hear back before publication.