ER Visits for Coronavirus-Like Illnesses Drop in Washington Hospitals
Emergency room visits for COVID-19 and illnesses like it in Washington have declined since a March 12 spike, a Unified Area Command State Emergency Operations Center report obtained by Newsweek showed.
Emergency room visits for COVID-19, the disease caused by the new coronavirus, and illnesses like it started increasing on February 29, the same day officials reported a man in King County became the first U.S. death. There's no one reason why emergency department visits are down, including those for COVID-19 symptoms. But Eric Holdeman, director of the Center for Regional Disaster Resilience told Newsweek it's possible people are choosing to recover at home.
"Since there is no cure for COVID-19, the only reason to go to the hospital is because you are having serious trouble breathing," Holdeman said. "Otherwise stay home and rest, drink liquids and take over the counter meds to reduce a fever."
Washington was among the first states to witness the virus spread within communities and has since had 5,985 cases, but the outbreak hasn't ballooned the same way it has in other states, such as New York. This, experts said, could be proof that social distancing measures can be effective in slowing the spread of the virus.
Days after the first death was reported, Amazon, Google, Facebook and Microsoft—four companies that employ tens of thousands of Washington residents—instructed their employees to work from home. Governor Jay Inslee also restricted restaurants and bars to takeout service and banned gatherings of 50 people or more on March 16.
"I think another possible explanation is that Washington had one of the first big outbreaks, went on alert for this and started acting a little differently before New York City did," Dr. Daniel Havlichek, a professor of medicine at Michigan State University told Newsweek. " I think they might have had a week or two, maybe a month, of a head start in terms of social distancing."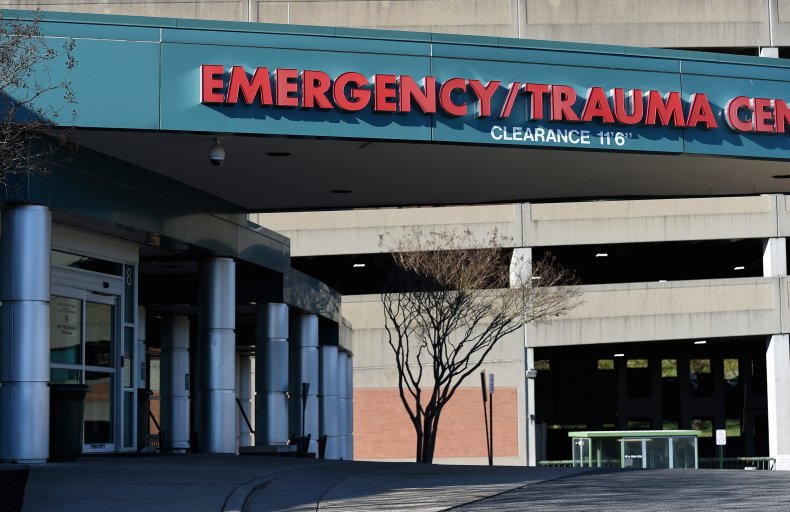 Overall, patient visits to the emergency room have been trending downward since mid-March according to a March 29 report. Although it's not clear why, Holdeman said people may be avoiding hospitals to reduce their risk of infection. Or, it's possible that closing gyms and offices, as well as advising people to spend the majority of their time at home, has lowered the number of accidents and injuries that would necessitate an ER trip, he said.
The reports are typically compiled daily and used as a reference point for the current situation of the outbreak. It acknowledged that some visits to the ER may be missed and others aren't included, but it's intended to monitor trends.
While the downward trend is encouraging, Washington is not yet out of the woods and officials have cautioned against loosening up mitigation measures too early.
Hospital admissions for patients exhibiting COVID-19-like symptoms, including fever, chills, cough and shortness of breath, have been elevated in Washington over the past four weeks. Since March 12, on average, these patients have accounted for about 2.3 percent of total daily hospital admissions, with the highest daily percentage being 3.5.
On average, pneumonia patients are hospitalized for 4.2 days if they aren't in the intensive care unit, according to a 2018 National Health Statistics Report. COVID-19 patients who survived the virus remained in the hospital for between 16 and 23 days, with a median stay of 17 days, according to a study from the The New England Journal of Medicine. COVID-19 patients also spend up to five times longer in the ICU than pneumonia patients.
Quickly discharging patients from the hospital can allow for an increased number of people to receive care, so the longer a person requires hospitalization, the fewer beds that are available to new patients. As of Thursday, Washington had enough beds to care for patients on April 11, the projected peak resource use, according to the Institute for Health Metrics and Evaluation (IHME). However, there's a shortage of ICU beds by nine.
Only the most severe cases of COVID-19 require intubation but studies show the length of time a patient remains on a ventilator can be up to three times longer than a patient without COVID-19. The longer a patient needs a ventilator, the slower the machine can be turned around, further restricting access to a resource that's already in short supply.
Officials across the nation have been clamoring to increase the number of ventilators they have available, as there's little to no substitute for the machine. Washington is projected to need 280 ventilators, according to the IHME, a global health research center at the University of Washington.
Nearly 250 people have died from COVID-19 in Washington, and officials warned shortages could increase the death toll. On Wednesday, Inslee expressed his condolences to their families and loved ones but expressed confidence that the state would be "victorious."
"We know this month could be decisive in this effort," Inslee said. "I'm confident people will rise to the challenge of working together to defeat this virus."