Washington Examiner Twitter Says 'Trump Is Going to Hell'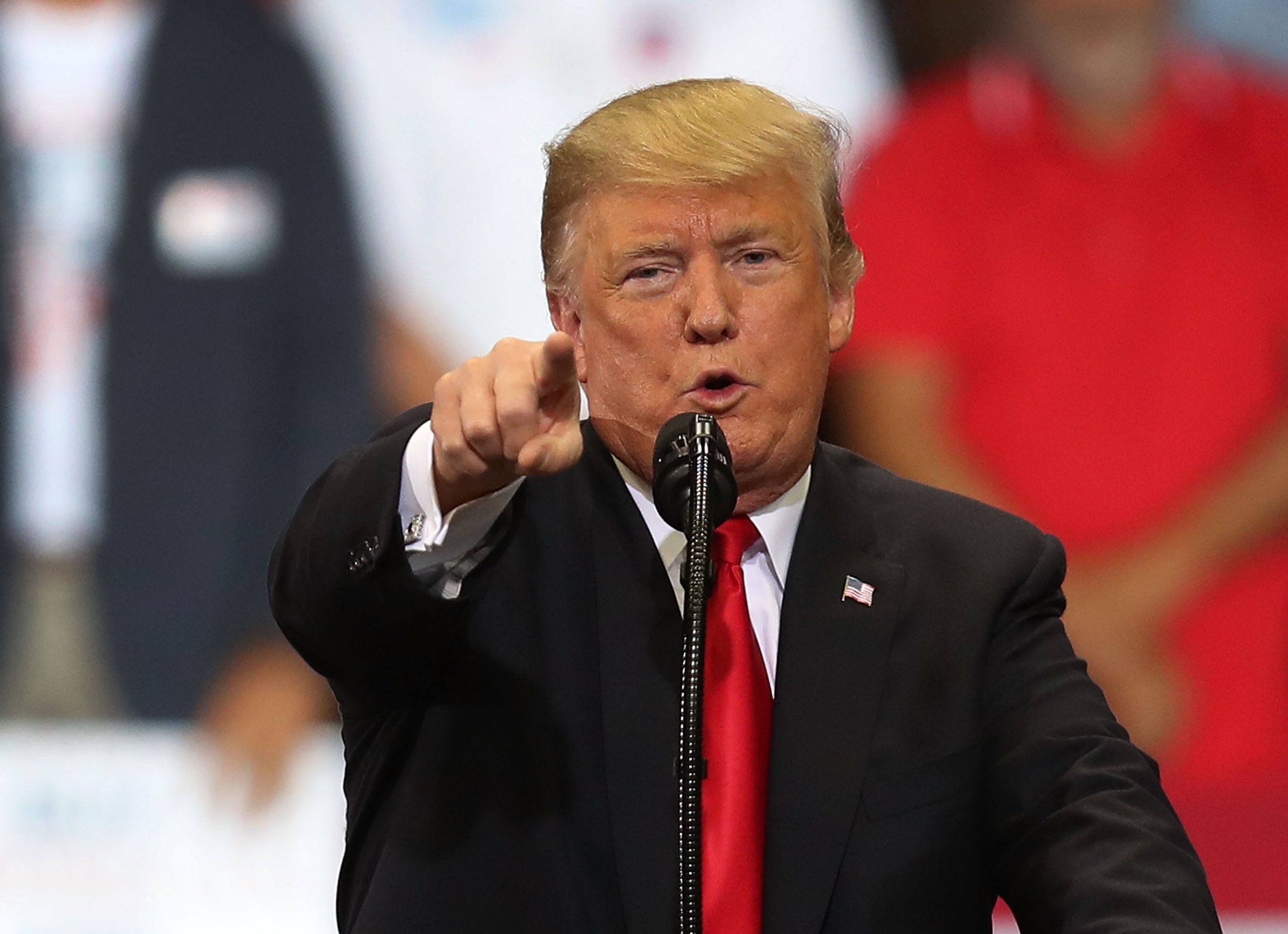 The Washington Examiner, a conservative American political journalism website and weekly magazine, has said that its Twitter account was hacked after the outlet appeared to publish a tweet early Monday morning declaring that President Donald Trump is "going to hell."
"Trump is going to hell," the tweet, posted on Monday just after 1 a.m. ET read. "Anyone who ever read the bible can tell you where it stands on rich adulterers."
"The key to God's forgiveness is repentance. Trump's entire political career has been about the exact opposite of that," the tweet said, adding: "Also, this paper is garbage for promoting 'Trump and God'."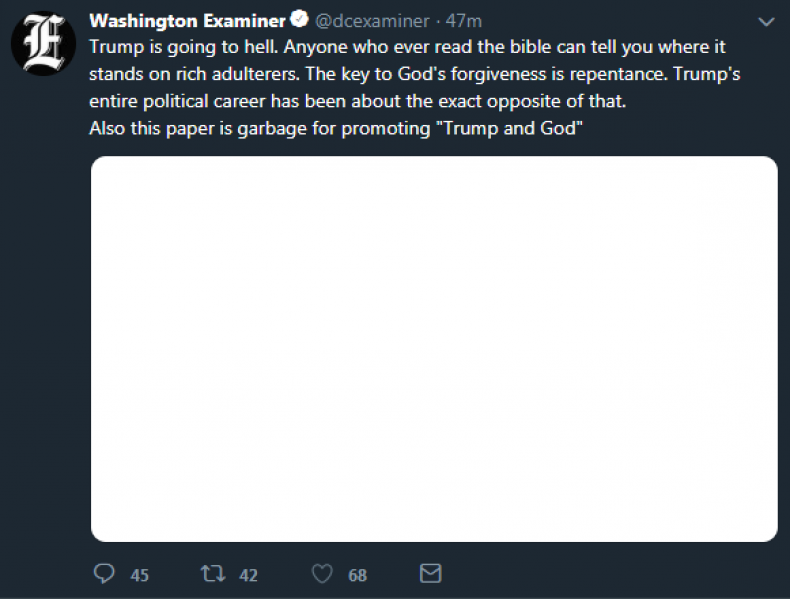 It is still unclear who wrote the tweet. However, half an hour after its posting, it was still live on Twitter, with the post appearing to be accompanied by a blank image.
Twitter users immediately began speculating about the post, with some suggesting that The Washington Examiner's Twitter account might have been hacked, while others wondered whether the post may have come from a disgruntled employee.
"Wow, Washington Examiner with the early morning hack, new cycle #1," one Twitter user wrote.
"Someone just got fired, but they haven't changed the passwords yet," another social media poster said.
"Hello Monday," another Twitter user chimed in.
However, hours after the tweet was published online, the Examiner posted to Twitter that its account had been hacked, adding that "a tweet was posted that did not come from our staff."
"We are taking appropriate action and will issue a further statement if necessary," the Examiner's post, which was pinned to its Twitter feed, said.
In a statement emailed to Newsweek, Washington Examiner Editorial Director Hugo Gurdon confirmed that the news outlet's account had been hacked.
The incident unfolded just a day before the midterm elections, which are set to take place Tuesday.
​The Washington Examiner is widely regarded as a right-leaning news outlet. Media watchdog site Media Bias/Fact Check places the Examiner as an outlet showing "right bias," meaning as a media source it is perceived as being "moderately to strongly biased toward conservative causes through story selection and/or political affiliation."
"While the headlines may be sensational, the content of articles are written with less bias and tend to be properly sourced to credible media outlets," Media Bias/Fact Check says of the Examiner on its website.
"Editorially, The Washington Examiner is 100 percent right[-wing]. It is virtually impossible to find a single editorial that offers some form of balance," the watchdog says. "Most editorials have anti-left loaded headlines."
The media bias watchdog acknowledges that when determining bias "there isn't any true scientific formula that is 100 percent objective." It uses its own measures to determine media bias, in addition to allowing readers to vote on the bias of the source.
The Examiner, which is owned by MediaDC as part of American billionaire entrepreneur Philip Anschutz's Clarity Media Group, published a daily tabloid-sized newspaper, which was distributed throughout the Washington, D.C. area, from 2005 to mid-2013 before ceasing publication in June 2013. It is now printed in a magazine format.
This story has been updated to reflect The Washington Examiner's statement that its Twitter feed was hacked.