Washington Fire Map, Update on Catastrophic Wildfires in Cold Springs and Pearl Hill
Washington continues to battle devastating wildfires as a child has died and his parents were seriously injured when trying to escape from the Cold Springs Fire. Numerous other wildfires continue to burn thousands of acres across the state, including the Pearl Hill Fire, the Whitney Fire, and the Inchelium Complex fires.
Governor Jay Inslee visited the Sumner Grade Fire and later said: "We are not going to surrender the future of this state to climate change. We are stronger, smarter and more resilient than that.
"And I'll be thinking of these fires and the communities they're impacting when we take our next steps to defeat climate change."
Gov. Inslee has also declared a state of emergency that will allow for resources to be mobilized to help battle the wildfires.
Cold Springs
The Cold Springs Fire is burning 163,000 acres and is 10 percent contained. Firefighters have started assessing properties that were lost, as well as assessing the damaged infrastructure.
Authorities are conducting an investigation into the death of an infant and serious injury of two people, as Komo News reports that a 1-year-old boy had died and his parents were injured trying to flee from the fire in Okanogan.
Evacuation orders are in place and the Red Cross has opened a shelter in Brewster. Anyone who needs help finding shelter can contact the Red Cross on 509 670-5331.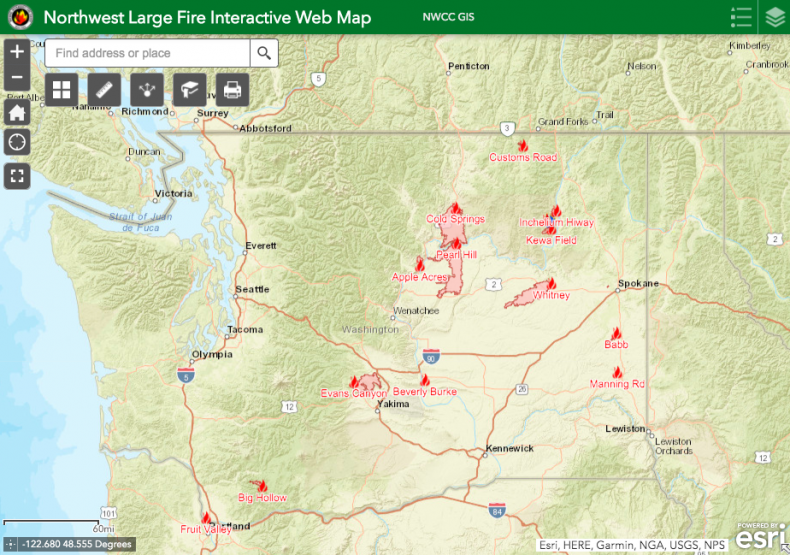 Pearl Hill Fire
The Pearl Hill Fire has burned 174,000 acres and is 41 percent contained, and the fire is expected to be contained by Monday, September 14.
No injuries have been reported, but 17 residences have been destroyed while more than 500 are threatened. Level 3 evacuations and numerous road closures remain in effect.
Inchelium Complex
The Inchelium Complex is made up of the Inchelium Highway Fire, Fry Fire, and Kewa Field Fire, which have collectively burned 14,756 acres. The complex is currently 20 percent contained and is expected to be fully contained by September 21.
Level 2 evacuations are in effect for residents near Hall Creek and Seyler Valley Road, residents living near Twin Lakes and Meteor Road including North and South Twin, and for residents in Kewa Valley. A Level 1 Evacuation is in effect for Stray Dog Canyon.
Authorities say that their ability to contain the fires is impaired as they do not have critical resources. As a result, residential and commercial structures are threatened.
Sumner Grade Fire
The Sumner Grade Fire has burned 800 acres and is around 20 percent contained as of Wednesday evening. Authorities believe that the fire started late on Monday when a power transmitter exploded during strong winds.
Evacuations remain in place for hundreds of residents as four homes in the Bonney Lake-Sumner area have been destroyed.
There are air quality alerts ranging from "Unhealthy for Sensitive Groups" to "Unhealthy" due to easterly winds transporting smoke from fires in Eastern Washington over portions of Western Washington.
Poor air quality may continue into the weekend, as wind shifts could bring smoke from fires to the south into the region.
Unhealthy air quality means that everyone, especially sensitive groups, should limit time spent outdoors, avoid strenuous activities outdoors, and choose light indoor activities.