Evacuation orders are in place in multiple counties across Washington State as wildfires burn more than 100,000 acres. The Evans Canyon fire is burning in Yakima County, the Cold Springs Canyon Fire/Pearl Hill Fire is burning in Douglas and Okanagon counties, while Pierce County experienced a wildfire on a highway on Monday.
Evans Canyon Fire
The Evans Canyon fire has currently burned more than 75,000 acres in Yakima County, Washington, and is 60 percent contained. The fire started on August 31 and is expected to be fully contained by October 1.
So far, six residential structures have been destroyed, as well as six other minor structures. Level 2 and level 3 "GO" evacuations remain in effect.
Residents of Yakima, Kittitas, and Klickitat counties are feeling the effects of the fire as the Washington State Department of Ecology issued an Air Quality Alert which will remain in effect until 11 a.m. PDT on Tuesday.
A Smoke Air Quality Alert has been issued due to wildfires burning in the area, combined with forecasted conditions that will cause air quality to reach unhealthy levels. The National Weather Service warns that: "Pollutants in smoke can cause burning eyes, runny nose, aggravate heart and lung diseases, and aggravate other serious health problems.
"Limit outdoor activities and keep children indoors if it is smoky. Please follow medical advice if you have a heart or lung condition."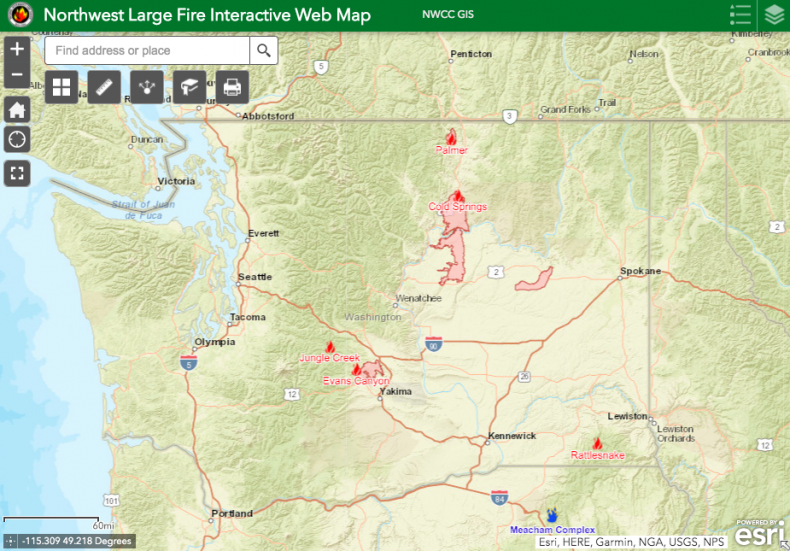 Cold Springs Canyon Fire/Pearl Hill Fire
The Cold Springs Canyon Fire/Pearl Hill Fire in Douglas County and Okanagon County is burning 67,000 acres and is 0 percent contained. The fire started on September 6 and there is no estimated containment date.
Evacuation orders began on Monday morning for the town of Mansfield though its residents were told to shelter in place or use emergency shelter at the Mansfield School gym as routes out of the town were unsafe due to low visibility issues.
Evacuation orders remain in place and people who need shelter are urged to call the Red Cross on (509) 670-5331.
Residents of Douglas County should follow the Sheriff's office on Twitter for updates on evacuation notices, while Okanogan County residents can consult this interactive map for guidance, though should follow orders from the local authority.
State Route 167 Fire
A brush fire in Washington state caused a highway to close on Monday night. The fire burned on the north end of Sumner, starting around 7.30 p.m., and closed both directions of State Route 167.
Traffic on State Route 410 was also detoured in both directions, until around 9.40 p.m. when the westbound route had been reopened, after downed power lines were removed.
Powerlines on both State Route 167 and State Route 410 were downed with more than 300 power outages reported in the area.
The fire also threatened some structures in the area with a building in the 4300 block of West Valley High forced to evacuate.
Nearby cities, including Puyallup, felt the effects of the fires with smoke "rolling in the city," according to the Puyallup Police Department. The Central Pierce Fire and Rescue also said that the county was experiencing smoke from the fires in Eastern Washington.
The Central Pierce Fire Rescue said that the fire is now under control.
The Washington State Patrol District 1 Public Information Officer for Pierce and Thurston counties, Trooper Ryan Burke, said in a tweet that the northbound ST 167 is still closed and that there is no estimated time for reopening. He said that the "fire is working on smolders now."