Washington Fire Map, Update on Sumner Grade, Cold Springs, Pearl Hill, Evans Canyon Blazes
Washington continues to battle major fires across thousands of acres, with numerous residents across the state facing evacuation orders and power outages.
There are several active fires in Washington, with the Apple Acres, Babb, Beverly Burke, Cold Springs, Customs Road, Evans Canyon, Inchelium Complex, Jungle Creek, Manning Road, P-515, Palmer, Pearl Hill, Sumner Grade, and Whitney fires currently burning.
The major fires causing the most damage are the Cold Springs, Pearl Hill, and Evans Canyon fires, which are collectively burning hundreds and thousands of acres.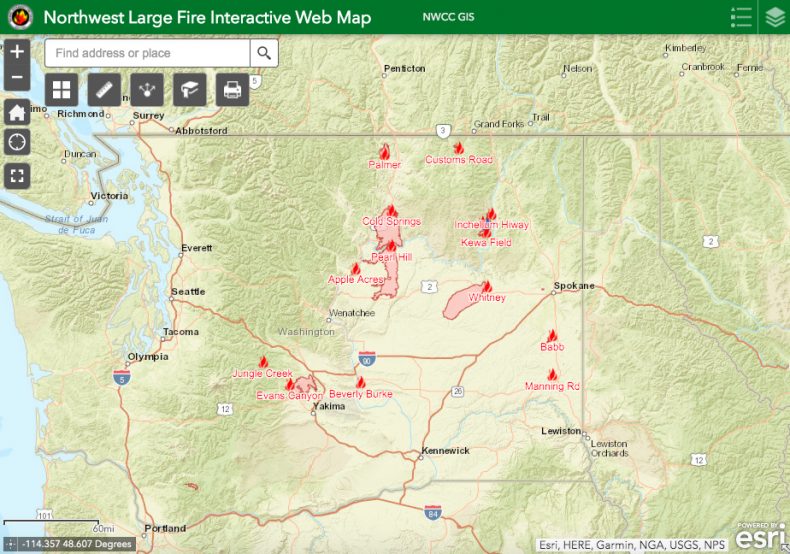 Cold Springs Fire
The Cold Springs Fire is currently burning 163,000 acres and is 0 percent contained.
The Cold Springs fire started on September 6 at 9.45 p.m. local time near Omak and spread quickly due to strong winds and low relative humidity.
Multiple structures have been lost and 110 residences are threatened. No injuries have been reported.
Level 3 evacuations and numerous road closures are in effect and residents can call 509 670-5331 for Red Cross assistance.
Pearl Hill Fire
The Pearl Hill Fire is burning 174,000 acres and is 0 percent contained.
The Pearl Hill Fire started on September 7 at 3.39 a.m. near Bridgeport and spread quickly due to strong winds and low relative humidity.
It is currently impacting Bridgeport and Mansfield, but fire growth is expected south and southwest toward Mansfield.
Evacuations orders, plus road and area closures, are in effect.
Evans Canyon Fire
The Evans Canyon Fire has burned more than 75,000 acres and is 80 percent contained. It is estimated that the fire will be fully contained by October 1.
More than 900 residences are threatened and six have been destroyed.
Around 360 personnel are working on tackling the fire, and all divisions will mop-up, patrol, work on repair, and will continue to support local forces with initial attack response.
Sumner Grade Fire
The Sumner Grade Fire started on Tuesday in Bonney Lake and has now burned around 150 acres, four structures. It is 20 percent contained.
Around 500 residents have been issued Level 3 evacuation notices, affecting areas south and west of SR410 to Angeline Road and Rhodes Lake Road to McCutcheon, including Sky Island.
The Bonney Lake Police Department is urging residents in evacuation areas to leave immediately and encouraging those on the borders of the evacuation area to get ready to go in case the fire spreads.
Puget Sound Energy estimates that power outages caused by the wildfires are impacting approximately 5,500 customers, with around 4,000 customers in Bonney Lake impacted.
Whitney Fire
The Whitney Fire is estimated to have burned more than 100,000 acres, is 0 percent contained, and expected to grow. At least three homes have been burned down and Level 3 evacuations are in place.
Until 11 a.m. PDT on Thursday, there is an air quality warning over King, Kitsap, Lewis, Mason, Pierce, Snohomish, and Thurston counties that ranges from "Unhealthy for Sensitive Groups" to "Unhealthy" due to easterly winds transporting smoke from fires in Eastern Washington over portions of Western Washington.
The National Weather Service says: "While these smoky conditions may vary at times, the continued easterly flow both today and tomorrow as well as little change expected in atmospheric conditions have led to the extension of this alert into Thursday morning.
"Unhealthy air quality means that everyone, especially sensitive groups, should limit time spent outdoors, avoid strenuous activities outdoors, and choose light indoor activities."