Washington Football Team to Select New Name, Logo With No Ties to Native American Imagery
The NFL's Washington Football Team announced on Monday it will choose a new name and logo with no ties to Native American imagery.
"Since we made the decision to change our name, the past nine months have given us a unique opportunity to reevaluate our organization in terms of who we are today and what path we want to take into our future," team President Jason Wright said in a statement.
"It's no secret why we began this journey of finding a new brand identity. It centered around our old name and its use of Native American imagery and racialized language."
Wright explained that the team had discussed numerous name options with those in the Native American community that "has exposed" the team to the "very deeply held personal feelings about our previous imagery and association."
"In sum, this engagement demonstrated to us a consensus that moving forward with no ties to Native American imagery is the right path. I am personally and deeply grateful for the Native American community leaders who engaged with us, sharing painful, raw and real stories that persist to this day," Wright said in the statement.
"Their stories affirmed our decision to move in a new direction in the creation of our new name and identity, and we are proudly forging ahead in this journey with a promise to our community—a promise to continue to be inclusive in our process and collaborative with our fans."
Wright also addressed the possible "Warriors" name for the franchise that has been popular among fans.
Wright said while some might see the name "Warriors" as "natural, and even harmless" he noted that "feedback from across communities we engaged clearly revealed deep-seated discomfort around Warriors, with the clear acknowledgment that it too closely aligns with Native American themes."
Wright continued, "We've made significant changes in our organization and our culture, and our new name must reflect these changes. To that end, we will choose an identity that unequivocally departs from any use of or approximate linkage to Native American imagery."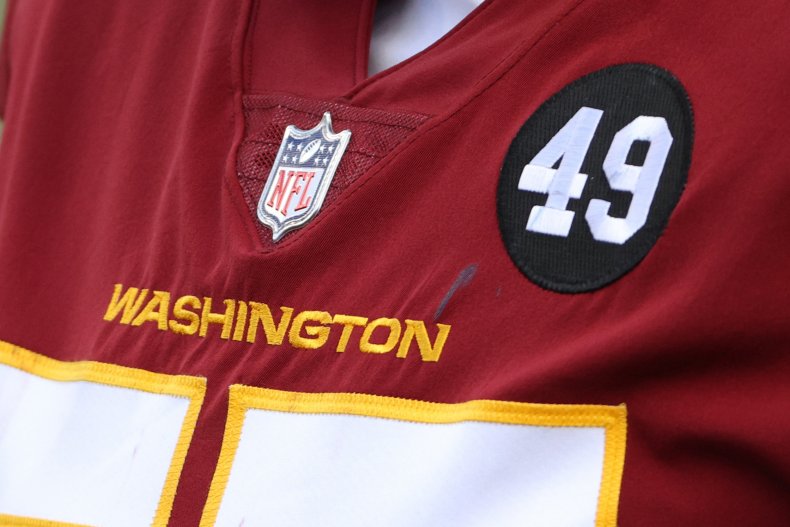 Prior to the 2020 NFL season, the franchise changed its name from the Washington Redskins to the Washington Football Team, following years of criticism regarding the previous name. The team also asked fans for help in choosing a new name.
During an interview last year, Wright, who became the NFL's first Black president, said that choosing a new name was going "to take some time."
"At the end, whether it's the name that my friends want, or my kids want, or whatever it is, everybody should be able to see their fingerprints on the process and be united in the go-forward identity," Wright said during the 2020 interview with CBS This Morning: Saturday.
Newsweek was directed to Wright's statement after reaching out to the Washington Football Team for further comment.