Trump's 4th of July Celebration 'a Monument to His Insecurity', Washington Governor Says
The Democratic presidential candidate, Jay Inslee, has accused President Donald Trump of misusing public funds for his planned Fourth of July celebrations.
Trump's "Salute to America" event will feature displays of tanks and plane flyovers and an address from the Lincoln Monument.
But Inslee, who is the governor for Washington, became the latest prominent figure to decry the day's festivities when speaking on ABC News' Powerhouse Politics podcast.
"It should not be used as a personal aggrandizement. It's something we should feel good about ourselves. This whole event is a monument to his insecurity," he said.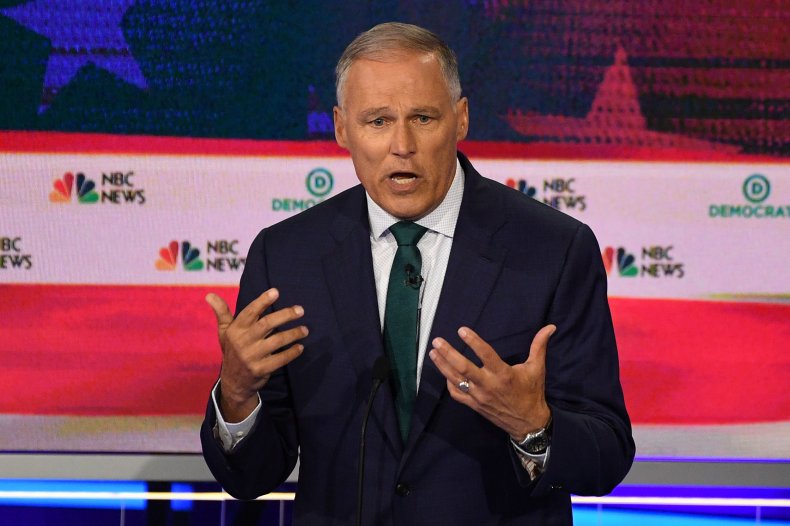 "I think it's very unfortunate that a nation that prides itself on democracy and unifying messages has to be exposed to his insecurity that he's trying to cover up with tanks, and it just doesn't work," Inslee added.
There has been criticism that the event will partially be paid for from funds from the National Park Service, which will divert $2.5 million in entrance fees intended for maintenance, according to a report in the Washington Post.
This is in addition to the $2 million usually earmarked for Fourth of July celebrations on the National Mall. The aerial portion of the event, featuring aircraft like F-35 fighter jets and a B-2 stealth bomber, could cost $2 million more alone, based on Pentagon figures.
"It's disappointing to me that he's actually taken money out of the parks budget as well," Inslee said.
"I know that our maintenance budget has been hammered in our national parks. They're starving for funds and to take another couple million dollars out of their fund. We should be going to our national parks. To go to a monument to Trump's insecurity is sad."
The Trump administration has not revealed the cost of the festivities and the Post pointed out that the park fees were just a fraction of the overall costs of the event.
Fellow Democratic presidential candidate Elizabeth Warren also condemned the event, telling CNN: "Trump is handing out tickets to his big donors.
"That's a campaign event. And if he's going to do a campaign event, then it should be paid for by his campaign contributions."
The Post also reported that there are concerns there will not be enough people attending his speech, which takes place at 6:30 p.m.
There is also concern that bad weather may deter people from coming as the White House would be keen not to repeat the 2017 inauguration ceremony whose attendance it ended up exaggerating.
The graphic below, provided by Statista, highlights that in a recent poll by Monmouth University, 80 percent of Americans have likely not heard about Donald Trump's plan to give a speech from the Lincoln Memorial on the 4th of July.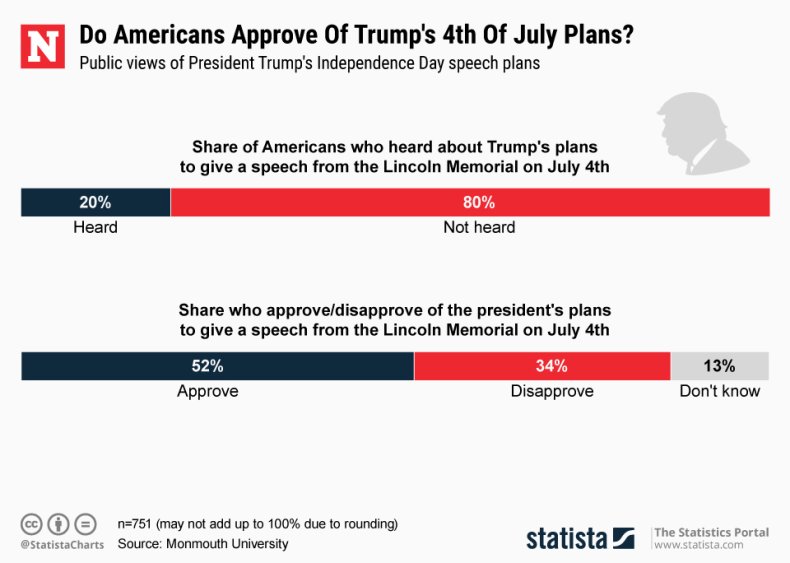 This article was updated to include an infographic.