Washington Gov. Jay Inslee Warns COVID-19 Could 'Bite Us' As Evidence of Continued Social Distancing Reduces Infections
Washington state has made significant progress in combating the novel coronavirus outbreak. But Washington Gov. Jay Inslee warned on Friday, "We have not won this fight against this virus," adding that "the new normal is not here yet," he said at a press conference Friday. He said that the threat of the virus could "jump right back up and bite us," referring to the latest projections from the Institute for Disease Modeling.
The institute previously estimated that "the effective reproductive number in King County as of April 4 remained near one." The reproductive number refers to the average number of people to whom one individual can transmit the virus. Having a reproductive number of one means one person infects one other person on average. The higher the reproductive number, the more infectious the disease.
The institute now estimates "the effective reproductive number has been below 1 from March 29 through April 15, with the estimate for April 15 between 0.28 and 1.0 and best estimate 0.64."
"Our collective efforts to limit physical interaction across society have substantially slowed transmission, but the situation remains sensitive to changes in mitigation and containment policy since the vast majority of the population in King County remains susceptible to COVID-19.
"Some increased low-risk activity may be compatible with maintaining the effective reproductive number below 1, but continued adherence to physical distancing policies remains necessary to further reduce transmission and bring daily cases to levels where contact tracing and other preventative measures will be most effective," the report said.
The latest report also notes the uncertainty of the infection-fatality-ratio (IFR), which measures the fraction of people infected with COVID-19 who will go on to die, "with reasonable estimates ranging from roughly 0.2% to 2.4%."
The institute estimates that "the current prevalence of active infections in King County on April 20 was between 0.10% and 0.68% of the total population, with best estimate 0.29%" and "the cumulative incidence through April 20 was between 0.68% and 4.8%, with best estimate 2.1%."
"Despite the large uncertainty, we conclude that the vast majority of King County residents are still fully susceptible to COVID-19 infection. Thus, continued physical distancing remains essential to further reduce daily prevalence while testing ramps up and more information-rich data and targeted interventions become available," the report said.
Washington will begin reopening some essential businesses and activities, including restaurants, bars, movie theaters and sports facilities, with restrictions in four phases, the first of which will be rolled out from May 5. But the state's "Stay Home, Stay Healthy" lockdown order will be in place throughout the first three stages of the four-phased reopening plan.
The first stage of Inslee's four-phased approach will see the reopening of "essential businesses, "existing construction that meet agreed upon criteria", retail venues (curb-side pickup only), landscaping, car sales, car washes and pet walkers, the governor's office announced in a statement.
Only essential travel will be allowed and outdoor recreation will be limited to hiking, hunting, fishing, boating and golf. All gatherings remain banned, while spiritual services will be restricted to drive-in only with one household per vehicle during the first phase.
The second and third phases will see further extensions of the restrictions eased in the first phase. Restaurants will be allowed to open at less than 50 percent capacity from the second phase, while bars can be opened from the third phase at less than 25 percent capacity, the statement notes.
The current "Stay Home, Stay Healthy" order has been extended through May 31, remaining in effect through the first three stages of the reopening plan.
The fourth and final phase will see the reopening of nightclubs, concerts and large sporting events and unrestricted staffing of all work places. But physical distancing will be required for all public interactions in the fourth phase, the statement confirms. Full details on the restrictions for each phase of the reopening plan can be seen at the website of the governor's office.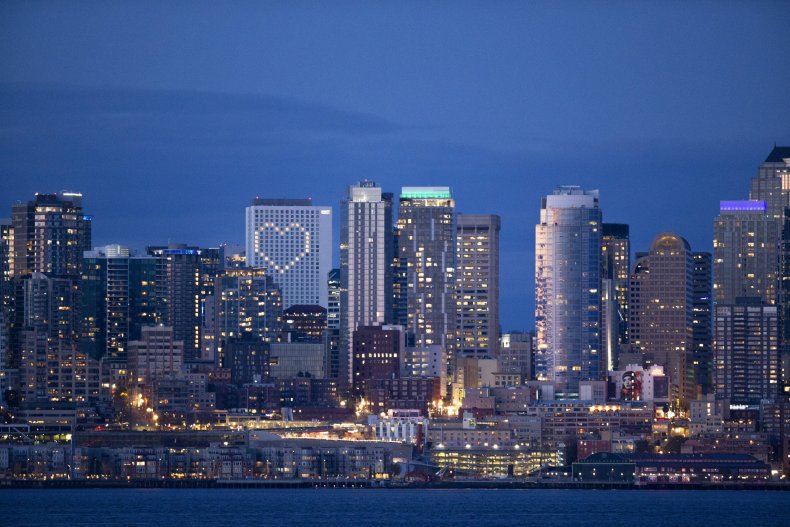 Washington currently has at least 14,637 confirmed cases, including at least 824 deaths, as of the latest report Friday from the Washington State Department of Health.
Washington saw a spike in infections in the wake of the outbreak, most of which continue to be in King County and Snohomish County. However, the state managed to slow the pace of the outbreak, with hospitalizations slowly beginning to fall from around March 22. The number of daily new cases started to see a significant drop from April 1 and continued on a mostly declining trend throughout the rest of the month, according to the figures from the Washington State Department of Health.
More than 3.3 million around the world have been infected by the virus, which was first reported in Wuhan, China. The U.S. remains the epicenter of the outbreak, with more than 1.1 million confirmed cases, including over 65,000 deaths, according to the latest figures from Johns Hopkins University.
The graphic below, provided by Statista, illustrates the states with the most COVID-19 cases across the U.S.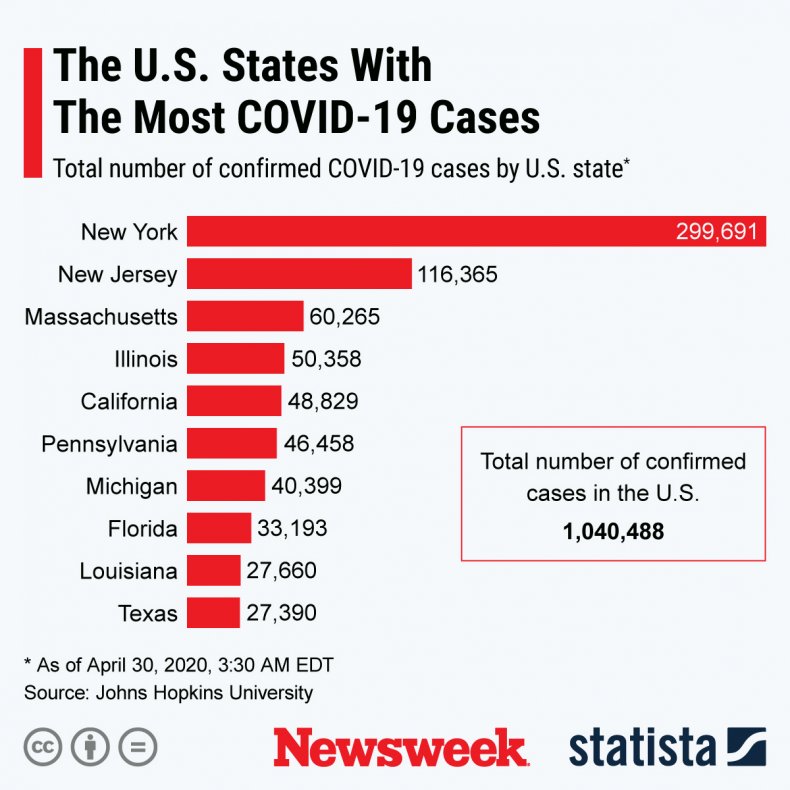 The graphic below, provided by Statista, illustrates the spread of the COVID-19 virus across the U.S.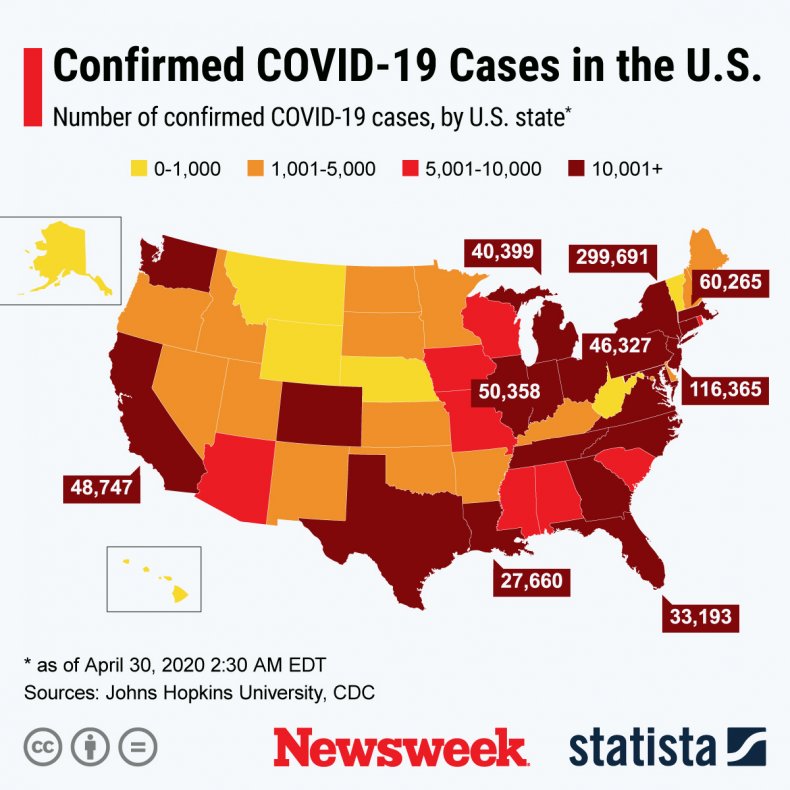 Centers for Disease Control and Prevention Advice on Using Face Coverings to Slow Spread of COVID-19
CDC recommends wearing a cloth face covering in public where social distancing measures are difficult to maintain.
A simple cloth face covering can help slow the spread of the virus by those infected and by those who do not exhibit symptoms.
Cloth face coverings can be fashioned from household items. Guides are offered by the CDC. (https://www.cdc.gov/coronavirus/2019-ncov/prevent-getting-sick/diy-cloth-face-coverings.html)
Cloth face coverings should be washed regularly. A washing machine will suffice.
Practice safe removal of face coverings by not touching eyes, nose, and mouth, and wash hands immediately after removing the covering.
World Health Organization advice for avoiding spread of coronavirus disease (COVID-19)
Hygiene advice
Clean hands frequently with soap and water, or alcohol-based hand rub.
Wash hands after coughing or sneezing; when caring for the sick; before, during and after food preparation; before eating; after using the toilet; when hands are visibly dirty; and after handling animals or waste.
Maintain at least 1 meter (3 feet) distance from anyone who is coughing or sneezing.
Avoid touching your hands, nose and mouth. Do not spit in public.
Cover your mouth and nose with a tissue or bent elbow when coughing or sneezing. Discard the tissue immediately and clean your hands.
Medical advice
Avoid close contact with others if you have any symptoms.
Stay at home if you feel unwell, even with mild symptoms such as headache and runny nose, to avoid potential spread of the disease to medical facilities and other people.
If you develop serious symptoms (fever, cough, difficulty breathing) seek medical care early and contact local health authorities in advance.
Note any recent contact with others and travel details to provide to authorities who can trace and prevent spread of the disease.
Stay up to date on COVID-19 developments issued by health authorities and follow their guidance.
Mask and glove usage
Healthy individuals only need to wear a mask if taking care of a sick person.
Wear a mask if you are coughing or sneezing.
Masks are effective when used in combination with frequent hand cleaning.
Do not touch the mask while wearing it. Clean hands if you touch the mask.
Learn how to properly put on, remove and dispose of masks. Clean hands after disposing of the mask.
Do not reuse single-use masks.
Regularly washing bare hands is more effective against catching COVID-19 than wearing rubber gloves.
The COVID-19 virus can still be picked up on rubber gloves and transmitted by touching your face.