Washington Governor Announces School Closures Until April in Counties Hardest Hit by Coronavirus
Schools in the three hardest-hit counties in Washington state will be closed until at least April 24, 2020, Washington Governor Jay Inslee said at a Thursday news conference. Closures must happen before March 17, 2020.
Inslee's proclamation included all public and private schools that hold classes from kindergarten through 12th grade in King, Pierce and Snohomish Counties.
"We have reached a tipping point where the spread of this virus demands that we take action," Inslee said Thursday. "We're seeing the number of confirmed cases within the Puget Sound area increase significantly just in the last week and we do not expect this to slow down, and will not slow down unless we take action to defeat this virus."
Washington has been the hardest hit state in the country according to recent statistics with 341 confirmed cases and 29 deaths attributable to the coronavirus. King County Public Health reported 270 confirmed cases of coronavirus Thursday, along with one death, bringing the total in King County alone to 27.
Newsweek reached out to Seattle Public Schools for comment but did not receive a response in time for publication.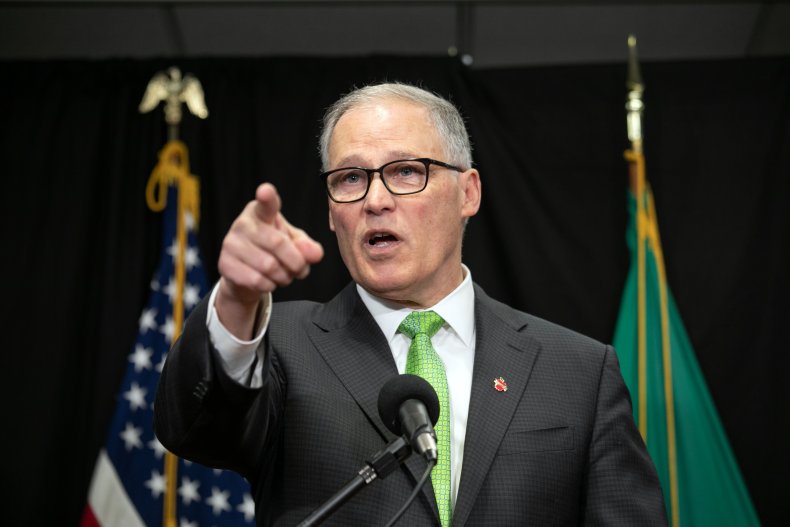 Inslee's actions are an expansion of previous actions taken by Washington state to slow the spread of coronavirus. Inslee announced Wednesday during a news conference that any events in King, Snohomish, and Pierce counties that would include more than 250 people would be prohibited, including social, recreational or faith-based activities.
"If you're thinking of having a thousand-person wedding," Inslee said, "you can't do that right now."
"This is not a time to be going out into public and close contact," Inslee added. "It's just too dangerous. You might be killing your granddad if you don't do it, and I'm serious about this."
Some public school systems in Washington announced a two-week closure, including Seattle Public Schools, the largest school system in the state.
"This is an unprecedented public health situation and we can't wait until we're in the middle of it to slow it down," Inslee said at Wednesday's news conference. "We've got to get ahead of the curve. One main defense is to reduce the interaction of people in our lives."
President Donald Trump mentioned Inslee during a March tour of CDC headquarters in Atlanta, referring to the governor as a "snake." Trump's comments came after Vice President Mike Pence met with Inslee and other state officials to discuss the coronavirus.
"If we came up with a cure today and tomorrow everything is gone," Trump said, "and you went up to this governor who, you know, is not a good governor, by the way, if you went up to this governor and you said to him, 'How did Trump do?' He would say, 'Trump did a terrible job.' It makes no difference."
Recent data for the U.S. indicated 1,573 confirmed cases of coronavirus with 40 deaths attributable to the infection. However, 15 individuals in the U.S. were listed as recovered.
Out of 134,235 cases confirmed worldwide, 68,898 people have recovered from coronavirus, but 4,965 have died as a result of the infection.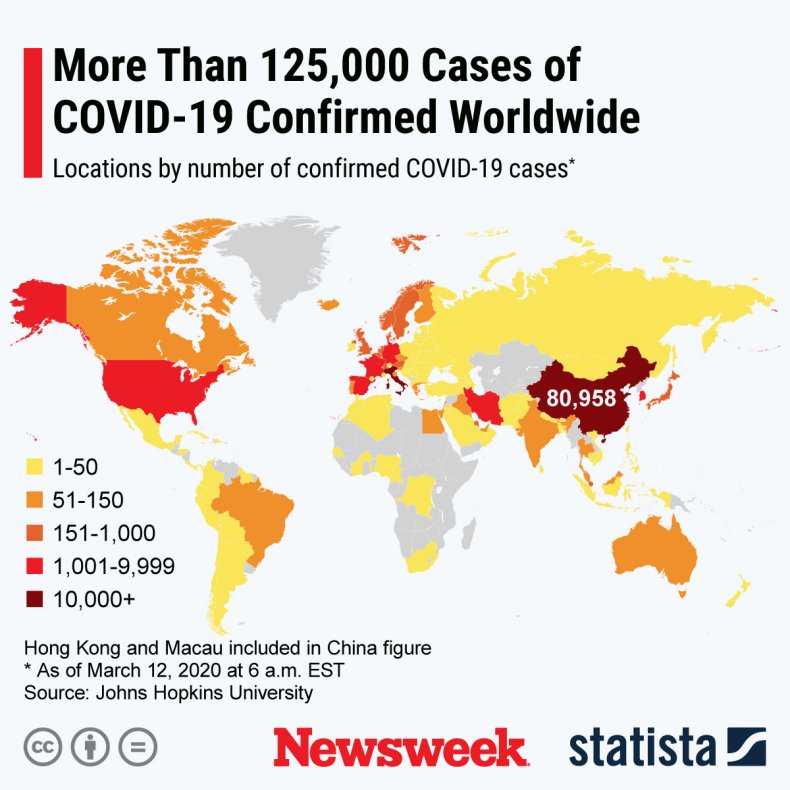 World Health Organization advice for avoiding spread of coronavirus disease (COVID-19)
Hygiene advice
Clean hands frequently with soap and water, or alcohol-based hand rub.
Wash hands after coughing or sneezing; when caring for the sick; before; during and after food preparation; before eating; after using the toilet; when hands are visibly dirty; and after handling animals or waste.
Maintain at least 1 meter (3 feet) distance from anyone who is coughing or sneezing.
Avoid touching your hands, nose and mouth. Do not spit in public.
Cover your mouth and nose with a tissue or bent elbow when coughing or sneezing. Discard the tissue immediately and clean your hands.
Medical advice
If you feel unwell (fever, cough, difficulty breathing) seek medical care early and call local health authorities in advance.
Stay up to date on COVID-19 developments issued by health authorities and follow their guidance.
Mask usage
Healthy individuals only need to wear a mask if taking care of a sick person.
Wear a mask if you are coughing or sneezing.
Masks are effective when used in combination with frequent hand cleaning.
Do not touch the mask while wearing it. Clean hands if you touch the mask.
Learn how to properly put on, remove and dispose of masks. Clean hands after disposing of mask.
Do not reuse single-use masks.