Washington Governor Inslee Warns Coronavirus Cases and Deaths May Rise 'Substantially' As State Begins to Reopen
As Washington state continues to move through its phased reopening plan, Governor Jay Inslee and health officials on Saturday warned that coronavirus cases and deaths will increase substantially if the new disease continues to spread at current levels.
The Washington State Department of Health (DOH) released a new report today showing a continued increase in COVID-19 cases in eastern Washington as of the end of May and an apparent uptick in western Washington. Inslee, citing the report, warned citizens that infections and deaths will likely "soon increase substantially" in a statement.
"Washingtonians have done the hard work to flatten the curve on COVID-19 and we know this has been tremendously difficult for families, businesses and communities over the past few months," the governor said. "But today's report shows us there is still reason for strong concern in parts of our state."
Inslee also encouraged citizens to adhere to social distancing measures and to wear face masks in public. "This is not the time to give up on efforts to protect ourselves, our families and our communities. We are still in the middle of a pandemic that is continuing to infect and kill Washingtonians," he said.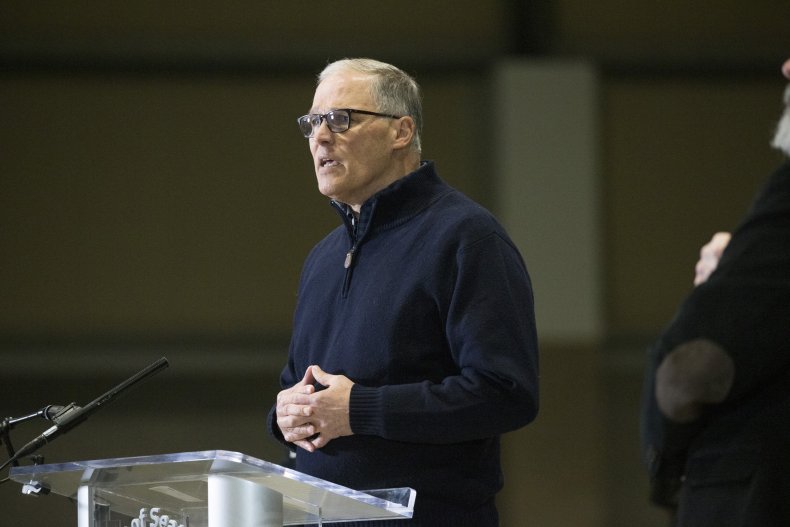 Eastern Washington is currently the most concerning area, particularly Benton, Franklin, Spokane and Yakima counties, according to the DOH. "By population, these counties are in a comparable position to King County at its peak in March," the report said, adding that an expansion of hospital capacity, increased physical distancing and testing may be needed to mitigate the threat.
While case counts had been plateauing in western Washington, minor increases are now being reported. The DOH noted that state and local officials will monitor the region closely in case the incremental rises continue to grow. Officials believe the data accounts for an increased number of cases from Memorial Day Weekend, but likely does not include infections from the recent protests in the state.
Newsweek reached out to Inslee's office for further comment. This story will be updated with any response.
Inslee's four-phase plan to reopen Washington amid the pandemic started last month. Ten out of 39 counties in the state are currently in Phase 3 of the plan, which allows groups to be expanded to up to 50 people, restaurants to resume at 75 percent capacity and bars at 25 percent. Movie theaters, pools and gyms are also permitted to reopen at 50 percent capacity during this phase.
As of June 13, more than 26,300 individuals had tested positive for coronavirus in Washington state, with 1,217 deaths caused by the new disease and 8,570 recoveries. Overall across America, 2,142,200 individuals are confirmed to have contracted COVID-19, with about 117,500 deaths and 854,000 recoveries.