A Washington high school banned its students from wearing red, white, and blue-themed outfits at a football game in honor of 9/11 victims.
Students at Eastlake High School in Sammamish, Washington, were reportedly aiming for a Patriot's Day theme in which they were set to wear red, white, and blue to the game to honor those who fell victims in the September 11, 2001 attack, KTTH reported. But the school administration canceled the tribute in fears that some students would find it "racially insensitive."
In an email obtained by the news outlet, the school principal reportedly said that wearing those colors at the game, which marked the 9/11 20th anniversary, could "unintentionally cause offense to some who see it differently."
Shannon Parthemer, the Communications Director for Lake Washington school district, said that a staff member was responsible for canceling the theme. However, Pathemer and the principal didn't disclose why those colors would be deemed inappropriate and who would consider it offensive, according to KTTH.
"We have followed up with the staff member on decision-making processes," Parthemer said, according to the outlet.
In an email sent out to a parent, the school principal Chris Bede said that "leadership teachers made this decision and explained it to students."
"I know tomorrow is 9/11 and understand the sacrifice and values our flag represents, but I think they just did not want to unintentionally cause offense to some who see it differently," Bede said according to KTTH.
Students were reportedly upset about the theme cancelation and disagreed with the reasoning made behind the decision with one student saying, "I was fairly upset and confused as to why the theme was changed so I went around asking students in our leadership. They had explained that red, white, and blue was going to be seen as racially insensitive and may affect people in a way that we will not understand."
"I have seen other [Lake Washington School District] football teams that held a flag or did some sort of memorial recognition towards 9/11, but apparently we weren't allowed to even wear USA colors," another student said.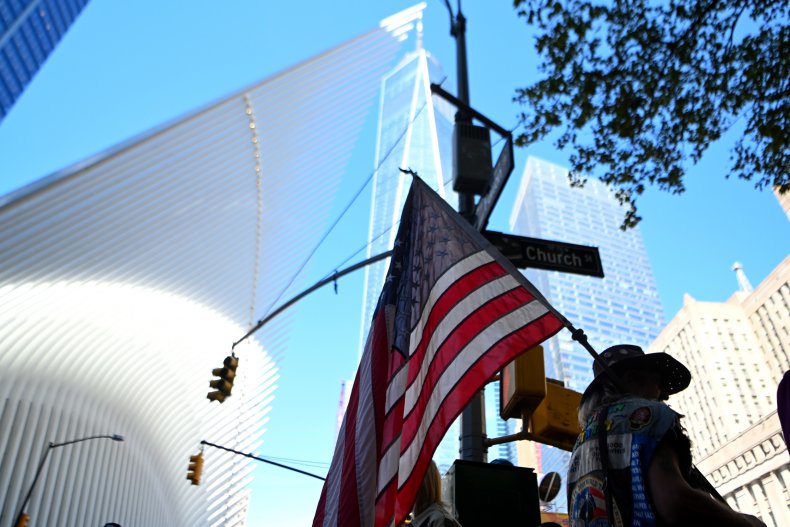 According to The Police Tribune, some students were upset and decided not to attend the game because of the theme cancelation.
In a statement issued Monday, the school district superintendent Jon Holmen said that "there was no ill-intent" behind the cancellation.
"As we move forward, we will review the processes used to make such determinations, and ensure appropriate protocols are in place for similar decisions to be made in the future," Holmen said.
Newsweek contacted Lake Washington School District Communications Director Shannon Parthemer and Eastlake High School principal Chris Bede but didn't receive a response by the time of publishing.