Washington Lawmaker Matt Shea Must Be Expelled From Office | Opinion
A stunning report commissioned by Washington's House of Representatives has accused state lawmaker Matt Shea of participating in "domestic terrorism," alleging that he "planned, engaged in, and promoted a total of three armed conflicts of political violence against the United States government." What's most shocking, however, is not the accusation of terrorism but the fact that the Republican representative remains in office.
Evidence of Shea's apparent affinity for violence existed long before the 108-page report was released in late December. Yet voters in the Spokane Valley area have elected Shea six times, and even now, with the report's explosive findings known, lawmakers appear reluctant to expel him.
In April 2019, The Guardian published chat messages attributed to Shea that showed him discussing violent attacks against anti-fascist protesters with three other figures, one of whom suggested "hoisting communists up flag poles. Especially the ones with nipple rings." Less than a year earlier, Shea admitted to creating a pamphlet called "Biblical Basis for War" that argued American Christians have the right to "kill all males" who disagree with fundamentalist biblical law.
In 2014, not long after the armed standoff at Cliven Bundy's ranch in Nevada, a concerned citizen called the police to report a conversation between Shea and the head of the Oath Keepers militia about snipers, Bundy and militias. The witness said the group sounded "like they were planning something."
Get your unlimited Newsweek trial >
In 2011, Shea was arrested and charged after drawing a gun during a road rage incident. And before he was first elected to represent Washington's 4th Legislative District in 2008, his ex-wife accused him in divorce proceedings of physical and emotional abuse—accusations he denied.
All this evidence existed before Washington's House of Representatives commissioned a report in July from an investigative team headed by a former FBI agent and a former law enforcement officer. The report says Shea met with far-right extremist groups throughout the western United States in recent years, participating in and even helping organize anti-government activities, such as the 2014 standoff at Bundy's ranch, the 2015 armed conflict over an elderly veteran's access to firearms in Idaho and the 2016 occupation of Malheur National Wildlife Refuge in Oregon. Shea allegedly drew military-style plans to support the Malheur occupation and fed militants intelligence on law enforcement's position and plans.
The report calls Shea "an active and influential leader of the Patriot Movement," which grew, according to the Southern Poverty Law Center, in response to the 2008 financial crisis, non-white immigration and the election of President Barack Obama. Militias within this anti-government movement embrace violent extremism against perceived threats to the Second Amendment and fundamentalist Christian beliefs.
"He supports the movement and its causes and at times is an active participant in organizing and carrying out demonstrations against state and federal government activities," the report states. "He has on occasion organized and directed armed confrontations with law enforcement officers."
Get your unlimited Newsweek trial >
Shea, who has been a vocal supporter of eastern Washington seceding and reconstituting as Liberty State, denied the findings in the report, referring to it in a Facebook post as a "sham investigation."
Assuming Shea does not resign, it will take a two-thirds vote in the state House to expel him from office, let alone send him to jail. With his clean-cut appearance, the former Army combat veteran looks nothing like a man who Spokane Sheriff Ozzie Knezovich says should be charged "with domestic terrorism, if not treason." Yet his appearance and position are a dangerous attempt to mainstream the anti-government militia movement and white nationalism.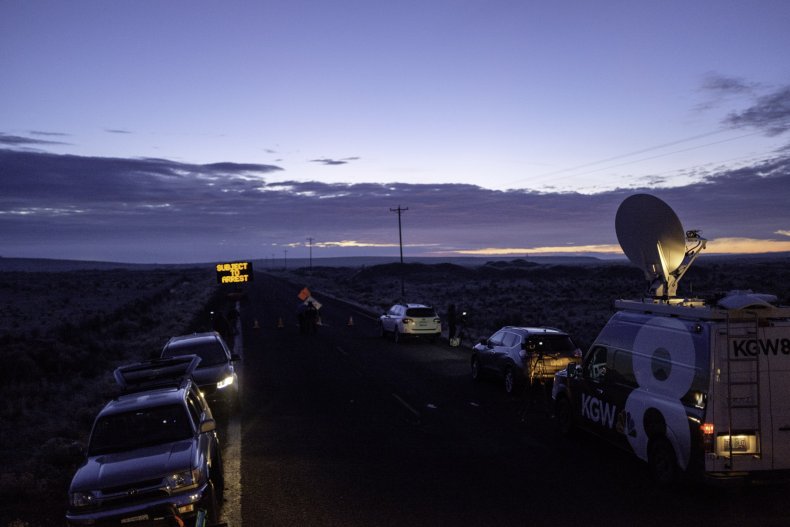 "White nationalism is a term that originated among white supremacists as a euphemism for white supremacy," according to Miri Cypers, regional director for the Anti-Defamation League's Pacific Northwest Region. "Eventually, some white supremacists tried to distinguish it further by using it to refer to a form of white supremacy that emphasizes defining a country or region by white racial identity and which seeks to promote the interests of whites exclusively, typically at the expense of people of other backgrounds."
With the Trump administration using rhetoric and pushing policies that support white nationalist ideology, it is not surprising to see that Shea remains both free and in office. His actions may eventually land him in jail, but his ideology would appear anything but unpopular. Most recently, Shea was re-elected in 2018 with 58 percent of the vote. Even though Washington state officials from both major parties have called on Shea to resign, none have demanded his immediate expulsion.
Naveed Jamali is a columnist for Newsweek who spent three years working undercover for the FBI against Russian military intelligence. He tells the story in his book How to Catch a Russian Spy. He is a member of Left of Bang, a group of military veterans working to prevent gun violence.
The views expressed in this article are the author's own.​​​​​
Washington Lawmaker Matt Shea Must Be Expelled From Office | Opinion | Opinion