Washington Nationals Advance to World Series, City's First Team to Go to the Fall Classic in 86 Years
It's been easier to put a man on the moon than get a team from the nation's capital back in the World Series since their last appearance. Teams have come and gone from Washington, D.C. over the last century, but the current one finally punched a ticket to the Fall Classic on Tuesday night.
The Washington Nationals defeated the St. Louis Cardinals, 7-4, on Tuesday to complete a four-game sweep in the National League Championship Series. The crowd at Nationals Park erupted when Cardinals centerfielder Tommy Edman flied out to center off Nationals pitcher Daniel Hudson, setting off a celebration in Washington that was 86 years in the making.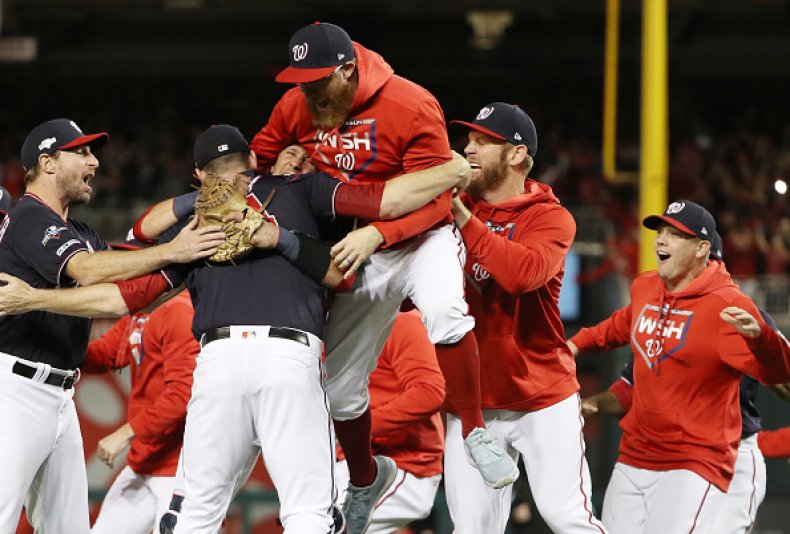 Nationals second baseman Howie Kendrick, who went 5-for-15 in the series, was named the NLCS MVP. This Nationals team became only the fourth team in MLB history to make the World Series after being 12 games below .500, which the Nationals were on May 23 this year.
A team from Washington has not made the World Series since the Washington Senators made the World Series in 1933, when they lost for a second time in nine seasons.
This is only the fourth time a Washington team has made the World Series, joining the squads from 1924, 1925 and 1933—all as American League teams then. Only the 1924 team won a title over the then-New York Giants, who later moved to San Francisco.
Washington did not have a team for several decades before the old Montreal Expos left Canada for America's capital. This year, the Nationals were 19-31 in May and had to claw their way back to a Wild Card spot in the playoffs.
The Nationals needed a 4-3 win in a one-game Wild Card game over the Milwaukee Brewers just to advance and play the National League's best team, the Los Angeles Dodgers, in a best-of-5 series. The Nationals needed a Game 5 win at Dodger Stadium to advance. The team flew straight to St. Louis for the NLCS, where they took the first two games.
Washington, which has one of the best pitching rotations in baseball, got the next two games at home, and completed the sweep.
Now the Nationals will wait to see who they'll play in World Series 2019, either the Houston Astros or the New York Yankees. The Astros took a 2-1 lead over the Yankees in the ALCS on Tuesday, and Game 4 of that series might be delayed a day because of pending bad weather in the Bronx on Wednesday.
Washington Nationals Advance to World Series, City's First Team to Go to the Fall Classic in 86 Years | Sports