Washington and Oregon's Slowing Coronavirus Infection Rates Indicate Early Social Distancing Measures Pay Off
With the number of new coronavirus cases beginning to decrease, evidence from both Washington and Oregon indicates that the coronavirus curve is beginning to flatten because of social distancing.
On Tuesday, 298 new positive coronavirus cases were confirmed in Washington, down from a maximum of nearly 1,000 cases reported in one single day.
Oregon reported 49 new cases on Tuesday, a little more than half of the state's 100 cases that were reported on Friday.
"Having our numbers level off (start to increase more slowly, become flat, or start to decrease) is still a dire challenge and we have not turned the corner," read a statement from the Washington Department of Health sent to Newsweek on Thursday. "But we do think there is some evidence that our community mitigation strategy—closing schools, restaurants and theaters, and prohibiting gatherings—have slowed the rate of increase in King, Snohomish and Pierce counties."
Newsweek also reached out to the Oregon Public Health Authority for comment but did not receive a response in time for publication.
"We generally do not know if we have peaked in the state until we see about a two or three week decline in all our data indicators, and we have not seen that yet," Washington State Health Officer Dr. Kathy Lofy told KOMO on Wednesday.
However, recent modeling indicates that the death toll in Washington could decrease to 60 percent of the original projections.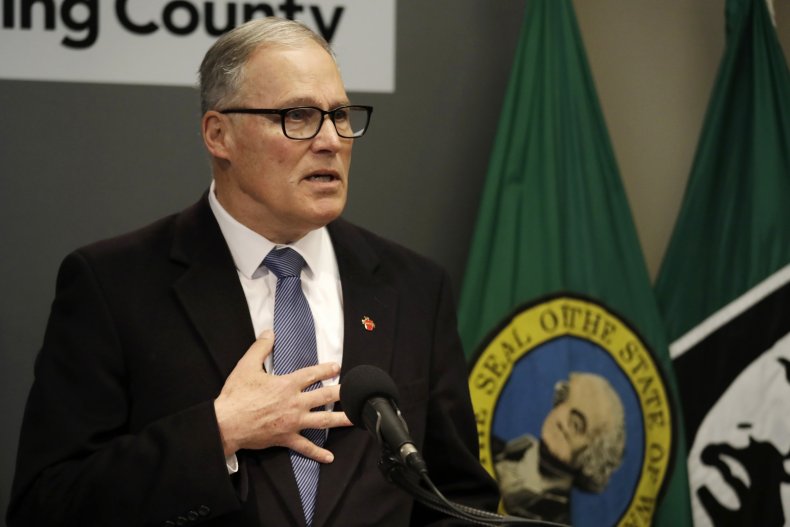 Washington governor Jay Inslee said Wednesday that the field hospital constructed in Seattle for coronavirus patients would be deconstructed for use in other areas.
"We requested this resource before our physical distancing strategies were fully implemented and we had considerable concerns that our hospitals would be overloaded with COVID-19 cases," Inslee said in a Wednesday press release.
"But we haven't beat this virus yet," Inslee added, "and until we do, it has the potential to spread rapidly if we don't continue the measures we've put in place."
On Saturday, Oregon announced that it would send 140 ventilators to aid New York in its battle against coronavirus. Oregon had requested the ventilators from the national stockpile but has not been hit by the virus hard enough to need them.
"The state of Oregon is sending 140 ventilators to NY," tweeted New York Governor Andrew Cuomo on Saturday. "We are so grateful to @OregonGovBrown and the people of Oregon. On behalf of the people of NY, I thank you and rest assured that NY will repay the favor when Oregon needs it."
Oregon State Health Officer Dean Sidelinger said on Friday that social distancing and a statewide stay-at-home order had reduced the coronavirus transmission rate in the state by up to 70 percent.
Social distancing is expected to be enforced in outdoor areas in Portland as the Portland Parks and Recreation Department has announced it will be sending park greeters out to encourage people to stay apart even while outside.
"Some parts of Oregon are doing better than others at staying home and practicing social distancing," said Oregon Governor Kate Brown in a Wednesday tweet. "To all our Portlanders: as tempting as it is to be out and about, please remember that our #1 priority right now is staying home and social distancing."
Updated 9:45 p.m. EST 04/09/2020: This story has been updated to include a statement from the Washington Department of Health.