Washington Post Reporter Calls Out Rachel Maddow, Says She 'Rooted for Steele Dossier to be True' While Covering Trump-Russia
In an opinion piece published in The Washington Post on Thursday, media critic Eric Wemple said MSNBC host Rachel Maddow was a "clearinghouse" for news concerning the Steele Dossier, a document she hoped would provide clear evidence that Donald Trump and Russia worked together to rig the outcome of the 2016 election.
While some claims made by the dossier have been corroborated, a report from Inspector General Michael Horowitz concerning the investigation gave no clear answers to Republicans or Democrats.
"The ubiquity of Horowitz's debunking passages suggests that he wanted the public to come away with the impression that the dossier was a flabby, hasty, precipitous, conclusory charade of a document," wrote Wemple. "Viewers of certain MSNBC fare were surely blindsided by the news, if they ever even heard it."
"When small bits of news arose in favor of the dossier, the franchise MSNBC host pumped air into them," Wemple continued. "At least some of her many fans surely came away from her broadcasts thinking the dossier was a serious piece of investigative research, not the flimflam, quick-twitch game of telephone outlined in the Horowitz report. She seemed to be rooting for the document."
"[Maddow] was there for the bunkings, absent for the debunkings—a pattern of misleading and dishonest asymmetry," Wemple added.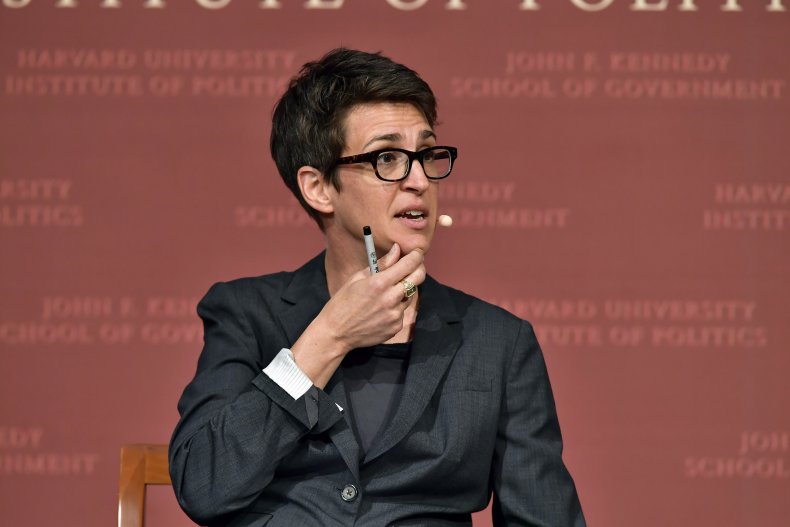 Talking about the information contained in the Steele dossier in January 2017 Maddow said, "The Director of National Intelligence has come out and said, 'We don't know if all that stuff in the dossier is true.' If the FBI had, in fact, assessed that stuff and found it to be untrue, if they had found it to be false the FBI could say so. But they're not saying anything."
Newsweek attempted to contact MSNBC for comment but did not receive a response in time for publication.
Created by former MI-6 agent Christopher Steele, the dossier included allegations of wrongdoing by Trump. Included among those accusations was that Russia had been "cultivating, supporting and assisting TRUMP for at least 5 years."
The Inspector General's (IG) report threw doubt upon the veracity of the Steele dossier, including the statement that Steele himself did not gather the information included in his report.
"Steele himself was not the originating source of any of the factual information in his reporting," read the IG's report. "Steele instead relied on a Primary Sub-source for information, who used his/her network of sub-sources to gather information that was then passed to Steele."
"The whole witch hunt idea," Maddow said after the IG's report was published in December, "the deep state cabal, the Russia investigation being a coup against President Trump, all of those talking points today, took a hard blow from this 476-page-deep examination of all of those crazy claims."