Alex Smith, quarterback of the Washington Football Team, suffered a bloody leg injury during the first half Monday night against the Pittsburgh Steelers. The injury occured on his good leg.
Smith, who broke both the tibia and fibula in his right leg a little more than two years ago, faced 17 surgeries to repair that leg and the possibility of never again playing football. He returned to the starting lineup last month, and now has his Washington team competing for an NFC East title.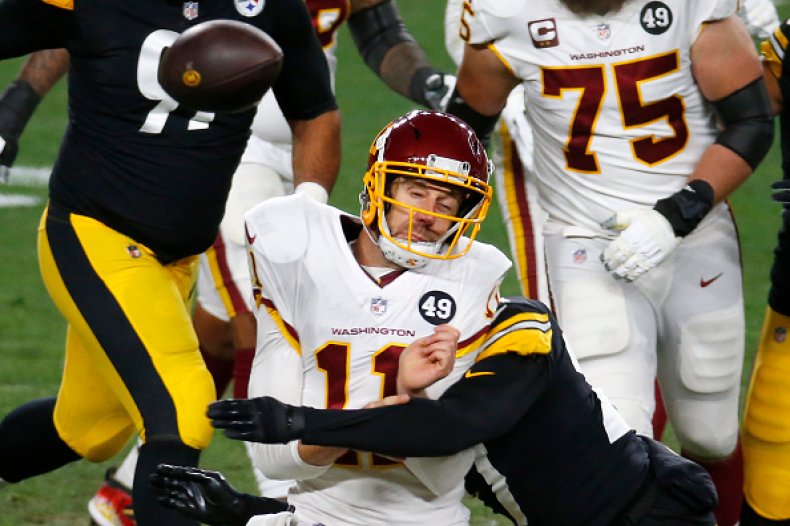 In Monday night's game delayed one day because of COVID-19 issues, he injured his left leg—his good leg—during the first half.
His shin area could be seen with blood gushing from inside his maroon sock and splattering onto his white cleat. No one would probably blame him for leaving the field, but he didn't.
Instead, he made a return to the field, and it left Twitter buzzing about his toughness.
Smith had many life-threatening surgeries over the last year and a half, and then a grueling rehabilitation process. Once a budding prospect from the University of Utah, he has bounced around from the west coast to the east coast, setting his teams up for future success before leaving.
After his departure in San Francisco, the 49ers made it to the Super Bowl, but lost to the Baltimore Ravens. In Kansas City, he was the starter before getting shipped away and replaced by Patrick Mahomes, who guided the Chiefs to the Super Bowl title last season.
For his career—entering Monday night, Smith has passed for 35,135 yards and 196 touchdowns with 106 interceptions. His career record as a starter is 96 wins, 67 losses and one tie.
Washington coach Ron Rivera said Smith can still be the long-term solution to the team's quarterback woes.
"That's something we as coaches and as an organization have to talk about most certainly if he continues to play at this level," Rivera said on ESPN last month. "He's back as a player."
Washington (4-7) is a half game back to the New York Giants (5-7) entering Monday night. The winner of the NFC East is likely the only team from that division to make the playoffs this season.
The Bleacher Report wrote hours before the game, "Alex Smith has overcome adversity throughout his career. ... The 36-year-old is back and has Washington competing for a playoff spot."
Here are some of the words about the toughness of Smith, who began his career with the San Francisco 49ers and made a stop with the Kansas City Chiefs before getting sent to the then-Washington Redskins.
About the writer
Scott McDonald is a Newsweek deputy night editor based in Cape Coral, Florida. His focus is assigning and writing stories across all topics, from news to politics, business, weather, sports and international news. Scott joined Newsweek in 2018 after a lengthy career of print journalism in Texas, including The Dallas Morning News, where he was a sportswriter, and he's a voter for the Heisman Trophy. He has been a newspaper editor-in-chief and also a newspaper publisher. He is a graduate of The University of Texas at Austin. You can get in touch with Scott by emailing s.mcdonald@newsweek.com. Languages: English