Washington Quarterback Dwayne Haskins Apologizes for Maskless Strip Club Visit
Dwayne Haskins is apologizing for a recent mask-free trip he made to a strip club. On Tuesday, the Washington Football Team quarterback issued a brief statement about the incident, which occurred over the weekend.
"I want to publicly apologize for my actions this past Sunday," begins the statement, which was shared on Twitter by NFL Network reporter Tom Pelissero. "I spoke with Coach [Ron] Rivera yesterday and took full accountability for putting the team at risk. It was irresponsible and immature of me and I accept responsibility for my action.
"I also want to apologize for creating a distraction for my team during our playoff push," the statement continues. "I will learn and grow from this and do what's best for the team moving forward." Haskins also shared the apology on his Twitter account, ESPN noted, adding that he then set his profile to private.
After Sunday evening's 20–15 loss against the Seattle Seahawks, Haskins went to a strip club, where he was photographed without a protective face covering, despite the ongoing coronavirus pandemic.
According to Bleacher Report, Haskins broke the NFL's COVID-19 rules by not wearing a mask while indoors at a public space. He previously violated protocols earlier this season and was fined for trying to bring a family friend to the hotel where his team was staying for their game against the New York Giants, ESPN reported. Though the person was prohibited from entering the hotel and no violation actually occurred, Haskins was still fined $4,833.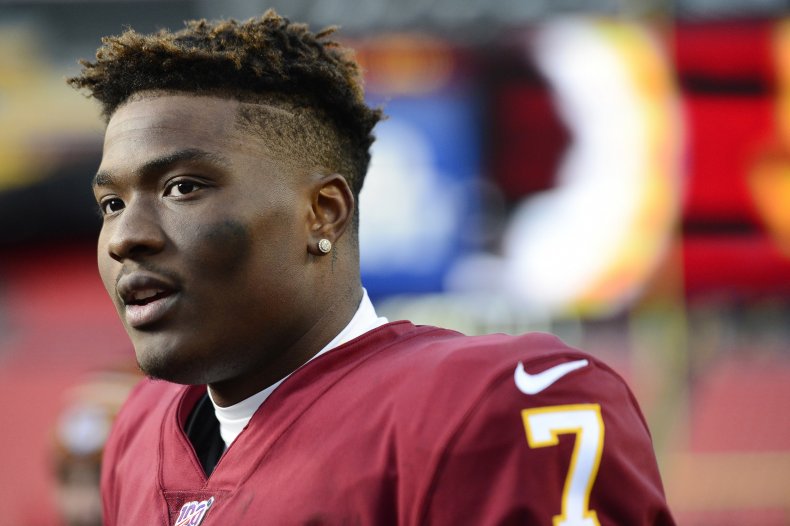 Before pictures circulated online of Haskins at the strip club, Coach Rivera said that the COVID-19 restrictions would be discussed ahead of the playoff season for the Washington Football Team.
"That'll be the thing that we will most certainly talk about as we get up into this," he said on Monday, via ESPN. "Where we are right now this late into the season, everything has gone so well. Let's continue to focus in on staying clear of everything and staying healthy. Hopefully, we can maintain that and continue. We most certainly will talk about it."
Pelissero noted that "going to a nightclub without PPE is considered 'High Risk COVID-19 Conduct,' punishable by a maximum fine of one week's salary or up to four-game suspension."
Whether or not Haskins will be suspended from the team for several games or have to pay a fine remains unclear. On Sunday, the Washington Football Team is slated to play the Carolina Panthers, which may be a division-clinching game for Haskins' team.
Updated 12/22/2020 at 1:31 p.m. EST: This article has been updated to provide further information.