Washington Redskins to Announce Nickname Change Monday Morning
The Washington Redskins have said they plan an announcement Monday morning to change their decades-long moniker "Redskins." This comes after pressure on multiple fronts over several decades and through recent financial threats from sponsors, all urging the team to change their mascot to something not offensive to Native American cultures.
Because of trademark reasons, the team is not expected to announce its new name on Monday, according to Sports Business Daily.
Redskins owner Daniel Snyder vowed in 2013 he would never change the team's name. Things changed over the last six weeks, along with other social justice and racial equality measures, that have led the Washington NFL franchise to even considering changing its name.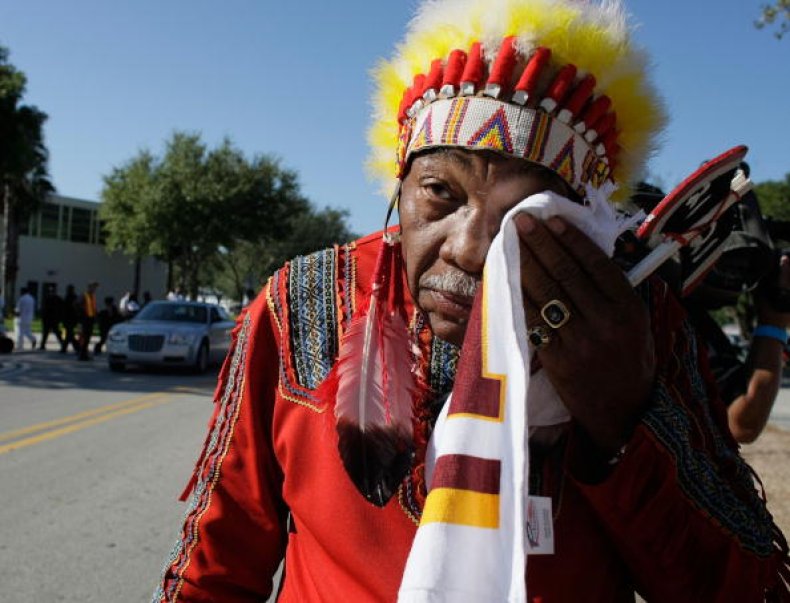 It's only taken the few days in July to sway Redskins owners to make this move, and it's largely been financial reasons.
In the first week of July, a group of 87 investors and shareholders wrote letters to three of the team's top sponsors—FedEx, Nike and Pepsi—urging them to pull sponsorship dollars unless the team changed its name.
On July 2, FedEx demanded the team change its name from Redskins. That's largely important because FedEx holds the naming rights to the team's stadium, and the company could pull it sponsorship worth many millions of dollars if the team doesn't comply. The deal over the years was worth $205 million, and it is set to expire in 2025.
"We have communicated to the team in Washington our request that they change the team name," FedEx said in a statement.
A few hours after that, Nike pulled all Washington Redskins merchandise from its website. Nike still carries gear from all other 31 teams in the NFL.
Walmart, Dick's Sporting Goods and Target have also stopped Redskins merchandise and gear. Late last week, Amazon announced it would pull most Redskins merchandise from its site, and it gave vendors a 48-hour notice to remove those items.
PepsiCo announced it has also been in discussions about the name change.
"We have been in conversations with the NFL and Washington management for a few weeks about this issue," PepsiCo said in a statement on July 3. "We believe it is time for a change. We are pleased to see the steps the team announced today and we look forward to continued partnership."
The Redskins then announced on July 3 that it is reviewing its name, after the sponsors began putting pressure on the team. Meanwhile, three minority co-owners said last week that they are looking into selling their shares of the team.
The three minority owners in the team—Robert Rothman, Dwight Schar and Frederick W. Smith—hold a collective 40 percent ownership, and they have reportedly hired an investment firm to help them sell their shares of the club.
Daniel Snyder owns the majority of the Redskins, and the other three co-owners are "not happy being a partner." The Washington Redskins are worth about $3.4 billion, according to Forbes' latest calculations. That ranks seventh in the National Football League.
The Cleveland Indians of Major League Baseball have stated they plan to look at changing their team's name, but baseball's Atlanta Braves have no plans on changing its nickname. The Braves, however, are examining the fans using the Tomahawk chop motion during games.
The Chicago Blackhawks of the National Hockey League, which have a similar logo to the Redskins, have stated they do not plan on changing their name either.