Next Washington Redskins Head Coach: Five Candidates to Replace Jay Gruden
The Washington Redskins have fired coach Jay Gruden after a dismal start to the season that has left the franchise as one of just four winless teams through the first five weeks of the season.
The Redskins lost 33-7 at home to the New England Patriots on Sunday, dropping to 0-5 and are now rock bottom of the NFC East.
Asked whether he feared for his job after racking up a fifth straight defeat this season, Gruden insisted he would treat this week as usual.
"No one's told me anything," he said in his press conference on Sunday. "I don't have a concern. If the key works Monday, keep working, go attack the Miami Dolphins and plan on getting our first win next week."
The situation, however, changed rapidly and on Monday morning ESPN's Dan Graziano and NFL Network's Ian Rapoport both reported Gruden had been fired.
The 52-year-old leaves Washington with a 35-49-1 record in over five seasons in the capital, during which the franchise has reached the playoffs just once—in 2015, when they lost to Green Bay Packers in the wild card round.
That year marked saw the Redskins win a first divisional title since 2012 and just a second since 1999 but it was also one of only two campaigns Washington finished above .500 under Gruden.
Injuries have plagued the franchise in recent years, with starting quarterback Alex Smith suffering a career-threatening injury last week.
Washington has appointed Bill Callahan as interim coach, but could replace Gruden on a permanent basis?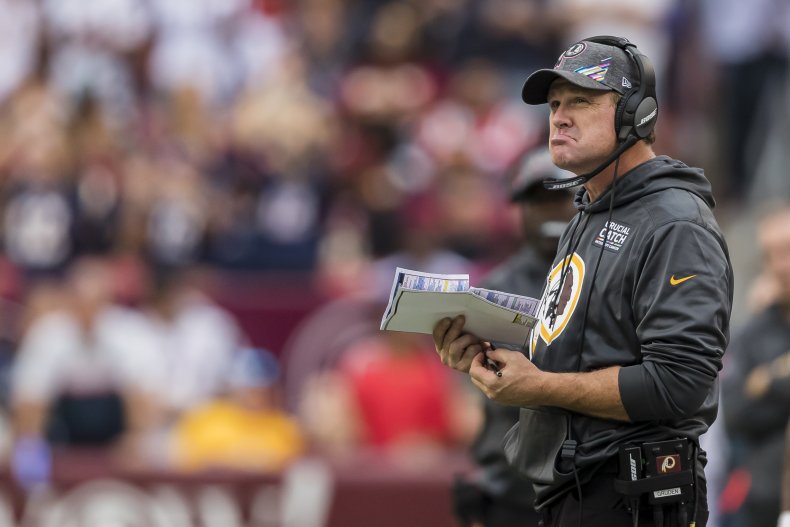 Jim Harbaugh
In four seasons in Michigan, Harbaugh has taken the Wolverines to four bowl games but the Big Ten title continues to prove frustratingly elusive. Michigan is 4-1 and ranked 16 in the Associated Press' Top 25 poll and has already suffered a heavy defeat against No. 8 Wisconsin earlier this season.
With the playoffs a long-distant mirage, Harbaugh could be on borrowed time in Michigan, particularly as he's abrasive personality is effective only when his teams are successful. The 55-year-old has pedigree as NFL head coach and in four years with the 49ers he took San Francisco 49ers to two NFC Championship games and to Super Bowl XLVII.
Harbaugh could offer Washington a safe pair of hands, while the Redskins could offer him the perfect excuse to leave Michigan.
Lincoln Riley
Arguably the most coveted hire among college football coaches, luring Riley away from Oklahoma is no easy task.
"I love college football," Riley said in October last year.
"I certainly don't have that itch [of coaching in the NFL] right now. Don't know that I ever will."
The process could be further complicated by the fact Washington has a notoriously difficult owner and a roster sorely lacking talent.
Conversely, the chance of coaching Dwayne Haskins could prove tempting for Riley, who has an outstanding track record when it comes to developing quarterbacks.
During his spell with the Sooners, the 36-year-old was pivotal in moulding Baker Mayfield and Kyler Murray into Heisman Trophy winners and first overall draft picks in consecutive year and is working wonders with Jalen Hurts this season.
Haskins, a Heisman Trophy finalist last season and the 2018 Big Ten Player of the Year, was selected with the 15th overall pick by the Redskins but has shown few promising signs so far.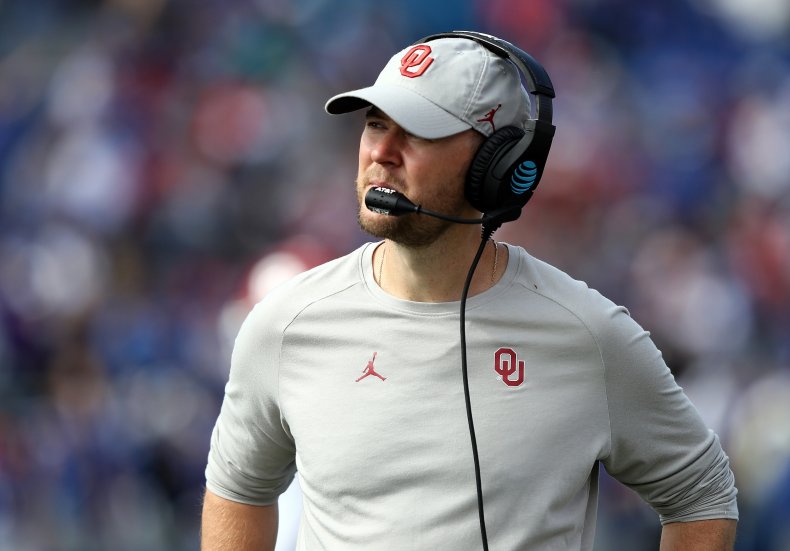 Josh McDaniels
McDaniels' name comes up whenever there's a head coach vacancy in the NFL, and for good reasons, too.
With McDaniels as offensive coordinator, the New England Patriots have won three Super Bowls and reached a further pair.
New England's offense has been ranked in the top-10 since McDaniels returned to Foxborough in 2012 and he would almost certainly improve Washington's stuttering offense.
However, agreeing to be the Colts head coach last season only to leave them at the altar could raise some questions among Redskins' executives.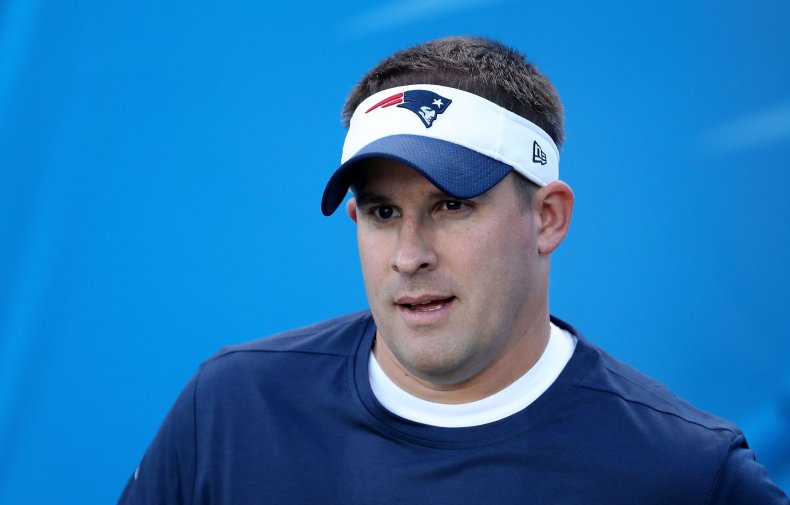 Eric Bieniemy
Kansas City's offensive coordinator was the bookmakers' fourth-favorite to replace Mike McCarthy when the Green Bay Packers parted ways with their former head coach in December, but remained with the Chiefs.
It's easy to see why Bieniemy features on any list of potential coach hires as he's has had a huge impact on the Chiefs' offense in just over a season with the franchise.
Andy Reid's penchant for playing a high-octane brand of football and Patrick Mahomes' phenomenal talents obviously are major factors in the Chiefs' explosive offense, but Bieniemy deserves credit.
As would be the case with Riley, Bieniemy could get the most out of Haskins, who has played just one game so far this season.
Matt Nagy and Doug Pederson both worked under Reid before making their name as head coaches, could Bieniemy follow suit?
Kellen Moore
Another highly-thought of offensive coordinator, Moore has revitalized the Dallas Cowboys this season—losses to New Orleans and Green Bay notwithstanding.
Moore worked as quarterbacks coach with the Cowboys last year, he's young and has been running a fast, productive, offense.
In short, he ticks almost every box owners may want from a new head coach.
However, whether Moore would leave the Dallas remains to be seen, particularly as there has already been speculation Cowboys owner Jerry Jones could promote him to replace Jason Garrett.
Alternatively, Jones could sign up Moore to a new lucrative contract and avoid the risk of losing him to a NFC East rival.