Washington Sheriff Refuses to Enforce Governor's Stay-at-Home Order, Says He's 'Worried About the Economy'
Sheriff Adam Fortney of Snohomish County in Washington State wrote in a Tuesday Facebook post that he would not be enforcing the stay-at-home orders enacted by Washington Governor Jay Inslee.
Originally set to expire in April, Inslee extended the date of the orders until May 4. At an April news conference, Inslee said the extension was "justified and morally necessary."
Sheriff Fortney disagreed with Inslee's decisions, calling into question the classifications of some businesses as "essential" and disparaging the governor's efforts to reopen Washington State for business.
"I am worried about the economy and I am worried about Washingtonian's that need to make a living for their family," Fortney wrote. As for Inslee's plans to reopen the state, Fortney said the governor had "no details."
"As your elected Sheriff I will always put your constitutional rights above politics or popular opinion," Fortney added. "We have the right to peaceably assemble. We have the right to keep and bear arms. We have the right to attend church service of any denomination. The impacts of COVID 19 no longer warrant the suspension of our constitutional rights."
Fortney is not the only sheriff in Washington who has vowed not to enforce the governor's orders. Sheriff J.D. Raymond of Franklin County, Washington posted a letter on the Department's Facebook page on Monday saying he would not enforce the stay-at-home edict either.
Raymond objected to the ban of drive-in church services in the state, calling it a "gross overreach" that "intrudes on our religious freedoms and constitutional rights."
"Our governor has overstepped his constitutional powers and is trying to control us under the guise of protecting us," Raymond wrote. "There is no plan in place for sustaining our economy; no plan in place for ensuring that families survive economically; no plan in place for resuming a normal, constitutionally protected life."
"The legislative branch of government may be able to make laws," Raymond continued, "but they do not have the ability to require me to enforce them."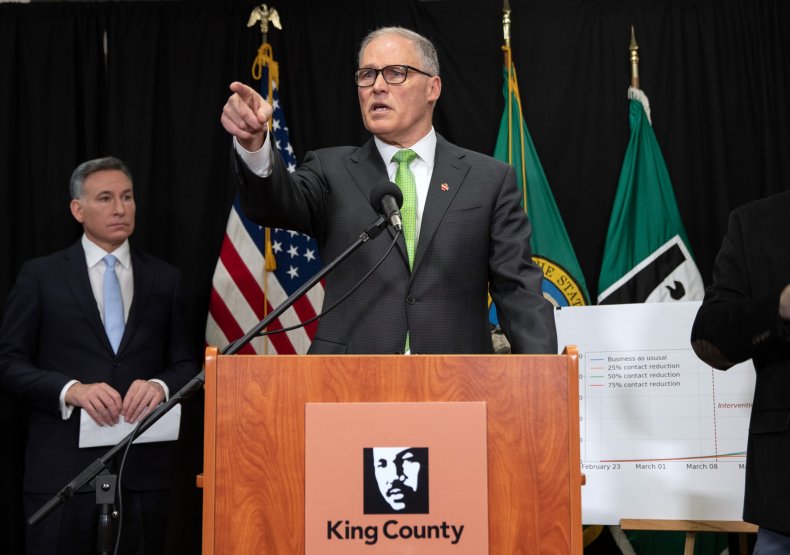 Inslee talked about the decisions made by the sheriffs in a news conference Wednesday.
"Law enforcement officers, who I have huge respect for, who thousands of them today are not going off half-cocked saying they're not going to enforce the law. They're enforcing the law," Inslee said. "There are just two of them that I know of that want to make a political statement. For whatever talent they have, they just are not given that right in our democracy to make a decision about the Constitution."
Inslee also addressed the situation in a joint statement released Wednesday, asking citizens "not to be misled by local officials."
"It is disappointing when elected officials promote illegal activity that puts their community's well-being at risk," wrote Inslee and Washington Attorney General Bob Ferguson. "People's lives are deeply impacted by this crisis. We are working hard to turn the tide on Covid-19 and begin lifting restrictions. These decisions are guided by science. Our priority is keeping Washingtonians healthy."
"These orders are legal, and they are working," the statement continued. "Do not be misled by local officials who encourage you to risk your health and violate the law. Please continue to take care of yourself, your family and your neighbors."
Newsweek reached out to Attorney General Ferguson's office for comment.
Inslee's recovery plan for Washington State, which was released Tuesday, places an emphasis on a science-based, phased-in approach to reopening Washington businesses.
"It will look more like the turning of the dial than the flip of a switch," Inslee said in a Tuesday address. "We're going to take steps and then monitor to see whether they work or if we must continue to adapt."