Washington Square Park Rave Promoter: Wealthy 'Karen and Kevin' Neighbors Should Move
The promoter behind recent raves in New York City's Washington Square Park has hit back at residents complaining about the noise and a rise in anti-social behavior and crime in the area.
The New York Post reported that the recent outdoor parties have led to violence, with two people stabbed in the early hours of Saturday morning after a brawl broke out among a group of late-night revelers.
According to the newspaper, unlicensed boxing matches have also taken place in the iconic Manhattan park as the city emerges from the COVID-19 pandemic, horrifying residents.
Authorities responded by enacting a weekend 10 p.m. curfew, with police in riot gear clashing with revelers while enforcing it.
But David "Shaman" Ortiz, the 28-year-old who has been promoting the pop-up parties, is not worried about the critics.
He dismissed residents who have complained as "Karens and Kevins"—slang terms used to refer to a specific type of people who complain. More recently, the term "Karen" was applied to white women who have been filmed harassing Black people or people of color.
"I do believe if the residents believe that downtown area is too noisy then they should leave," Ortiz, who lives in Queens, told Newsweek.
But he added: "After hours, we're not that loud… we're just people who want to have a little fun."
Ortiz added that police were "targeting Washington Square Park because of the money that's around Washington Square Park."
"It's the Karens and Kevin, and if they don't like it, they can leave. We all pay the same taxes in New York City to be there. I'm a New York City resident, like anybody else.
"If they have an issue with it, they should not be living downtown. If you want a lighter experience, move to the suburbs."
Speaking about the boxing matches, Ortiz added: "Why does someone need to have a license to play a sport? Nobody got hurt. Are you kidding me?"
In a statement to Newsweek, a spokesperson for the New York Police Department said Washington Square Park is closed from 10 p.m. instead of midnight on Fridays, Saturdays and Sundays.
"Additional officers will be present to close the park. The decision to move the closing time will be reviewed on an ongoing basis. This decision was made following numerous concerns raised by residents related to noise, late night gatherings, drug use and other complaints," the spokesperson said.
"Additionally, the decision was made due to safety concerns following several recent incidents where large, and sometimes violent groups have refused to leave the park and engaged in disorderly behavior. This behavior has included jumping on vehicles, making threats to officers, throwing objects such as bottles and other objects at police and in one instance throwing unknown objects at responding FDNY and EMT vehicles which were responding to a building."
William Abramson, the director of brokerage for Buchbinder & Warren Realty Group, the landlord for hundreds of residential and retail properties near the park, told the Post that residents have woken up over the past year to find human waste and people passed out in their doorways.
But he added: "We're not going anywhere."
The firm hired private security to patrol their properties around the park six months ago, which Abramson said was because local leaders have failed to address complaints.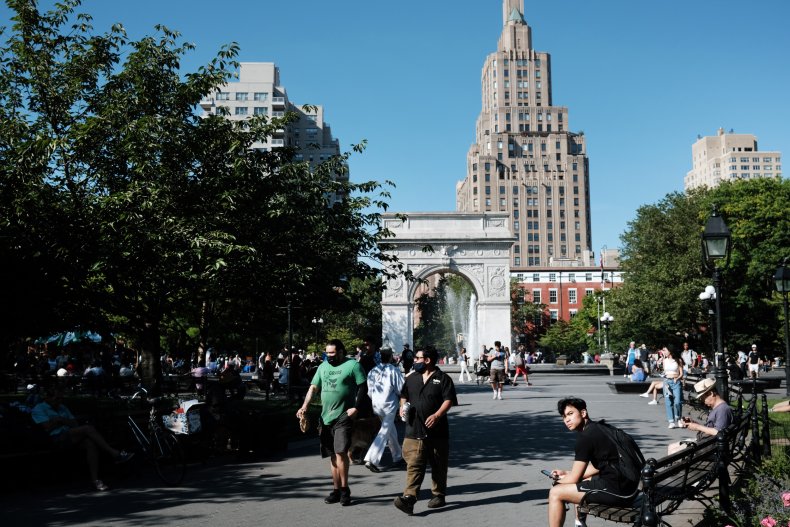 Update 6/13/21 10.45 a.m. ET: This article has been updated with comments from David Ortiz.
Update 6/13/21 11.40 a.m. ET: This article has been updated with a statement from the New York Police Department.