Washington Standoff Latest: Suspect in Body Armor With Duffel Bag of Guns Took Four Hostages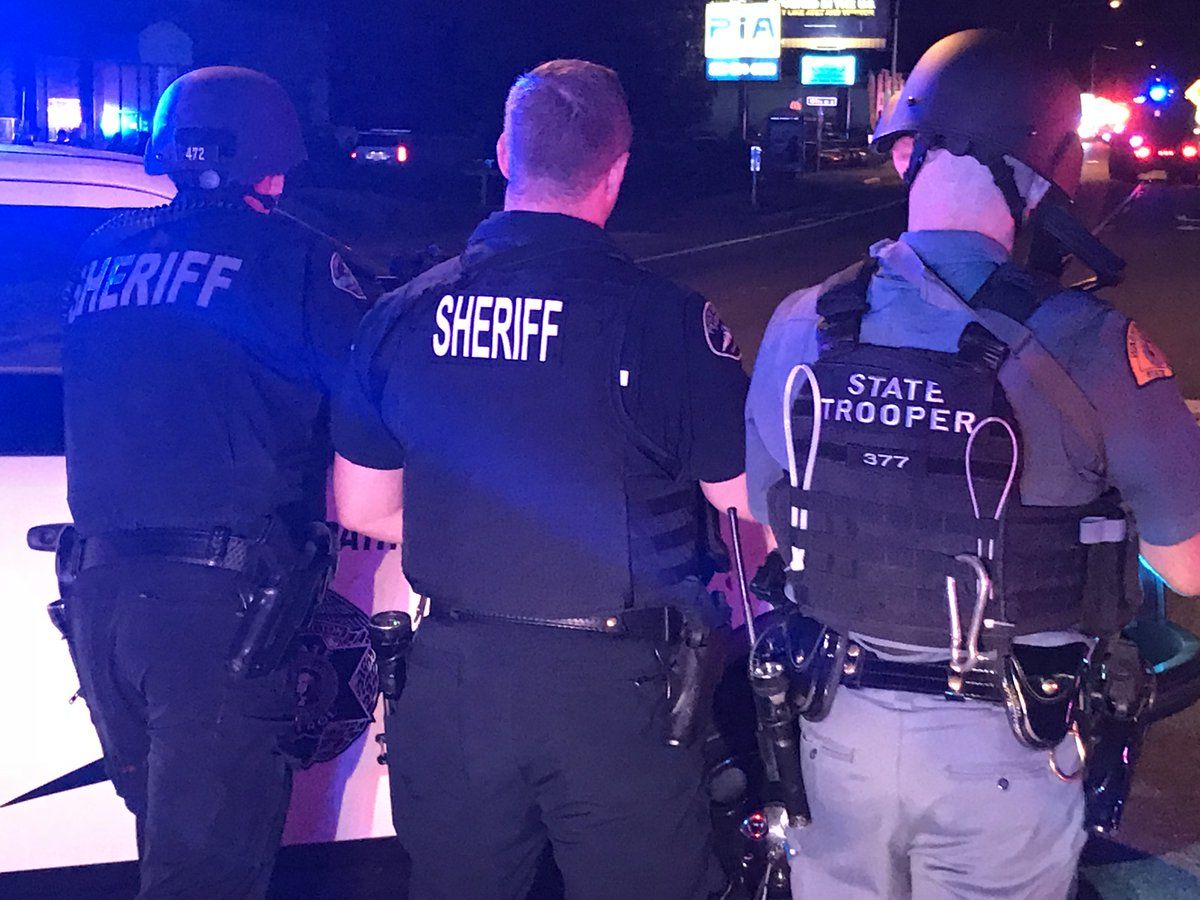 A dramatic shootout with police in Pierce County, Washington, has ended with a well-armed gunman in handcuffs.
At around 8 p.m. local time, law enforcement was called to Sky Motors in parkland following reports of an armed suspect. Civilians were blocked off from the area and locals were encouraged to remain indoors. According to updates by the Pierce County Sheriff's Department on Twitter, the man fired several rounds inside the business and took one person hostage.
While firing shots at police, the man barricaded himself inside the building. Police said the man likely was in possession of numerous weapons, including "long guns." Airspace in the area was also shut down.
According to KIRO 7, the man had taken as many as four hostages—all were released safe and unharmed. The standoff began as an attempted robbery.
About one hour after the incident began, police and SWAT had managed to detain the shooter. He was shot in the torso by a sheriff's deputy. Due to the bulletproof vest he was wearing, he did not sustain any serious injuries.
"Confirmed suspect was hit once in the vest by a round fired by our deputies, is being evaluated by medics but no serious injuries," police tweeted. "No deputies or officers injured, no hostages injured, no bystanders injured."
Police began a sweep of the building once the gunman was arrested. The building was cleared a short time after.
Earlier this year in California, Los Angeles Police Department were involved in a car chase and shootout with a local resident in Silver Lake. 28-year-old Gene Atkins had reportedly got into an argument with his grandmother over a woman—he then began his assault which ended at a Trader Joe's store. One person died and two more were injured.
At some point after the shooting, Atkins allegedly jumped into a Toyota Camry and led police on a wild chase through the streets of Los Angeles after officers located the suspect's car in Hollywood using transmissions from the Camry's anti-theft device. Officials said the gunman blew out his own rear window while firing at police officers during the chase.
Outside the Trader Joe's in Silver Lake, Miguel Trujillo, 27, was walking by the shopping complex that houses the store when he saw the police chase coming towards him. "It all happened pretty quickly," Trujillo told Newsweek who saw Atkins crash his Camry into a light pole outside the Trader Joe's store.
"I was calm and at peace, but it all changed when I saw the gun," Trujillo said, describing how he immediately felt a physical gut wrench within his stomach, signaling that things were about to get worse.