Washington State Could Fire Thousands of Employees as Inslee's Vaccine Deadline Looms
State employees in Washington have until October 18 to be fully vaccinated against COVID-19 or risk losing their jobs.
On Monday, the state released data showing that about 92 percent of the state's employee workforce of more than 60,000 had met the requirement, according to data released by the state.
The data showed that by October 4, 91.87 percent of state employees had met the vaccine requirement.
The number marks a huge jump from early September—as of September 6, only 49.14 percent of employees had provided proof of vaccination.
Washington Governor Jay Inslee's office referred Newsweek to a statement that the governor released on Monday, in response to the latest numbers on state employee vaccination rate.
The governor said that the data "show this strategy to increase vaccinations has been a great success."
"These high vaccination rates will continue to increase, and union-negotiated impacts will give more time to reconsider their choices as they take unpaid leave. I am so thankful for a state workforce that has chosen the right and best path for themselves, their families and communities and the residents they serve," Inslee stated.
"These actions have saved lives, prevented hospitalizations and protected the health of vulnerable populations and the unvaccinated, like young children," he added.
The governor also said that the state has "been diligent in its contingency planning for scenarios after the October 18 vaccination deadline" and stated that there will not be "massive disruptions in state services."
The vaccine mandate also applies to workers in Washington's health care industry.
KING 5 news reported that a recent survey found that 88 percent of Washington State hospital staff will be fully vaccinated ahead of the October 18 deadline.
The 12 percent who have yet to be fully vaccinated included those with a single dose of the vaccine and those who have received, or are seeking an exemption in addition to those who are declining to get the vaccine.
The news station also reported that the Washington State Hospital Association estimates that 2-5 percent of hospital staff (or 3,000-7,500 workers) may depart over the mandate.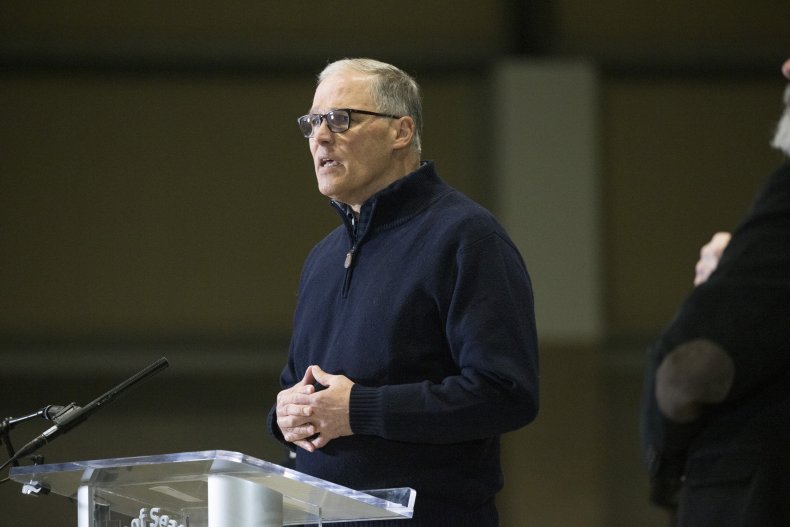 Inslee first announced the vaccine requirement in August.
"It is the mission of public servants and those providing health care to serve our fellow Washingtonians. These workers live in every community in our state, working together and with the public every day to deliver services," Inslee said at the time.
"We have a duty to protect them from the virus, they have the right to be protected, and the communities they serve and live in deserve protection as well."