Washington State is First in the Nation To License Outdoor Preschools
As nationwide interest in outdoor preschool programs increases, Washington is now the first state in the nation to officially license them.
Washington's Department of Children, Youth and Families began to establish the pilot licensing standards in 2017 for outdoor preschools, nature-based early learning and child care programs.
Outdoor preschools have been around for decades in places like Germany, Norway and Denmark. These programs were designed as a response to the trend of children spending very little time outdoors.
"There's a beauty in being able to see kids run outdoors and look at slugs and take care of plants and animals," Hannah Kinney, outdoor preschool educator, told The Seattle Times. "You do see students that need that space to move their bodies and feel like they have that choice and ownership of their learning."
Most outdoor preschool children spend the majority of their time outside, though many of the schools have an indoor option for a place to convene or emergencies. The children are outfitted at the beginning of the year with appropriate gear for every kind of weather. Activities can include daily hikes, identifying plants and animals, exploration and community-building.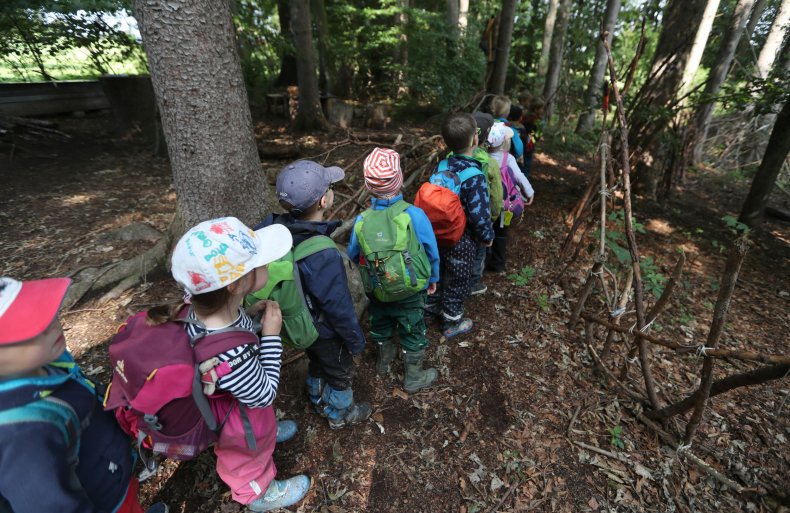 "They are learning all kinds of valuable principles about gravity, and texture, and shapes and colors and all the things you might expect to see in a preschool curriculum," the late Erin Kenny, founder of Cedarsong Nature School, told KCTS in 2017. "They are just doing it outdoors and at their own pace."
Fiddleheads Forest School was established at the Washington Park Arboretum through the University of Washington. They were the first entirely outdoor preschool in Seattle, Washington and one of the first urban outdoor preschools in the country. In 2017, they served over 80 families with children ages 3-5 with 176 families on their annual waitlist.
From their Outdoor Preschool Pilot Participant Testimonial: "At Fiddleheads we believe strongly in empowering students to guide their own learning process, and work to help each of them develop the tools to do just that through use of a curriculum that expressly teaches self-regulation. We have found that the forest grove classroom is uniquely suited to helping children develop these skills through exposure to gradual, contextual change."
"Becoming licensed would help set a standard of practice in the field and allow us to reach a greater diversity of families in and around the Seattle area."
At Nurture in Nature Preschool, which is a facility of Metro Parks Tacoma, their philosophy is that "preschoolers grow and learn how to be part of a community through play, discovery, and learning." While there is traditional curriculum mixed in, all of these outdoor schools emphasize being good stewards of the land and how to take care of it, creating a valued relationship between children and Nature that may not have existed otherwise in this age of technology.
To date, two outdoor preschools received their licensure in September: Kaleidoscope Preschool and Child Care Center in Eastsound, San Juan County, and Squaxin Island Child Development Center in Shelton, Mason County.