Washington State Trooper Caught on Video at Seattle Protest Saying 'Don't Kill Them, But Hit Them Hard'
A Washington State Patrol officer was recorded telling his officers to hit protestors hard ahead of a night on patrol in the Seattle area Tuesday.
The officer, who has not been identified, was filmed speaking to others in the patrol group, telling them, "Don't kill them, but hit them hard." The video was later shared to social media.
The Washington State Patrol has deployed 200 of its officers to assist local law enforcement officers with four days of protests, some of them violent, which began over the weekend.
Late Sunday, Washington Governor Jay Inslee issued a statewide activation of the National Guard after vandalism, and looting occurred in several Washington cities where protests were held.
In a statement sent to Newsweek, Chris Loftis, director of communications for the Washington State Patrol, said that the "team leader was doing his best in the heat of confrontation to create a mental environment for his troopers where they could do a 'push' technique. That's where we actively push aggressive, non-compliant, and threatening protestors away from a designated area.
"The team leader's intent of motivating and reassuring his troopers was commendable but his word choice, especially when considered outside of the context of his team's immediate challenges, was not," the statement continued.
Loftis went on to apologize "if this regrettable moment added in any way to the strain felt by those we serve in these difficult days and hours," but added that the Washington State Patrol is "proud of our troopers and appreciate the important responsibilities assumed by their leadership in the field."
"We are bettered by the compassion they have each shown to protect public safety as well as the rights of free speech and peaceful assembly," Loftis said.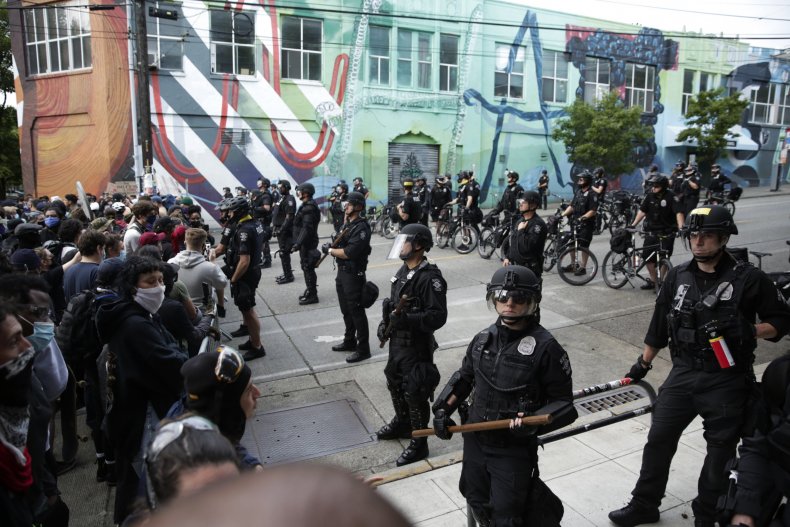 The video of the trooper was recorded two days after a video surfaced of a Seattle police officer subduing protesters the same knee to neck tactic that led to the death of George Floyd, an unarmed black man who died in the custody of officers from the Minneapolis Police Department on May 25.
The Seattle Police Department's Office of Accountability said in a statement that their office had received more than 12,000 complaints about officers' treatment of protesters during last weekend's violent protests.
"We are currently reviewing and processing these complaints. The resulting investigations will be our top priority moving forward," Anne Bettesworth, the Seattle Police Department's deputy director of public affairs, said in a statement.
The department is also investigating why police used pepper spray and concussion grenades to disperse a protest on Monday, according to an Associated Press report.
Seattle Mayor Jenny Durkan and Seattle Police Chief Carmen Best promised protesters the city would review their use of flash bangs and pepper spray during that protest.
"Your voices holding me accountable are important and you should continue to raise them," Durkan told those assembled outside the city's Emergency Operations Center downtown, according to the AP. "We want you to march. ... We want you to continue on the path of justice. But we need you please to do it peacefully."
The department claims protestors tried to storm a barricade around a Seattle Police station and threw firecrackers and chunks of concrete at officers. Best said one of the officers was injured.
However, video of the incident posted on social media showed an officer taking a pink umbrella from a protestor outside the barricade before spraying pepper spray on the crowd, the AP reported.