As Washington State Trooper Dies of COVID-19, Hundreds More Seek Vaccine Exemptions
Scores of Washington state troopers are pushing to resist an upcoming state-imposed mandate on COVID-19 vaccinations by filing for religious exemptions and suing the governor himself, even as one of their colleagues died over the weekend from the illness and several others fight for their lives in hospitals.
The unprecedented protest has sparked a looming crisis that is rocking the premier law enforcement agency of the northwestern state. It risks gutting a significant portion of the troopers' ranks, which already face the added danger of the disease itself.
The case of Detective Eric Gunderson offers a grim example.
Gunderson, 38 years old and a married father of two, served in the Washington State Patrol for nearly 16 years before succumbing to COVID-19 on Sunday. He is suspected to have contracted the illness while in service, making him the 32nd trooper to fall in the line of duty throughout the century-long history of the WSP.
"First let me say, how deeply saddened we are to lose a person like Eric Gunderson," WSP Communications Director Chris Loftis told Newsweek. "He was well known and well respected. He was a family man, a friend and colleague, and in the prime of his life. COVID is indiscriminate. It takes the old and the young, the weakened and the strong. And each life it takes is a loss for us all."
But Loftis said that whether Gunderson was vaccinated or not "is a private medical issue."
However, the trooper's death from COVID-19 has yet to deter another major problem: a concerted effort to dodge the vaccine mandate announced August 9 by Washington Governor Jay Inslee that is gaining momentum in the state force.
Personnel must be fully vaccinated by October 18, meaning the deadline for getting the double-shot Pfizer and Moderna vaccines has already passed, and the last day for receiving the single-dose Johnson and Johnson jab is October 5, next Tuesday.
As of last Monday, the WSP has received some 373 requests for religious exemptions from being required to receive the vaccine. The vast majority have been approved, including 215 requests from commissioned officers and 69 from civil service employees among the WSP's approximately 2,300 personnel, which is split roughly in half between commissioned and civil service members.
"As the numbers above suggest, the vaccine mandate has not met with universal acceptance," Loftis acknowledged.
But to further spell out the extent of the challenge, Loftis explained that to "maintain employment, one must show proof of vaccination by early October OR seek and receive an exemption AND be offered and accept a reasonable accommodation that would keep you from public facing job responsibilities or group work settings."
And, in fact, "no practical accommodations have been found to date" for a single approved religious exemption request in line with the Equal Employment Opportunity Commission and other relevant bodies, Loftis said.
"Per EEOC and Labor and Industry guidelines, we look for job classifications with no contact with the public or other WSP personnel," Loftis said. "However, the search for accommodation can be difficult as by its very nature, working for WSP often has a significant public engagement component of service. Those with job classes within an office or open air cubicle environment are also not appropriate."
So even if someone is approved for such an exemption, the employee runs a likely risk of losing his or her job.
"If no accommodation can be made due to job classification or an offered accommodation or reassignment is not accepted by the employee, separation from employment may occur," Loftis said.
The WSP has also offered the possibility of reassignment to other positions, but such transfers mean accepting the salary of the new job, which is often lower. This too has been rejected, leaving little to no options left.
"So far, no one has accepted the reassignment to a lower-paying position," Loftis said. "So effectively, we've had very few folks who are going to be able to maintain employment."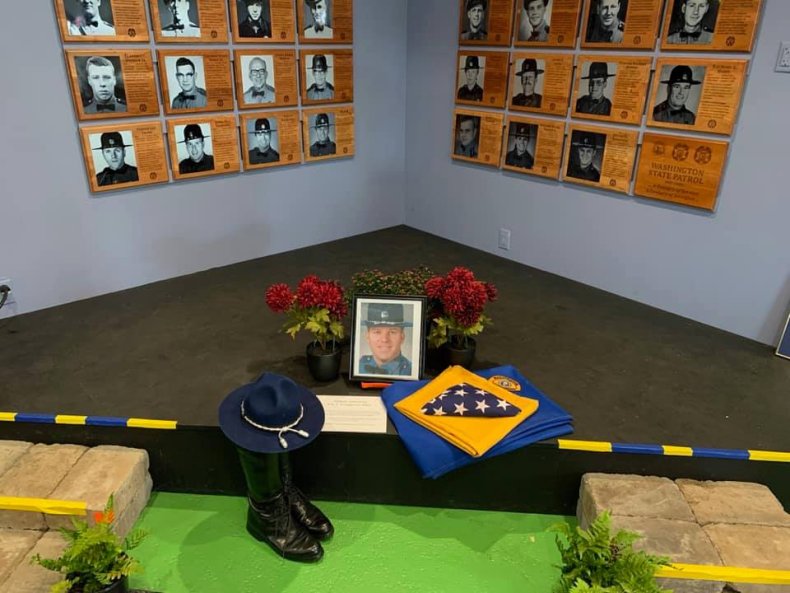 An additional 22 exemption requests, 14 among commissioned personnel and eight from civil service workers, have been made for medical reasons, all of which have been approved. But even among these cases, Loftis revealed, only six accommodations for commissioned officers have been found so far, three for workers already on long-term limited duty for existing health issues and three temporary accommodations "for our employees who are currently in the ICU due to COVID."
Three more accommodation requests for those seeking medical exemption have been denied, and 11 are pending further discussion.
"In short, we are being respectful but dutiful," Loftis stated. "We will follow the mandate's requirements to the letter."
Parallel to the wave of religious exemption requests flooding Washington's state police, a legal effort was launched earlier this month by nearly 90 public servants, the majority of whom are state troopers, to challenge Inslee's authority to institute such a comprehensive measure as part of nationwide efforts to combat the spread of COVID-19.
Court records obtained by Newsweek show that a lawsuit was filed September 10 on behalf of 89 named plaintiffs, 55 of whom are state troopers. The complaint states that the plaintiffs "intend to add thirty to fifty-thousand additional similarly situated Plaintiffs" against Inslee and the State of Washington.
"Governor Jay Inslee's August 9, 2021 mandate requiring all state workers to be vaccinated against COVID-19 by October 18, 2021 exceeds the authority of his office by the Washington Constitution statute, and, independently, violates the rights guaranteed to the state workers by the Washington constitution and applicable statutes," the complaint reads.
Specifically, the document argues that Inslee's mandate violates Washington state's proscribed liberties for state employees "by resulting in certain protected political and religious classes being purged from civil service."
A representative for Seattle-based law firm Arnold & Jacobowitz, which is handling the complaint, did not immediately respond to Newsweek's request for comment.
Faced with such dissent on two fronts, Inslee's office said the governor remained committed to offering accommodations — but only with sufficient reasoning.
"Law enforcement officers and others are eligible for religious exemptions," Tara Lee, Inslee's executive director of communications, told Newsweek. "However, if they cannot be provided reasonable accommodations (such as a state trooper) they may be denied."
She also acknowledged the potential risks of having a public sector personnel susceptible not only to contracting COVID-19 themselves, but spreading it to the very population they've sworn to protect and serve.
"Part of the governor's goals here are to ensure that those who work with the public, whether it is law enforcement, corrections officers, or those who work with vulnerable children and adults, are vaccinated and do not spread infection," Lee said.
But as of yet, Inslee's office has "not discussed dishonorable discharge" as a potential disciplinary action for refusing to take the vaccine once the deadline passes, according to Lee.
"That is not part of the conversation here," she said.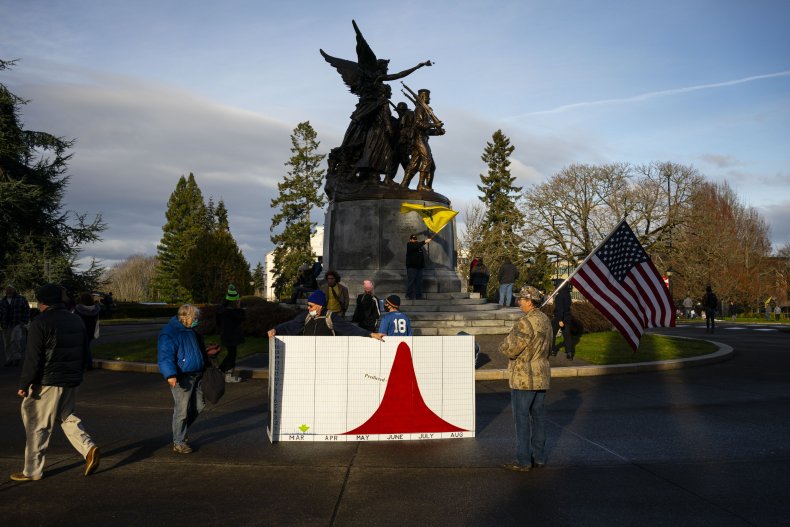 The conversation that is taking place in Olympia echoes a debate being held in state capitals across the nation, particularly in Washington D.C., where President Joe Biden announced on September 9 — a day before the Washington state employee lawsuit was filed against Inslee — that all federal employees would need to be vaccinated within 75 days.
As vaccine mandates are enacted at the state level, some affected law enforcement officers have chosen to end their careers rather than submit to the vaccine mandate.
State Police Association of Massachusetts President Michael Cherven expressed disappointment over a judge's decision to enforce Governor Charlie Baker's vaccine mandate, and said that "dozens of troopers have already submitted their resignation paperwork, some of whom plan to return to other departments offering reasonable alternatives such as mask wearing and regular testing" in a statement released Friday.
Back in Washington state, Loftis weighed the enormity of the conundrum among his own agency.
"There are people in our agency facing unprecedented decisions in an unprecedented time," he told Newsweek. "We want them to do what is right for them and we hope it is getting vaccinated and staying in the State Patrol, continuing their service to the state of Washington in the exemplary manner that is the hallmark of the agency and our personnel."
"By definition, we hire people of great conviction," he added. "In the case of mandated vaccines, those strong convictions are sometimes in conflict with health-based determinations and direction. It is a challenge that most every industry is trying to understand and navigate. But one thing is certain, we need our people to stay healthy and stay with us and we are honored by their service."
Loftis said the WSP as an agency saw the governor's mandate as an effort to keep Washingtonians safe and would continue to enforce it. He said he personally saw the vaccine, and every day he's lived since, as a gift.
"All I can say is that I am vaccinated and have been since my earliest opportunity," Loftis said. "At 62, I know I am already closer to my end than my beginning, and every day is a treasure."
A previous version of this article stated that WSP Detective Eric Gunderson's name appeared on the list of plaintiffs in the lawsuit filed against Governor Jay Inslee. It did not.