Two Microsoft employees in Washington state have contracted COVID-19 the company has confirmed as coronavirus cases in the region continue to rise.
The staffers, whose exact job titles have not been released, are reportedly located in the Puget Sound region, which is close to Microsoft's corporate headquarters in Redmond. The news comes after tech giants Amazon, Google and Facebook each urged employees in the area to work from home.
One of the infected Microsoft employees was staff for its subsidiary LinkedIn and is believed to have worked remotely, CNBC reported, citing a LinkedIn spokesperson email.
"Local health experts have determined that this individual had no known contact with other employees while infected and, based on that fact, there is no risk to those who work at LinkedIn from this case," that email read.
"We are doing everything we can to support our colleague and will continue to keep the health and safety of our employees, customers and partners as our top priority, working closely with public health officials globally."
A Microsoft spokesperson told Newsweek: "We have learned that a Microsoft employee and a LinkedIn employee, both in Puget Sound, are among those diagnosed with COVID-19.
"We are working closely with local public health authorities to provide the necessary support for our colleagues and their co-workers. We continue to provide real-time guidance for employees and take appropriate actions in accordance with public health guidance."
"The affected employees remain in quarantine, and we are supporting them as they recover," Microsoft executive Kurt DelBene said in an email to employees, according to The New York Times.
On March 4, the same Microsoft executive published updated guidelines for employees as health officials in King County warned that the virus outbreak was at a "critical moment." He recommended that all staffers who are able do so should work from home until March 25. The policy update came as the COVID-19 virus sparked a wave of event cancelations across the entire technology industry.
Yesterday, it emerged Facebook had to close a Seattle office after a contractor who had been there was diagnosed with the coronavirus, Bloomberg reported.
Shopping giant Amazon also confirmed this week that a staff member in Seattle was quarantined after testing positive for the COVID-19 virus. Two Amazon employees previously tested positive in Italy.
Google is also enforcing a work-from-home policy in Seattle, but took the additional step of urging employees to avoid bringing visitors to Washington offices, GeekWire reported. With an even broader approach, Twitter recently asked all global employees to avoid its offices.
The Washington State Department of Health confirmed 70 positive COVID-19 cases in its official update on March 5. The state death toll is currently at 10 at the time of writing, with over 200 people under supervision. The department updates official figures at 11 a.m. PST each day. On the global scale, the virus has infected more than 98,000 people and caused more than 3,300 deaths.
The Washington state death toll linked to the coronavirus reportedly rose to 11 overnight following the passing of a 90-year-old woman, KOMO reported.
"It's important that everyone takes steps to reduce the spread of novel coronavirus," King County officials said in a release yesterday. "This is a quickly evolving situation."
The first case in Washington state was announced on January 21.
"The risk posed by a virus outbreak depends on factors including how well it spreads between people, the severity of the illness it causes, and the medical or other measures we have to control the impact of the virus, for example vaccine or treatment medications," the health agency says. "The potential public health threat posed by COVID-19 is very high, both in the United States and around the world."
The following graphics, provided by Statista, show how the COVID-19 virus has now spread to countries and territories across the world, including the U.S.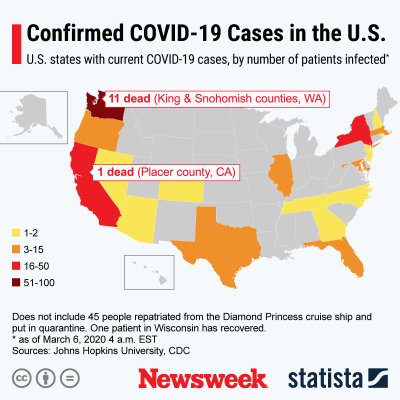 This article was updated to include information on a reported 11th death in Washington. This article was updated with a statement from Microsoft.