Washington Fire Map, Update As Red Apple Fire Sparks Evacuations
Wildfires continued to burn across Washington on Wednesday morning, with evacuations called in Chelan County after a new blaze threatened nearly 250 homes.
The Washington Fire Marshal's Office confirmed to CBS affiliate KREM2 on Tuesday evening that a fire had broken out in Wenatchee, Washington, at around 6:55 p.m., threatening a power substation, orchards and at least 234 homes.
The fire had already burned around 1,000 acres by Tuesday evening, as the office issued evacuation notices for several of the surrounding areas in Chelan County, including Red Apple Road and West Eagle Rock Lane.
A shelter was opened up by the Red Cross at 7th Day Adventist Church in Wenatchee, as Chelan County Emergency Management urged anyone to go there if they are at risk of being caught up in the fire's path.
The blaze in Wenatchee is one of several wildfires currently burning in Washington, as multiple fires broke out over the last week as the U.S. battled a summer heatwave, bringing unusually hot temperatures to western states.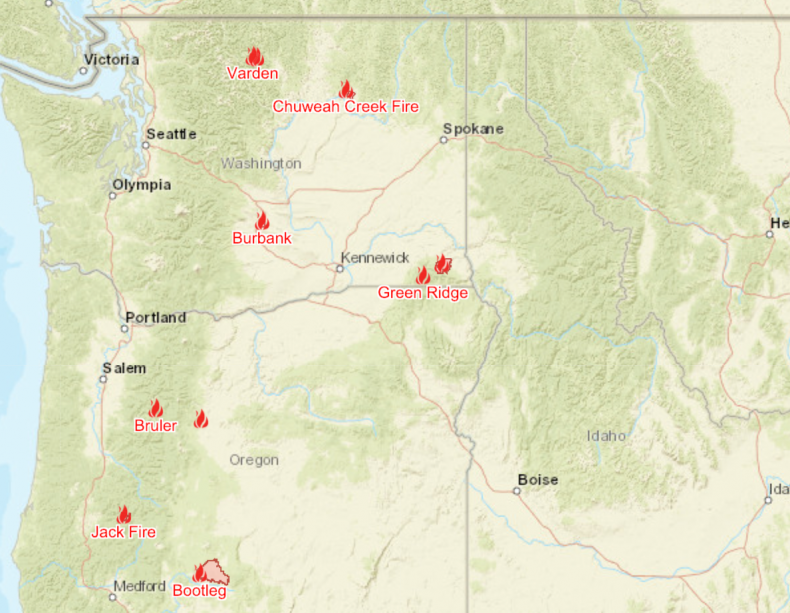 According to the National Interagency Fire Center, there are wildfires currently burning in areas in Washington including Burbank, Cedar Creek and Varden.
Amid the wildfires, California recorded 130 F on Friday, close to the world record temperature of 134 F, as several areas on the West Coast saw conditions much warmer than typically experienced at this time of year.
There are currently around 67 wildfires burning across the U.S. with at least 24 of them classified as large or complex blazes, according to the National Interagency Fire Center in an update on Tuesday evening.
The majority of the blazes have been recorded in Arizona, Idaho and Montana, but Oregon, Nevada, California and Washington have all been badly affected by the fires over the past week.
The fire center is currently recording three large fires in Washington, six in Oregon and eight in California. However, there are currently 12 in Montana, and 13 each in Arizona and Idaho.
The Bootleg Fire currently burning in Oregon doubled in size over the weekend, threatening around 2,000 homes. At least seven residences and 40 other buildings have already been destroyed.
As the fire continues to grow in size, the Klamath County Sheriff's Office said that it would arrest people who defied the orders to evacuate in areas immediately threatened by the fires, The Associated Press reported.
Although the heatwave is believed to have reached its peak temperatures, new fires are continuing to break out. A blaze was recorded close to Yosemite National Park in California on Sunday, so far growing to 9,500 acres burned with only 15 percent contained.
The U.S. has seen more acres burned this year compared to this point of 2019 and 2020, as the country has recorded 33,935 fires and 2,061,054 acres affected, according to the National Interagency Fire Center.
That figure compares to the 27,770 fires recorded in 2020 and 22,327 in 2019 by this date, as 1,687,412 acres had already been burned in 2020, while 2,057,236 acres had been affected in 2019.
Newsweek has contacted the Washington Fire Marshal's Office for comment.