Washington Vaccine Provider Says White People Not Eligible, Asked to Join Standby List
A COVID-19 vaccine provider in Washington state—the African American Reach and Teach Health Ministry (AARTH)—is prioritizing "Black, Indigenous & People of Color" for bookings at four vaccination sites across Seattle and Kent in King County.
White people are currently not eligible to book a vaccination appointment at the AARTH website. They are instead directed to join a waiting list and advised they will be notified when there is a "vaccine surplus available" at a clinic.
Vaccine appointment slots at the four sites available via the AARTH website are currently targeted for "Black, Indigenous & People of Color."
The AARTH website states: "The COVID-19 vaccine is available to all people 16 years and older who live or work in Washington state. If you do not meet our targeted audience, we encourage you to join our STANDBY List."
Those attempting to book a vaccine appointment at the website are asked: "Are you Black, Indigenous or Person of Color (BIPOC)?" Users who click "no" are directed to join the standby list and told: "You will be contacted if appointments become available."
The form for the standby lists states: "We will notify you if we have vaccine surplus available for a clinic regardless of our focus or your eligibility."
Who are AARTH?
AARTH is "a non-religious faith-based" non-profit organization that responds to "HIV/AIDS and other major health issues affecting people of African descent," according to its website.
"AARTH remains steadfast in our efforts to address racial inequities in systems, policies, and culture," it says.
The website explains that COVID-19 "has disproportionately affected black and brown people at alarming rates: unveiling social and racial injustice, health inequities, and systemic structural racism; our community comprising 50 percent-80 percent of COVID deaths in some areas of the United States."
What AARTH says
AARTH consultant Twanda Hill defended the organization's race-based online appointment system.
She told the Jason Rantz Show on Seattle's KTTH radio station: "Because we've been able to focus on this group [people of color], now to come back and have to worry about are we being illegal...while the state, you know, the health care system in general, if they could service brown people and people of color, this wouldn't be an issue."
Hill said the website asks users to identify their race partly "because of the funding that we receive."
"They want to know...we have funding because we are able to reach people of color. Federal funding, state funding, county funding. They want to know who are we serving," said Hill, who could not specify which governmental agency has provided the funds for AARTH's vaccine program.
Seattle and King County Public Health told the Jason Rantz Show they do not have a contract with AARTH.
Hill also argued that the system isn't truly exclusive, as a small percentage of white people on the standby list do manage to get a vaccination appointment. She also said those who lie about their race in the online booking form won't be turned away when they arrive at their appointment.
Asked about the legality of AARTH's appointment booking system, Hill said she was trying to "figure out a balance."
She told the Jason Rantz Show: "No, we have to make it open to everybody. Is that what you're thinking? That it has to just be totally a free for all and whoever comes in, comes in? And if that's the case, then why would the Black church do it?"
Hill also compared people complaining over AARTH's race-based appointment policy to those who complained about the state's more general approach using eligibility tiers, which at one point prioritized seniors.
She said: "Even if it's not the ethnicity, it could be the eligibility, they're right on the borderline. So I'm not quite sure what the answer is because it almost feels like you're saying that since we have a focus on a targeted group, that we should just open it up and let everybody in. But if you or another person is not getting in, isn't that a bigger issue for the state? And why aren't there more appointments?"
What state health department says
A spokesperson for the Washington State Health Department, Kristen Maki, told the Jason Rantz Show that "prioritization is designed to address current inequities and barriers to accessing vaccine, and get the people who are at highest risk vaccinated first while federal vaccine supply remains limited.
"This prioritization is similar to an event like free breast cancer screening for people without health insurance. If event organizers place someone who does have health insurance and wants a screening on standby, that person isn't being denied a screening.
"They don't experience the same barriers to getting health care as the people the event was created to help, and placing them on standby means they aren't getting a screening instead of someone whose only access is through the event," Maki explained.
The state health department's "COVID-19 Vaccine Prioritization Guidance and Allocation Framework" cites "mitigation of health inequities" among its "ethical principles."
The guidance states: "We developed our framework using a review of existing evidence and research and extensive feedback from disproportionately impacted communities, groups, and partners."
The mitigation of health inequities "includes the obligation to explicitly address the higher burden of COVID19 experienced by populations affected most heavily, given their exposure and compounding health inequities."
The guidance also cites "equal concern" to be among its ethical principles, which "requires that every person be considered and treated as having equal dignity, worth, and value."
The appointment policy implemented at the AARTH website would prevent a white person with a higher health risk than a person of color from booking a slot. Franji Mayes, another spokesperson for the state health department, told the Jason Rantz Show that the aforementioned scenario is permissible because "dealing with racism is a stressor that is bad for health and life expectancy."
Newsweek has contacted AARTH, the Washington State Health Department, Seattle and King County Public Health, the Seattle city government, the office of Washington Gov. Jay Inslee and the U.S. Centers for Disease Control and Prevention (CDC) for comment.
Washington's COVID-19 vaccine prioritization framework
The state health department's vaccine prioritization guidance explains: "The root causes of differences in COVID-19 cases, hospitalizations, and deaths are due to long-standing systemic inequities; as are the differences in access to COVID-19 information, services, and treatment in culturally and linguistically responsive ways."
As a result, the state is "intentionally taking a pro-equity approach to COVID-19 vaccine prioritization and allocation" and "prioritization for key groups including farmworkers, elders, people with disabilities, and communities of color should be stronger," it says.
"The COVID-19 pandemic has shed light on existing health inequities, amplified them, and revealed their root causes. The inequities in cases, hospitalizations, and deaths, among other telling metrics, are the result of broader societal and structural factors like racism and other forms of oppression.
"These structural factors result in differential access to resources, services, and opportunities, including access to health care," it adds.
As of Wednesday, over 5.1 million total vaccine doses have been administered across Washington state, according to the CDC.
Impact of COVID-19 on disadvantaged communities
The Washington state health department says: "There are stark differences in COVID-19 cases, hospitalizations, and deaths for certain communities. The disparities we see in exposure and illness are also impacting many of the same historically marginalized groups that experience other health inequities. This is true at the state level and the national level."
According to the department, "in terms of age-adjusted confirmed or probable case rates," the Native Hawaiian and Other Pacific Islander (NHOPI) and Hispanic populations have approximately five times higher rates than that among Asian and white populations. The rates among Black populations is around two times higher than that among Asian and white populations.
Among confirmed or probable COVID-19 cases, "NHOPI hospitalization rates are eleven times higher than white populations." The hospitalization rates among Hispanic populations are six times higher than that among white populations. The rates among Black, American Indian and Alaska Native (AI/AN) populations are three times higher than that among white communities.
Among confirmed cases, "white populations have the lowest death rates of all race/ethnicity groups when stratified by age," the department says. The COVID-19 death rates among NHOPI populations are six times higher than that among white populations.
The death rates among AI/AN and Hispanic populations are four times higher than that among white people. The rates among Black communities are around twice as high as that among white populations, according to the department.
Across the country, non-white people make up around 40 percent of COVID-19 cases as well as deaths among the U.S. population, as of Wednesday, according to the CDC.
Race/ethnicity information was available for 365,549 deaths (83 percent of reported deaths), while race/ethnicity information was available for 15,352,231 cases (61 percent of reported cases) of the CDC data.
According to the health body, over 91 percent of patients across nearly 1,400 health centers funded by the country's Health Resources & Services Administration "are individuals or families living at or below 200 percent of the Federal Poverty Guidelines and nearly 63 percent are racial/ethnic minorities."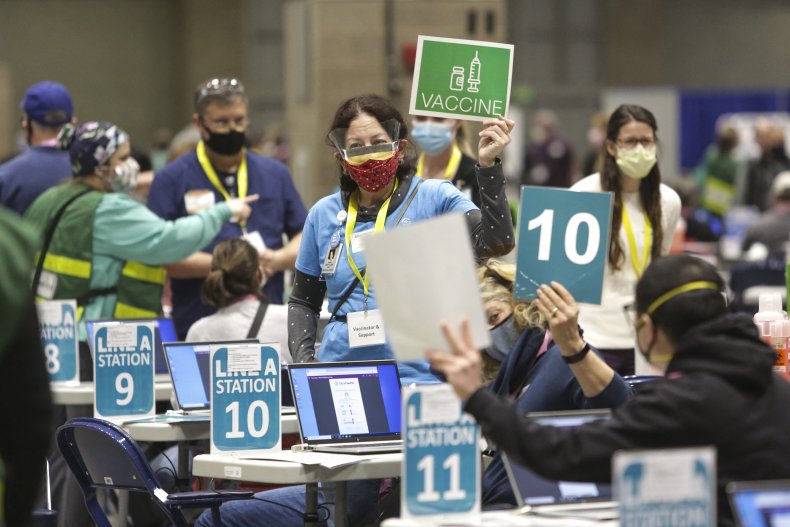 The wider picture
Coronavirus has infected more than 143.9 million people, including more than 31.8 million in the U.S., since it was first reported in Wuhan, China.
More than 3 million people have died worldwide and more than 82.5 million have recovered as of Thursday, according to Johns Hopkins University.
The graphic below, produced by Statista, shows the total number of COVID-19 vaccine doses distributed and administered in the U.S.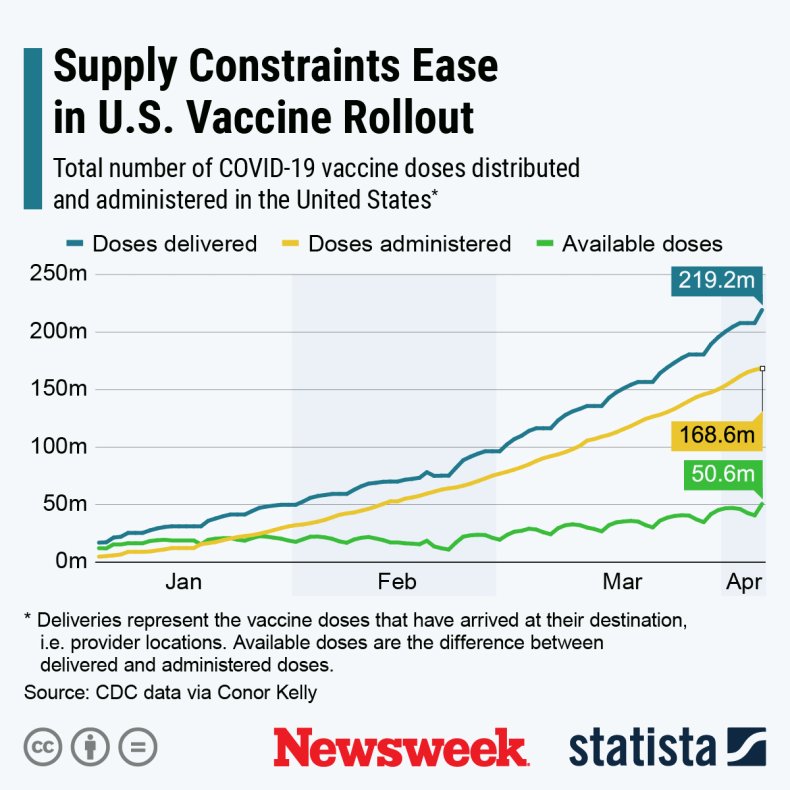 Newsweek, in partnership with NewsGuard, is dedicated to providing accurate and verifiable vaccine and health information. With NewsGuard's HealthGuard browser extension, users can verify if a website is a trustworthy source of health information. Visit the Newsweek VaxFacts website to learn more and to download the HealthGuard browser extension.