Washington Wildfire Map, Update As 4 Fires in Spokane County Spark Evacuations
Washington state is facing evacuations and heat advisory warnings as fires burn in Spokane County.
Four fires are burning near Badger and Williams Lakes near Cheney in Spokane County, Washington, and the fires have burned more than 200 acres combined. The fires sparked around 5:04 p.m. PDT and grew to a collective 200 acres by 9.30 p.m. on Sunday.
The Old Trails Fire and Hayford Road Fire are burning west of Spokane City, while Badger Lake Fire and the Williams Lake Fire have burned around 100 acres south of Cheney.
A Level 3 evacuation order, which requires residents to leave now, is in place at Badger Lake Estates, Cutthroat Bay, and a few homes north of there and south of Sterling Road, as the fires are threatening 50 to 70 homes.
The State Emergency Operations Center at Camp Murray is helping to coordinate crews and the evacuations are being overseen by local law enforcement.
The map below illustrates the locations of the four fires in Spokane County and uses data compiled from multiple sources. The map is not an evacuation map and should not be relied upon for evacuation instructions. Always follow your local authorities' evacuation guidelines.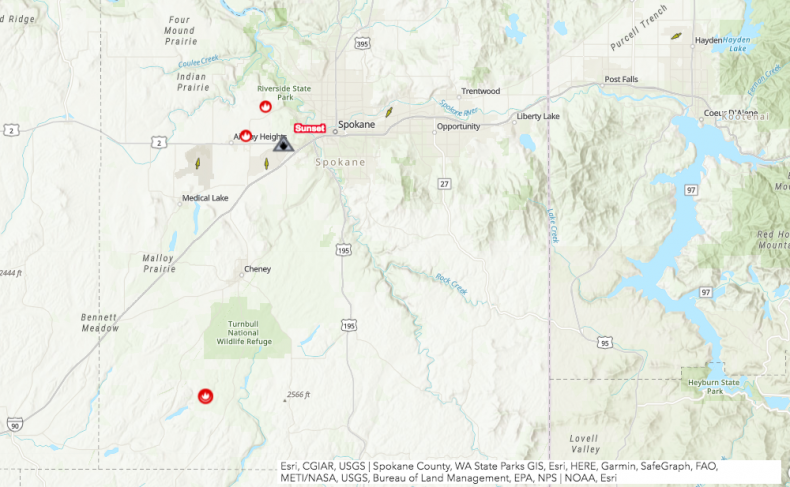 Additionally, due to a separate incident, there is a Level 1 evacuation notice in place at Wanapum Indian Village in Yakima County, which went into effect at 9.15 p.m. local time on Sunday. The Level 1 notice warns residents to be prepared to leave the area quickly if asked but means that they are not currently in danger.
People with special needs, a trailer, recreational vehicle, livestock, or pets should consider leaving the area soon.
There is a heat advisory in place in Washington until 8 p.m PDT on Tuesday. High temperatures in the 90s and near 100 are forecast for Monday and Tuesday in Washington.
Dangerously hot conditions and temperatures of 94 to 104 degrees are expected today, with mild overnight lows in the 60s to mid-70s. Temperatures are expected to drop by a degree or two each day.
In Washington, the heat advisory is in place in the Wenatchee Area, Okanogan Valley, Waterville Plateau, Washington Palouse, Lower Garfield, and Asotin Counties, Upper Columbia Basin, Moses Lake area, and Spokane area. In Idaho, the heat advisory is in place in Lewis and Southern Nez Perce Counties, and Lewiston Area.
The National Weather Service is encouraging residents of the affected areas to drink plenty of fluids, stay in an air-conditioned room, stay out of the sun, and to check up on relatives and neighbors. They are also reminded that young children and pets should never be left unattended in vehicles under any circumstances.
Washington residents are urged to take extra precautions if they work or spend time outside and when possible, should reschedule strenuous activities to early morning or evening. They should also know the signs and symptoms of heat exhaustion and heatstroke.