Washington Woman Screams After Seeing Man Wearing Skull Mask Approach Driveway Security Camera, Cut Feed
A Washington woman is warning her neighbors to keep watch after a stranger pulled up to her driveway, donned a skull mask, and broke one of her surveillance cameras.
The woman, who did not want her name made public, told Kiro7 the man arrived at her home in Mason County in a pickup truck at around 11 a.m. on January 26. Surveillance camera footage shows the man putting on a wig and mask, and marching towards her residence.
The woman told the broadcaster: "When I seen him put on the mask and start running toward the gate, I just screamed for my boyfriend to wake him up." She claimed the masked individual damaged the camera, stopping the video stream.
Her scream likely scared off the man, she said. Recalling how she felt, the woman described the incident as "super terrifying" and "the worst feeling ever."
In order to warn neighbors of the potential threat posed by the man, the woman has created posters featuring images of him taken from the surveillance footage. Neighbors told her they had also spotted a masked man in the recent weeks. She said she's worried he is still watching her home, which is "exhausting."
Mason County Sheriff's Office told Kiro7 its officers are searching for the man. He could be charged over breaking her camera, and may have been planning an attempt to burgle her, they said. A potential suspect has been identified, but not arrested, according to the department.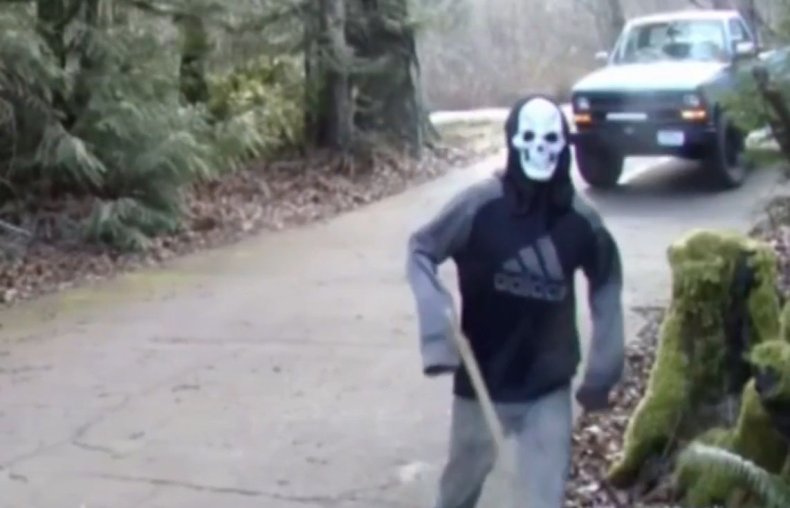 The incident may remind some of the spate of "evil clown" sightings across the country in 2016. In August of that year, children in Greenville, South Carolina, said they had seen a person in a clown mask lurking behind a basketball court near their apartment block, who had tried to lure them into the woods, CNN reported.
Then the copycat cases came. People dressed in clown masks and outfits were spotted across the country, spreading from North Carolina to the East coast, middle America, and the Pacific coast. The issue was even brought up in a White House press briefing.
Benjamin Radford, a folklorist and the author of the book Bad Clowns, told CNN at the time: "The scary clown image is perfect for social media. It is custom-made to go viral. You have something that is both scary and funny. It's this combination of horror and humor, laughter and fears."