A waste worker has discovered two gold necklaces thought to be from 2,500 years ago in Spain.
Sergio Narciandi was working on some pipes in the municipality of Cavandi in Asturias, northwest Spain on August 29 when he came across the unusual find, El Pais reported.
Picking up the shiny object, he realized it was a torc—an ancient neck ornament, similar to necklaces, which were typically worn by nobles. He then found another piece of jewelry of a similar type. They are believed to be from the Iron Age.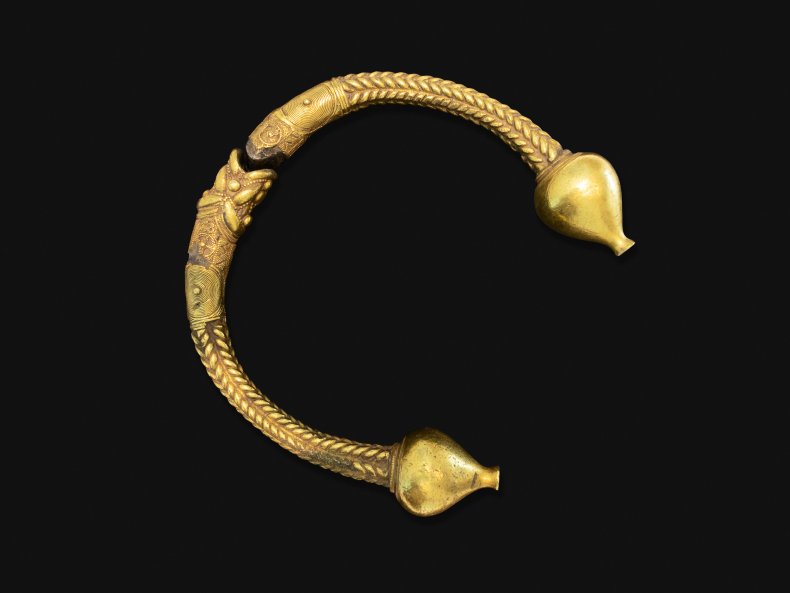 Archaeologists from the Archaeological Museum of Asturias were notified, who took a closer look at the strange discovery and called in experts from institutions in northern Spain.
"This discovery is very important because, for the first time, we know the exact origin of two of these valuable objects, the maximum symbol of prestige for pre-Roman communities, and the context in which they were deposited.
"Its will allow us to solve many enigmas about which we were missing data," investigators into the find told El Pais. "It is a window that has been opened to a part of the history hitherto hidden from the Iron Age."
The Iron Age lasted from around the 5th to the 2nd century BC.
Torcs were usually made of expensive materials and were most commonly worn by Celtic and Germanic nobles.
The ones found have a style typical to those worn by nobles in the Iron Age throughout the Iberian Peninsula, El Pais reported.
Ángel Villa, an expert at the Archaeological Museum of Asturias told El Pais that the torcs will be valuable in bringing archaeologists "closer to the knowledge of this era."
"In both pieces, all the techniques of antiquity used by a goldsmith of extraordinary skill are concentrated: casting, filigree, graining and welding, combined with aesthetic and geometric motifs and styles, which now allows us to delve deeper into the aspects such as the dispersal of other pieces of which we were not sure of their real origin," Villa said.
Strangely, there were no other archaeological artifacts found around the same area.
The torcs were close to works of art at the time. The detail in the necklaces demonstrate "the enormous skill of the goldsmith" at the time, archaeologists told El Pais. They described the craftsmanship as "spectacular."
"Fundamental analytical work begins now. The pieces may be intended to represent an accumulation of community wealth, not that of an individual. We do not know. Not even if they were for men or women," Villa told the news outlet.
María Antonia Pedregal Montes, director of the museum, concluded: "A multidisciplinary team will be created, the most advanced in knowledge of the Iron Age, with experts from various national institutions. The best."
Do you have a tip on a science story that Newsweek should be covering? Do you have a question about archeology? Let us know via science@newsweek.com.