'Wasteland, Baby!': Inside Hozier's Anonymity and Morbid Messages
There's a stigma that comes with pop music, one that leads to Taylor Swift-type bridges or Katy Perry's techno-bop sounds that make you want to dance. There are other sides to pop music, some that sound broken down and acoustic. But there are few pop artists who openly meditate on the idea of death and decomposition in their songs.
Whether the death of the planet as a whole or the death of an individual, Hozier, real name Andrew Hozier-Byrne, isn't your typical pop star, though his music can be grouped with some of pop radio's recent greats. Instead of following a trail of bubbly breakups or synthetic sounds, the artist has set out to make something different, something honest, with no sugar coating—or bubblegum gooped messages.
Hozier released his second album, Wasteland, Baby! in March. It's a 14-song album, around an hour-long, that dives into a plethora of messages, sounds and soothing pop/rock. Songs like "Almost (Sweet Music)" are destined to be relatable to the masses, who can get behind any acoustically-charged, easy listening sound. There were songs like this on his self-titled debut in 2014, too, though zooming in on the lyrics and true messages Hozier laces throughout his songs is key.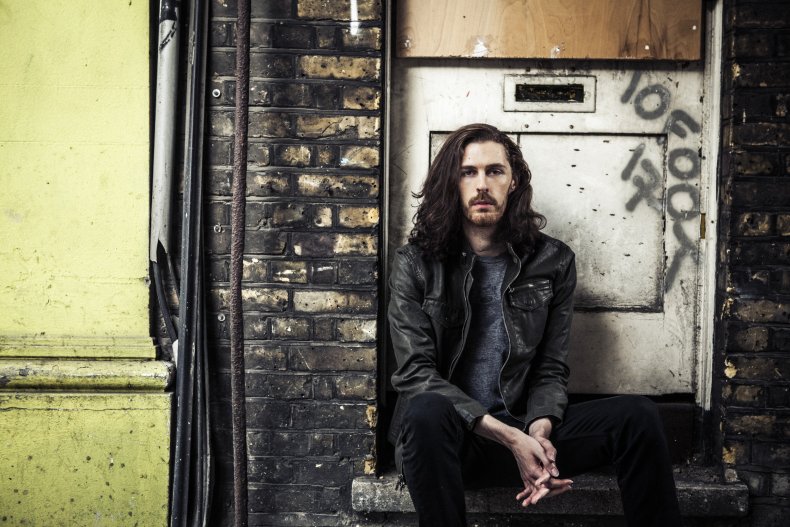 Some are obvious, like "In A Week." Its lyrics speak of two dead bodies, and the beauty of the world going still. Lyrics connect the body with nature as life begins to decompose in words "We lay here for years or for hours/Thrown here or found/To freeze or to thaw/So long we become the flowers/Two corpses we were/Two corpses I saw."
He even performed track "Work Song" with pop singer Maggie Rogers at Lollapalooza at the start of August, which has a similar concept and lyrics about laying a body in the earth.
Though his music has been widely received by the masses—see 2013 release "Take Me To Church"—the message is darker, sometimes even rather morbid. His first album, Hozier's self-titled debut released in 2014, not only questioned religion and dabbled in drug use and pictured the idea of the breath leaving one's body. It's not an unrealistic topic by any means. Death and life and the circle of it all have driven thousands of artists to create. But it's a topic that leads more to ideas of Dark Age artwork, not Kiss FM's top 100.
After his 2014 album release, Hozier disappeared. Fans wondered where his next album was in a typical, two-year album cycle. Instead, he took time to breathe, to write and to remove social pressure from the project he had ahead of him. When asked if he took "official time off" by Newsweek, he replied: "There's nothing official about it (laughs). I suppose it just felt important to take a breather from tour and just recharge the batteries," he explained. "Just take some time with what I wanted to get out of the work and be sure of that before moving forward."
Both Wasteland, Baby! And Hozier have morbid tendencies, though they're shrouded in charismatic sounds. To Hozier, it seems writing is about imagining an end, or at least imagining something bigger. Sure, Hozier has a handful of love-driven songs, but some of his biggest bops are full of messages that seemingly serve a purpose to remind listeners that some day, we're all going to die. It's even obvious in his single "Nina Cried Power", which lists a series of iconic musicians, some of which have already passed and left behind a legacy.
Then there's "No Plan," a track off Wasteland, Baby! That notes there is no afterlife, no God and nothing but darkness to meet us all after life on Earth. It's a song easy to sing along to, but one that's likely to create a knot in the middle of a listener's stomach when the true message hits them. It's natural to be afraid of death, of what comes after. And Hozier captures that fear in blunt statements that bring the reality of eventual end into a spotlight it's seemingly never served.
Hozier's methodology in music is nothing traditional. From the topics he chooses to write, ones that fall rather morbidly on the ears of unexpecting listeners, to the way he portrays life in the dark, it's a unique concept the makes Hozier's genre-defying music something to be highly respected, even meditated on, by those who grasp its meaning. It's not that the dark talk of death, drugs and religion hasn't been discussed before. Hozier names a list of iconic musicians in his track, "Nina Cried Power", who have dabbled in their own, unique branding.
For him, the conversations in music come from multiple angles, including personal experience and worldly conversations that only seem to pick up momentum. "Personal experience, of course, is usually the beginning catalyst, it's something immediate that you can carry into the making of the song," he said. "The kind of climate – political, social, etc. as you say its tumultuous civil discourse, online discourse found its way into the work. In Wasteland, Baby! the album, there's a lyric basically about every word that falls into the bonfire. I was imagining a lot of people screaming into the bonfire of our own times."
Though his choice topics have been relayed before, it's Hozier's decision to weigh the decomposition of life during political, trying times. The Irish musician isn't campaigning for politics in music, though there's a list of them in his own work. More than a handful of singers and band are breaking the chains off pop culture and global issues, but it's not just about blowing a whistle and pointing fingers. Instead, it proves the depth of his messages can apply to a range of ideas.
"I think what's more important is just trying to be honest in whatever it is you're trying to write about. If I was writing about going clubbing or dancing, I think there's still a political dimension to that," Hozier said. "It's still important to be honest about that experience and not glorifying the myth of something for the sake of it. I don't think creating an escape, of course there's comfort to be found, but I think the work can be entertaining but it's not to say there can't be more to it."
Though a mainstream figure in the art world, Hozier continues to be elusive, a bit anonymous and seclusive. It could be amounted to a "starving artist" label, or to someone who doesn't want to hold a forever seat in the spotlight. When asked what his career looks like in 10 years, he responded with a curiously dark message. "I can make a very, very dark joke – I won't. I have no idea, but I passed the 27 mark which is great," Hozier replied, noting a list of famous musicians, including Kurt Cobain and Amy Winehouse, who died at age 27. "I suppose I'll stick around for another 10 or 20 - why not."
Though Hozier is a puppeteer in music, genre-bending and injecting deeper topics into public entertainment, he likes to stand in the shadows and appreciate life from a distance. "It's just that I enjoy the feeling of anonymity," he explained. "I used to love, and still do, standing still in some foreign bizarre or exotic marketplace and just disappearing into a crowd watching life go by. I think that's a really really wonderful thing that everyone should experience. You're kind of dragged back into yourself if you're spotted in a crowd and forced to be confronted with that. The feeling of anonymity can be a wonderful thing in everyday life and social media as well too."
The feeling is his friend, though it's not something he relies on. "I certainly think standing on stage and singing about your feelings isn't exactly the best way to remain anonymous - that goes without saying. I don't really feel it makes me any more vulnerable. I'm not motivated by the question of anonymity and the work isn't motivated by trying to retain any anonymity. I'm just trying to be honest and make work that can be found to be worthwhile to others."
This article has been updated to clarify that Hozier performed "Work Song" with Maggie Rogers at Lollapalooza.